Dow dropped 105 (finishing near the lows), decliners over advancers almost 4-1 & NAZ fell 35. The MLP index lost 3+ to the 295s & the REIT index sank 7+ to the 328s. Junk bond funds saw more selling & Treasuries were a little higher. Oil slid lower in the 46s & gold was up an impressive 18, nearing 1300.
AMJ (Alerian MLP Index tracking fund)
Oil fell to a one-month low as concerns about rising U.S. crude stockpiles outweighed the impact of a pipeline explosion that sent gasoline surging.
Crude fluctuated after slumping 3.8% yesterday. Futures climbed as much as 1.1% after the blast
& resulting blaze shut the mainlines of Colonial Pipeline, which carries oil products to New York Harbor from the US refining center in Houston. Prices retreated in early trading as a projected US stockpile gain added to concern that OPEC will struggle to decisively tackle a global crude surplus.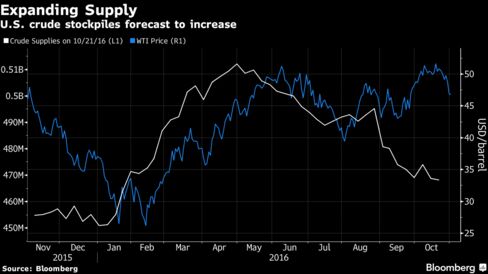 Oil has dropped about 5% since OPEC failed Fri to agree on country quotas as part of implementing it's output-cut accord & the chance of OPEC reaching a deal at month's end is low due to internal discord. US crude inventories rose by 2M barrels last week, according to a survey. Supplies, which have dropped in 7 of the past 8 weekly reports, remain at the highest seasonal level in more than 3 decades.
Oil Falls to One-Month Low, Shrugging Off Fuel Pipeline Blast
General Motors(GM) sales in Oct fell 6.2% from a year ago as its midsize sedans posted huge declines, partly offset by hefty gains for its smaller pickup trucks & large SUVs. US auto sales in Oct were expected to decline 6-8%, according to analysts who say the fall-off from last year's record high is not being limited by higher consumer discounts. GM said US industry auto sales will be 17.4M on a seasonally adjusted annualized rate. Its 2 full-size pickup truck models, Chevrolet Silverado & GMC Sierra, collectively fell 7.6%. Analysts expect Ford (F) to show a decline of 9-11% from a year ago, due to better discipline on the use of discounts. Also, the company is stemming production at North American F-150 pickup truck plants & sedan plants because of weak demand. Sales at Toyota (TM), #3 in the US market, are expected to decline of 2-7%. Fiat Chrysler Automobiles (FCAU) is seen falling from last Oct 7.5-11%.
Pfizer (PFE)
This is a nervous time for traders. Election jitters are being felt along with concerns of a long overdue interest rate hike. The Dow is struggling to hang in above the important 18K support level. The VIX, volatility index, shot up 1+ to the 18s, with one exception, the highest since this leg of the bull market began in Feb. Uncertainty is riding high..
Dow Jones Industrials