Dow gained 38 (for another record close), advancers slightly ahead of decliners & NAZ rose 28. The MLP index was off 3+ to the 295s & the REIT index added 1+ to the 321s. Junk bond funds sank once again & Treasuries were not traded for the holiday but probably would have declined to bring even higher yields. Oil & gold both plunged (more below).
AMJ (Alerian MLP Index tracking fund)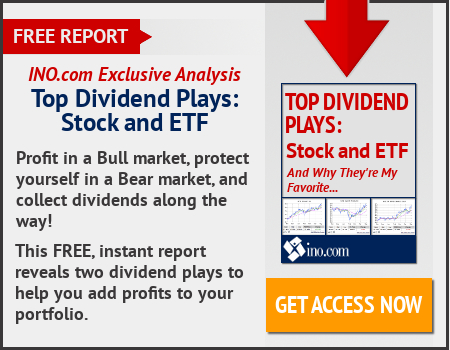 Bonds extended this week's selloff, US stocks fluctuated & commodities tumbled as traders parsed the implications of a Trump presidency. The MSCI All Country World Index pared its biggest weekly rally since Sep & the Dow traded near a record. A rout in Latin American markets extended into a 3rd day on bets that higher US interest rates would damp the appeal of riskier assets around the world. The $ rose toward its strongest level since Feb & bonds continued to get pounded, with losses exceeding $1T this week. Trading in Treasuries were closed for a holiday. Gold, copper & oil slumped.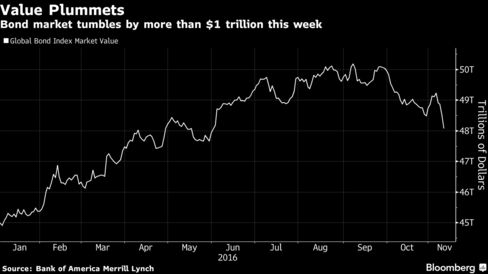 Global stocks gained $1.3T this week as traders bet Trump will lower taxes, ease corp regulations & ramp up spending to spur growth. Meanwhile, investors pushed down the value of bonds as the policies are seen boosting inflation & interest rates. Fed Vice Chairman Stanley Fischer said the central bank has almost reached its goals for maximum employment & price stability (more in prior post). MSCI's global gauge of stocks dropped 0.7%, trimming its weekly advance to 1.5%. The S&P 500 fell 0.3%, while still set for its best week in almost 2 years. The Russell 2000 Index of smaller companies extended a weekly rally on speculation Trump's homeward-looking policies will favor the more domestic-focused index. Investors are also considering what a Trump presidency means for the trajectory of interest rates. Utilities, real-estate investment trusts & consumer staples, stocks that have been coveted for their high div payout as a source of income amid record-low bond yields, have all retreated over the past 5 days.
Bonds Tumble, U.S. Stocks Fluctuate as Traders Weigh Election
Oil prices tumbled more than 3% today after OPEC said October output reached another record, casting doubt on whether its plan to limit production is achievable or enough to ease persisting oversupply in the market. OPEC said that its output rose to 33.64M barrels per day (bpd) last month, up 240K bpd from Sep. Crude futures have wiped out gains made since the end of Sep when OPEC said it would agree to cut oil production to shore up persistently low prices. An increasing amount of data has underscored a global skew towards oversupply. Following its latest data, the cartel would have to trim up to 1M barrels per day of output to make good on its promise to reduce production to 32.50-33.0M bpd. Adding to bearish sentiment is the US rig count which has shown an increase in 20 weeks out of the last 23. West Texas Intermediate futures was down by $1.51 (3.4%) to $43.14 per barrel. The International Energy Agency (IEA) has said the supply overhang could run into a 3rd year in 2017, should OPEC fail to act. In its monthly oil market report on Thursday, the IEA said global supply rose by 800K bpd in Oct to 97.8M bpd, led by record OPEC output & rising production from non-OPEC members such as Russia, Brazil, Canada & Kazakhstan.
Beyond oversupply, a surging $ following the initial shock of Donald Trump's presidential election win also put pressure on prices.
Oil Tumbles 3% After OPEC Data Add to Glut Worries
The EU's top trade official says talks on the planned Trans-Atlantic trade deal are set to be put on hold following the election of Donald Trump. EU Trade Commissioner Cecilia Malmstroem said that "with the new president-elect we don't really know what will happen" with the Trans-Atlantic Trade & Investment Pact. She added "there is strong reason to believe that there would be a pause in TTIP, that this might not be the biggest priority for the new administration." The Europeans had wanted to seal a deal before Obama leaves office in Jan. Looming elections in France & Germany have also hampered progress. TTIP aims to remove barriers to trade between the EU & US to boost economic growth & employment.
This has been one of the most volatile weeks in history, highlighted by one enormous gain for the Dow even though it plunged almost 1K in overnight trading (Tues) on fears of a Trump presidency. However, market breadth has been very weak & tech stocks have not done well. Yield sensitive stocks were sold. Junk bond funds have fallen around 10% this month, partially on fears that the Fed will hike interest rates next month (& beyond). As said yesterday, these are not enjoyable times for the timid.
Dow Jones Industrials