Dow dropped 142, decliners over advancers 2-1 & NAZ declined 81. The MLP index lost 2+ to 245 & the REIT index was off 2+ to the 309s. Junk bond funds were mixed & Treasuries pulled back. Oil slid back in the 31s & gold retreated with profit taking after its recent run to the mid 1100s.
AMJ (Alerian MLP Index tracking fund)
| | | | | | |
| --- | --- | --- | --- | --- | --- |
| CLH16.NYM | ...Crude Oil Mar 16 | ...31.42 | ...0.30 | (1.0%) | |
| | | | | | |
| --- | --- | --- | --- | --- | --- |
| GCG16.CMX | ...Gold Feb 16 | .....1,148.80 | ....8.80 | (0.8%) | |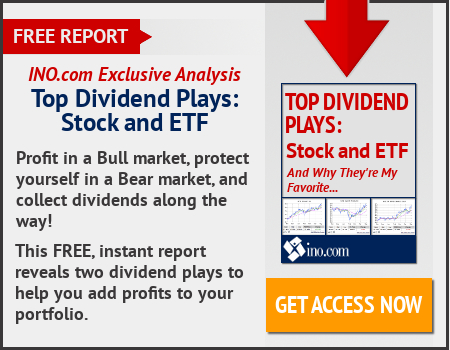 Job growth settled into a more sustainable pace in Jan & the unemployment rate dropped to an almost 8-year low of 4.9%, signs of a resilient labor market that's causing wage growth to stir. The 151K advance in payrolls, while less than forecast, largely reflected payback for a seasonal hiring pickup in the final 2 months of 2015, Labor Dept data showed. The jobless rate fell to the lowest level since Feb 2008. Hourly earnings rose more than estimated after climbing in the year to Dece by the most since Jul 2009.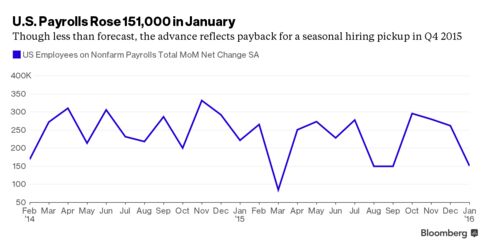 The moderation in hiring still leaves the job market on solid footing & shows companies are confident about the outlook for domestic sales. A further tightening of labor conditions that sparks wage gains would help assure Federal Reserve policy makers that inflation will reach its goal. While employment at temporary-help agencies & couriers declined in Jan following a ramp-up ahead of the year-end holidays, the labor market showed strength elsewhere. Retailers added 58,K jobs, the most since Nov 2014, & the health care industry took on another 44K workers. Most surprising was a 29K gain in hiring at manufacturers, the biggest increase since Aug 2013. Payrolls picked up at producers of fabricated metals, automobiles, food & furniture. The forecast called for a 190K gain. Dec payrolls were revised down to 262K from 292K & Nov employment was revised up to 280K from 252K. The data showed a much-awaited pickup in wage growth is starting to manifest itself. Average hourly earnings rose 0.5% from a month earlier to $25.39. The year-over-year increase of 2.5% followed a 2.7% jump in the 12 months ended in Dec, which was the biggest advance since mid-2009. The gain in employment combined with the increases in the workweek & wages lifted the index of aggregate weekly payrolls by 0.9% last month.
Payrolls in U.S. Climb as Jobless Rate Declines, Wages Rise
The Dec trade deficit widened as stable US domestic demand supported imports while weaker growth abroad held back overseas sales. The gap increased 2.7% to $43.4B from $42.2B in Nov, the Commerce Dept reported. The forecast called for a deficit of $43.2B. For all of 2015, the trade gap widened 4.6% to $531B, the biggest since 2012. But the petroleum deficit, adjusted for changes in prices, was the lowest ever. China last year became the largest goods trading partner with the US, while Canada dropped to 2nd. The value of combined exports & imports with China was $598B in 2015. After eliminating the effects of price fluctuations, which generates the numbers used to calculate GDP, the trade deficit widened to $60.3B from $59.2B a month earlier. Imports increased 0.3%, while exports decreased 0.3% to $181.5B, the weakest since Jan 2012.
German factory orders fell more than anticipated in Dec, in a sign that a global trade slowdown may be restraining parts of Europe's largest economy even as domestic consumption proves robust. Orders, adjusted for seasonal swings & inflation, dropped 0.7% from the prior month, when they rose 1.5%, data from the Economy Ministry in Berlin showed. The Dec reading for the highly volatile series compares with an estimate for a decrease of 0.5%. Orders dropped 2.7% from a year earlier. While the pullback may be partly due to weaker emerging-market growth curbing confidence at German companies, the outlook for the domestic economy remains strong. Unemployment slid to a record low in Jan, & falling energy prices & ECB stimulus are providing further support. Domestic orders fell 2.5% while euro-area orders slumped 6.9% & demand from outside the currency bloc rose 5.5%. Orders for investment goods declined 0.5%, & for consumer goods surged 4.3%. "Order activity somewhat recovered in the fourth quarter," the ministry said. "Increasing demand from countries outside the euro area indicates a gradual recovery the global economy. However, industry expectations have somewhat clouded, signaling a more modest recovery in industrial activity." German unemployment slid to 6.2% last month, the lowest level since reunification. While that's bolstering household spending, overseas trade is becoming a source of concern for German companies, with business confidence declining for a 2nd month.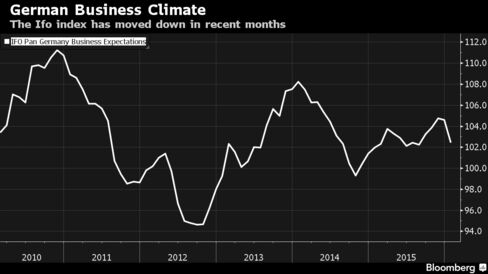 Slowing economic growth in China, Germany's 4th-largest trading partner, has thrown global markets into turmoil & cast doubt over the strength of the world economy.
German Factory Orders Fall as Export Slowdown Cools Confidence
The jobs data while disappointing was largely expected. The US economy is strong, but in a mild way, while overseas economies are having a more difficult time. China is the biggest one & its sluggish performance affects its trading partners around the world. In this bumpy week, Dow is down 200 & adds to the substantial decline in Jan.
Dow Jones Industrials