Dow climbed 24, advancers of decliners 5-4 & NAZ gained 22. The MLP index fell 3+ to the 342s & the REIT index rose 2+ to the 309s. Junk bond funds drifted lower & Treasuries advanced. Oil slid back to the 31s & gold was a tad lower.
AMJ (Alerian MLP Index tracking fund)
| | | | | | |
| --- | --- | --- | --- | --- | --- |
| CLJ16.NYM | .....Crude Oil Apr 16 | ...31.97 | ...0.18 | (0.6%) | |
| | | | | | |
| --- | --- | --- | --- | --- | --- |
| GCG16.CMX | ...Gold Feb 16 | ......1,235.20 | ...3.50 | (0.3%) | |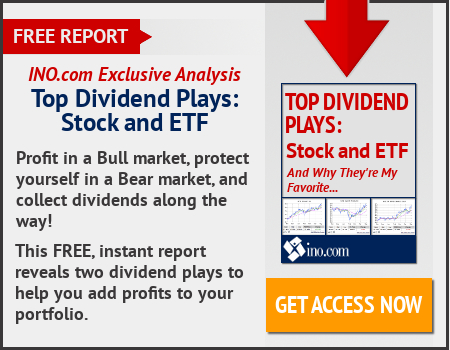 Orders for US capital goods rebounded in Jan by the most since Jun 2014, representing a pause in the manufacturing downturn. Bookings for non-military equipment excluding commercial aircraft jumped 3.9%, more than forecast, after a 3.7% decrease in Dec that was smaller than previously reported, according to the Commerce Dept. Orders for all durable goods rose 4.9%, the most since Mar.
The increase was broad-based, from cars & computers to machines & metals, & a sign that domestic demand is a source of support for manufacturers battered by lukewarm overseas markets. At the same time, the outlook for capital spending among miners, farmers & well drillers has dimmed because of plunging commodity prices. Shipments of non-defense capital goods excluding aircraft, used in calculating GDP, decreased 0.4% last month. They were revised up to a 0.9% increase in Dec, the largest advance since Jun, from a previously reported 0.2% gain. The forecast projected total orders would increase 2.9%. A 54.2% surge in bookings for commercial aircraft helped propel the gain & that followed a 29.1% slump the prior month even though industry data showed a jump in bookings for planes. Excluding transportation equipment demand, which is volatile from month to month, bookings increased 1.8% after a 0.7% decline the prior month. Demand for non-defense goods rose 4.5% after falling 2.5%. Bookings for machinery climbed 6.9%, the most in 3 years. Orders for motor vehicles & parts were up 3%, the biggest gain in 6 months, while demand for communications equipment registered the strongest advance since Nov 2014. The increase in orders came as sales also rose, helping factories pare stockpiles.
The number of Americans filing applications for unemployment benefits rose last week from a 3-month low, in part reflecting the typical swings during holiday periods. Jobless claims increased 10K to 272K, according to the Labor Dept. The forecast called for 270K. The average over the past 4 weeks was the lowest this year.
The 4-week moving average decreased to 272K, the lowest since mid-Dec, from 273K. The number continuing to receive jobless benefits fell 19K to 2.25M. The unemployment rate among people eligible for benefits held at 1.7%. Since early Mar, claims have been below the 300K level that is typically consistent with an improving job market.
China's stocks tumbled the most in a month as surging money-market rates signaled tighter liquidity & the offshore yuan declined for a 5th day. The Shanghai Composite Index sank 6.4%, with about 70 stocks falling for each that rose. Industrial & technology companies led losses. The overnight money rate, a gauge of liquidity in the financial system, climbed the most since Feb 6. The plunge in equities underscores the challenge for China's policy makers as they seek to project an image of stability in the financial markets as the economy slows.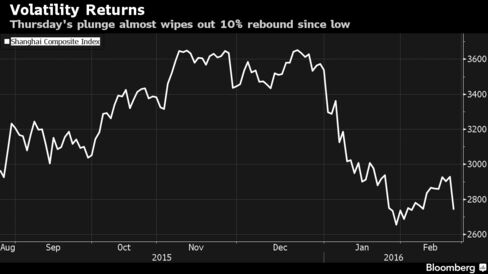 Besides signs of tightening liquidity, stocks tumbled amid concern recent gains weren't justified by fundamentals & policymakers may introduce policies to restrain housing-price gains in some of the largest cities. The overnight repurchase rate increased 14 basis points to 2.11%. The first indicators for China's economy this month signal its slowdown hasn't bottomed out yet, despite banks extending record new loans in Jan. Private gauges of manufacturing & services fell to new lows, a reading of business confidence slipped, & interest in small & medium sized businesses deteriorated. If confirmed in official data for Feb that starts to roll out from Mar 1, such weakness would suggest a slowdown in the old growth drivers may be deepening. Today's declines almost erased a 10% rebound in the benchmark equity index from a Jan low. The Shanghai Composite has fallen 23% this year, the world's worst performer after Greece.
The bulls retained some influence after yesterday's recovery in the PM. The favorable report on orders for capital goods in the US was helpful. But the energy segment, a large part of the economy, is hurting badly & the goings on in China continue to be unclear with a strong bias on the negative side. Dow is maintaining its modest rise in Feb, although down almost 1K YTD.
Dow Jones Industrials