Dow tumbled 252, decliners over advancers 5-1 & NAZ dropped 54. The MLP index sank 6+ to the 244s & the REIT index lost 3+ to the 309s. Junk bond funds were weak & Treasuries rallied as stocks sold off, taking the yield on the 10 year Treasury below 1.9%. Oil is down to 30 even (see below) & gold is inching higher.
AMJ (Alerian MLP Index tracking fund)
| | | | | | |
| --- | --- | --- | --- | --- | --- |
| CLH16.NYM | ...Crude Oil Mar 16 | ...30.05 | ....1.57 | (5.0%) | |
| | | | | | | |
| --- | --- | --- | --- | --- | --- | --- |
| GCG16.CMX | ...Gold Feb 16 | ......1,129.10 | ...1.20 | | (0.1%) | |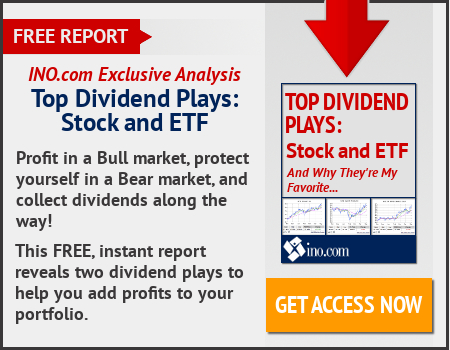 Margin debt in China's stock market shrank to the lowest level since Dec 2014, a sign of waning investor confidence after the Shanghai Composite Index's biggest monthly tumble since 2008. The outstanding balance of margin debt on the Shanghai & Shenzhen stock exchanges dropped for 22 straight days to 897B yuan ($136B) yesterday. It fell below the lows reached during a summer rout when the Shanghai gauge tumbled more than 40% from mid-Jun thru its Aug low. Margin trading was blamed for exacerbating the selloff last summer that led the securities regulator to crack down on the business by raising margin requirements & punishing brokerages for allowing unqualified clients to borrow funds. While smaller leverage reduces risks to the financial system, it could potentially also curb investor ability to make big bets, making rallies harder to come by. The debt balance is down 61% from its peak of 2.3T yuan in Jun. The China Securities Regulatory Commission said last month risks related to margin trading & short selling are "controllable" with average daily margin calls down 40% from a year earlier in 2016.
Automakers surprised with early results that topped estimates. General Motors (GM), Fiat Chrysler (FCAU) & Nissan reported gains when declines were predicted, & the drop at Ford (F) was narrower than projected as consumers were undeterred by winter weather. FCAU extended its streak of US sales gains to 70 months in Jan as demand for its Jeep sport utility vehicles helped overcome winter weather on the East Coast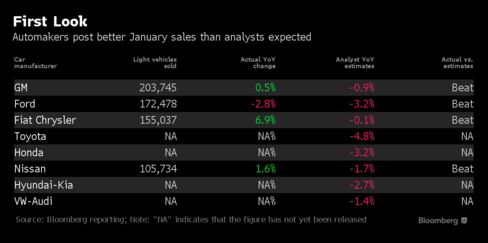 FCAU total deliveries rose 6.9% to 155K cars & light trucks. Analysts expected a 0.1% drop. Nissan sales rose 1.6%, beating the expected 1.7% decline & Ford's light vehicle sales fell 2.8%, better than the 3.2% decline predicted. GM sales rose 0.5%, beating the average estimate for a 0.9% decline. GM's retail sales rose 9% while the company continued to cut back on low-margin sales to rental-car companies. After 2015's record annual sales of 17.5M, analysts estimated this year's total will reach 17.8M. The industry began 2016 on solid ground, with cheap gasoline & low interest rates boosting demand for SUVs & pickups.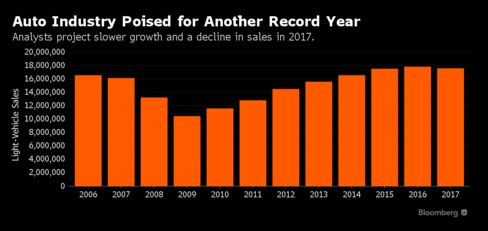 For Jan, the estimate for the annualized selling rate, adjusted for seasonal trends, was 17.2M vehicles. That pace would be an increase of ½M from Jan 2015, which 2 more sales days than last month. FCAU projected a 17.5M rate, including medium & heavy-duty trucks, which typically account for at least 200K. GM estimated a light-vehicle pace of 17.5M.
U.S. Automakers, Nissan Overcome Storm to Beat Analyst Estimates
Oil fell, dented by worries about the demand outlook & rising supply, while hopes for a deal between OPEC & Russia on output cuts faded. Russia's energy minister & Venezuela's oil minister discussed the possibility of holding joint consultations between OPEC & non-OPEC countries in the near future. Little is expected from that other than talk. Underlining the well-supplied nature of the market, Russia's oil output rose to 10.88M barrels per day (bpd) in Jan, from 10.83M bpd in Dec. Stockpiles are still on the rise, leading many to speculate that global storage may be close to capacity. US commercial crude oil inventories likely rose by 4.7M barrels last week to a new record of 499M barrels.
The brief rally in the stock market was not meant to last. Hopes about production cuts in oil were nothing more than just hopes. Russia keeps pumping as much oil as it can because it needs the money. Saudi Arabia has no interest in production cuts & is adjusting to lower prices. This is going to be another grim year for oil. And that is bringing ugly earnings numbers for the oil companies. Dow is down 1.2K YTD, clearly on defense.
Dow Jones Industrials