Dow dropped 67, decliners over advancers almost 2-1 & NAZ recovered 6. The MLP index pulled back 8+ to the 234s & the REIT index added 1 to the 304s. Junk bond funds were lower & Treasuries went higher. Oil sold off & gold rose.
AMJ (Alerian MLP Index tracking fund)
| | | | | | |
| --- | --- | --- | --- | --- | --- |
| CLH16.NYM | ...Crude Oil Mar 16 | ...29.71 | ...1.06 | (3.4%) | |
| | | | | | | |
| --- | --- | --- | --- | --- | --- | --- |
| GCG16.CMX | ...Gold Feb 16 | .....1,228.10 | ...2.00 | | (0.2%) | |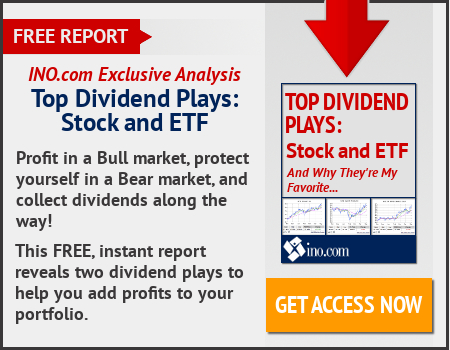 The cost of living in the US excluding food & fuel increased in Jan by the most in more than 4 years, reflecting broad-based gains that signal companies may be getting some pricing power. The core consumer-price measure climbed 0.3%, more than forecast & the most since Aug 2011, after a 0.2% gain the month before, according to the Labor Dept. Total prices were little changed, depressed by the continued plunge in energy costs.
A tightening labor market & nascent signs of wage growth bode well for domestic demand, a rebound in which could help stoke inflation if energy costs stabilize. The increase in inflation will likely hearten Federal Reserve policy makers, who are monitoring the economy's durability against headwinds such as stock-market turmoil weaker foreign markets. Total consumer prices were expected to drop 0.1%. In the 12 months ended Jan, the overall consumer price measure increased 1.4% after a 0.7% increase in the prior period. The core index advanced 2.2% from a year earlier, the most since Jun 2012. The core gauge was projected to rise 0.2% in Jan from the previous month. Prices for rent, clothing, medical care & new & used cars all advanced. The CPI is the broadest of 3 price gauges from the Labor Dept because it includes all goods & services. About 60% of the index covers prices consumers pay for services from medical visits to airline fares, movie tickets & rents. The gauge of wholesale prices, which includes 75% of all goods & services, unexpectedly climbed 0.1% in Jan from the month before on the back of higher food costs.
China's central bank said some banks will be forced to lock away more reserves, a move that may contain credit growth after advances by smaller lenders jumped in Jan. Some banks no longer meet criteria for preferential reserve requirement ratios & will have those levels increased, the People's Bank of China said. The PBOC said its action wasn't driven by the speed of lending. The central bank also said a review it carried out found that some banks which previously didn't meet the criteria for preferential ratios now do so. Bad loans at Chinese banks have been piling up as economic growth weakened to the slowest pace in a qtr-century. PBOC data released this week that showed lending jumped to a record in Jan stoked concerns that financial-system risks may be increasing. This data from the central bank indicates China's 4 biggest banks weren't the driving force behind last month's credit binge. Small & medium-sized lenders extended a combined 1.45T yuan ($222B) of the new loans in Jan, accounting for 60% of the total increase.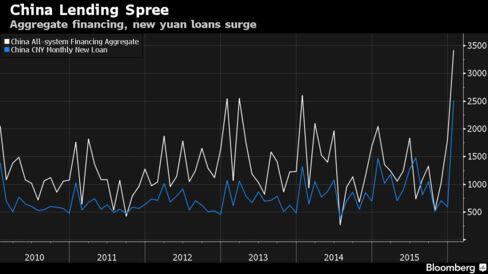 The PBOC is seeking to lower overall borrowing costs to underpin an economy that expanded at the slowest pace in a qtr century last year.
Oil dropped below $30 a barrel in NY after US crude stockpiles rose to the highest level in more than 8 decades as Saudi Arabia & Russia proposed freezing output amid a worldwide surplus. West Texas Intermediate oil lost as much as 4%, trimming a weekly gain. US supplies expanded to 504M barrels, the highest level since 1930, according to the Energy Information Administration. Iraq said it backs any decision to support prices & balance the market without indicating whether it would cap its own output.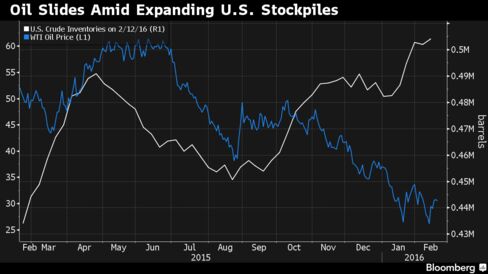 Crude is down about 19% this year & companies are confronting rating downgrades & oil-producing nations face bigger-than-expected withdrawls from wealth funds to cover budget deficits as energy revenues fall. Nationwide crude stockpiles increased 2.15M barrels thru Feb 12 & inventories are at a record high in weekly data that started in Aug 1982. Saudi Arabia & Russia offered this week to cap output near record levels as long as others follow. Iran, OPEC's 2nd-biggest producer until sanctions were intensified in 2012, supported the accord without saying whether it would participate in the freeze.
Oil Falls Below $30 as Rising U.S. Crude Stockpiles Expand Glut
Not much happening in the stock market. Traders are cashing in profits made earlier this week so stocks are a little lower. During the rally yield sensitive stocks did well along with tech stocks. But it's too early to call this a meaningful reversal of the downward trend for stocks this year. Dow is still down more than 1K in 2016.
Dow Jones Industrials