Dow rose 97, advancers over decliners an impressive 4-1 & NAZ soared 79. The MLP index gained 1+ to 261 & the REIT index jumped up 9+ to the 339s. Junk bond funds did little & Treasuries rallied. Oil lost ground again (see below) & gold shot up after Yellen's speech (see the chart below).
AMJ (Alerian MLP Index tracking fund)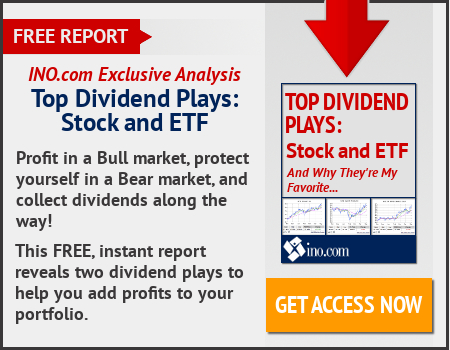 | | | | | | |
| --- | --- | --- | --- | --- | --- |
| CLK16.NYM | ....Crude Oil May 16 | ....38.36 | ...1.03 | (2.6%) | |
Janet Yellen said it is appropriate for US central bankers to "proceed cautiously" in raising interest rates because the global economy presents heightened risks. Her speech made a strong case for running the economy hot to push away from the zero boundary for the FMOC's target rate. "I consider it appropriate for the committee to proceed cautiously in adjusting policy," Yellen said. "This caution is especially warranted because, with the federal funds rate so low, the FOMC's ability to use conventional monetary policy to respond to economic disturbances is asymmetric." Yellen said the FOMC "would still have considerable scope" to ease policy if rates hit zero again, pointing to forward guidance on interest rates & increases in the "size or duration of our holdings of long-term securities." "While these tools may entail some risks and costs that do not apply to the federal funds rate, we used them effectively to strengthen the recovery from the Great Recession, and we would do so again if needed," she added. Yellen mentioned 2 risks in her speech. Growth in China is slowing & there is some uncertainty about how the nation will handle the transition from exports to domestic sources of growth. A 2nd risk is the outlook for commodity prices, & oil in particular. Further declines in oil prices could have "adverse" effects on the global economy. Since the Mar meeting, Fed officials have seen more evidence that the pace of domestic growth may be slowing. GDP decelerated to 1.4% pace in Q4, while the Atlanta Fed's GDPNow estimate for Q1 is 0.6%, partly due to slower rates of consumer spending growth.
Yellen Says Caution in Raising Rates Is 'Especially Warranted'
Oil prices fell, reflecting growing concerns that a 2-month rally may be in danger of fizzling, while analysts forecast another rise to record levels for US crude stockpiles. Oil has risen by more than 45% since mid-Feb ahead of a meeting next month of the major producers to discuss an output freeze to support prices. There is growing skepticism about the outcome of the meeting. OPEC & other major suppliers, including Russia, are to meet on Apr 17 in Doha to discuss an output freeze aimed at bolstering prices. But with ballooning global inventories, signs some OPEC members are losing market share, plus little evidence of a strong pick-up in demand, analysts say oil is likely to trade in a range. Data yesterday from the InterContinental Exchange showed speculators hold the largest net long position in Brent futures on record. US commercial crude oil stockpiles were expected to have reached record highs for a 7th straight week, while refined product inventories likely fell.
Iranian pres Hassan Rouhani unexpectedly canceled a state visit to Austria this week, citing security reasons. Iran said the decision about the trip, scheduled for Wed & Thurs was mutual. He had been scheduled to meet Austrian pres Heinz Fischer & other Austrian leaders, in only his 2nd visit to Europe, after visiting Rome & Paris in Jan. "Every nation has to decide for itself about the safety and security of its head of state," Fischer said. "The quality of the relations with Iran won't be touched by this delay and the cooperation in the realm of politics, business, culture and science will be continued in a comprehensive manner." Austria's interior ministry had "no concrete signs of a security threat" & the preparation for Rouhani's visit had been "completely ordinary and routine," a spokesman said. Even after recent terror attacks in Brussels, there is "no concrete threat situation" in Austria, he adeded. Iran TV didn't mention security concerns. The visit was postponed "based on mutual agreement in order to allow better planning and coordination from both sides," the official news agency IRNA reported. The postponement appeared to catch Iranian media by surprise as most had prepared special sections detailing trade links between the 2 nations.
The easy money policy by the Fed will continue for some time to come. That mirrors actions by other central reserve banks. At the same time gold & Treasuries were bid higher. This is money betting against a rising stock market. The disconnect can not last. One week after the Brussels attack, Europe is seeing a repercussion with the cancellation of a high profile trip. The rise in terrorism is already starting to hurt the euro economy. Dow is up a startling 1.6K+ (10%) since the lows in mid Feb & is up about 200 YTD (i.e. Q1). In the next 2 days the stock market will close out the qtr with volatile trading.
Dow Jones Industrials