Dow after climbing back in the PM finished up 13, advancers barely ahead of decliners & NAZ gained 4. The MLP index lost a fraction to the 261s & the REIT index was fractionally higher above 320. Junk bond funds drifted lower & Treasuries retreated. Oil fell (see below) & gold also pulled back.
AMJ (Alerian MLP Index tracking fund)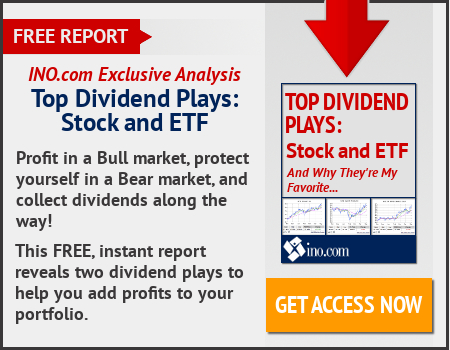 | | | | | | | |
| --- | --- | --- | --- | --- | --- | --- |
| CL.NYM | ...Crude Oil May 16 | ...39.44 | ...0.35 | | (0.9%) | |
Oil dropped a 2nd day after US crude stockpiles expanded again, keeping supplies at the highest level in more than 8 decades. Inventories rose by more than triple what was projected , while imports last week increased to the highest since Jun 2013. Oil also dropped as renewed prospects for higher US interest rates boosted the $, cutting the appeal of commodities as an alternative investment.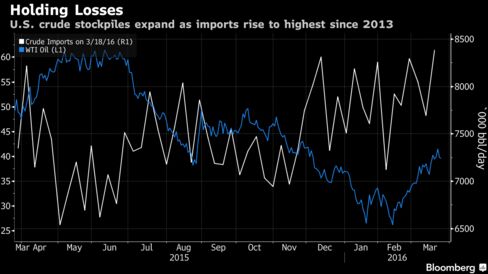 Oil tumbled to a 12-year low last month before rebounding on speculation the global surplus will ease as US production declines & major producers including Saudi Arabia & Russia proposed an output freeze. Iraq & the United Arab Emirates joined the list of confirmed attendees at a meeting between major exporters next month. Price declines eased after data showed the number of rigs targeting oil fell to the lowest since Nov 2009. The rig count dropped by 15 to 372 this week. US crude stockpiles increased by 9.36M barrels to 532M, the highest level since 1930, EIA data showed. Imports rose for the first time in 3 weeks to 8.38M barrels a day & production fell to 9.04M a day, the lowest level since Nov 2014.
Oil Declines a Second Day as U.S. Crude Supply Gain Adds to Glut
Loews (L) CEO Jim Tisch gave his thoughts on the future of oil prices. "I don't know what oil prices are going to do over the next few weeks, but I can tell you, I strongly believe that oil prices two years from now will be 50% higher than where they are currently," Tisch said. Tisch explained the factors behind the predicted rise in oil prices despite all the current supply on the market. "All the supply is going to be used up. Depletion is real. Wells decline in productivity every year, shale wells particularly quickly. U.S. oil production is down 500,000 barrels a day from the peak. The world is dramatically under-investing in new productive capacity." He discussed the key number that would motivate oil companies to produce more oil. "And there is no doubt in my mind that two years from now, we are going to be short of oil and oil is going to have to get back to a price where oil producers will have the incentive for more oil. And that number that they need is about $65 a barrel."
China stocks fell more than 1% today, led by resources shares, after state media reported that 35 domestic brokerages have resumed short-selling business following a long hiatus. Major indices had their biggest one-day fall in 2weeks, with the blue-chip CSI300 index declining 1.7% to 3181 & the Shanghai Composite Index sliding 1.6% to 2960. Stocks fell across with board, with energy & raw material shares among the biggest decliners. Many Chinese financial institutions voluntarily halted margin lending & stock shorting activities during the mid-2015 stock market crash, in response to heavy pressure from Beijing. The volume of the business, which allows investors to sell borrowed stocks & profit from price declines, is expected to be negligible. But the move could have a psychological impact on a market which is facing increasing selling pressure following a robust rebound. China's main indices have gained more than 10% over the last month but several attempted rallies since last summer's slump have proved short-lived.
After 5 weeks of advancing, the Dow pulled back 87 this week (NYSE is closed tomorrow). Dow remains up 1½K since mid Feb with few economics fundamentals behind that rise. Much of it has to do with higher oil prices (which have leveled off this month) & hopes that the Fed will not raise interest rates much this year. Oil prices may not go up from here & all thoughts about interest rate hikes are fuzzy. And China is in its version of a recession. The stock market is overbought, a dangerous time for the bulls. Dow has a small gain YTD.
Dow Jones Industrials