Dow gained 12+, advancers over declines 3-2 & NAZ lost 22. The MLP index went up 3+ to the 268s (see below) & the REIT index slid back a fraction in the 322s. Junk bond funds edged higher & Treasuries retreated (see below). Oil climbed into the 36s (see below) & gold was off a tad.
AMJ (Alerian MLP Index tracking fund)
| | | | | | | |
| --- | --- | --- | --- | --- | --- | --- |
| CLJ16.NYM | .....Crude Oil Apr 16 | ...36.28 | ...0.36 | | (1.0%) | |
| | | | | | |
| --- | --- | --- | --- | --- | --- |
| GCH16.CMX | ...Gold Mar 16 | .....1,266.00 | ...3.90 | (0.3%) | |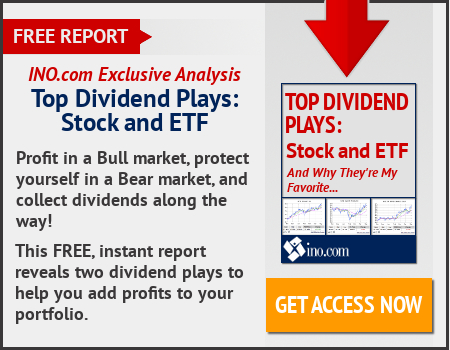 Oil advanced to the highest level in 2 months as US drillers cut the number of active rigs to the least in more than 6 years amid a global glut. Rigs targeting oil fell by 8 to 392, declining for an 11th week to the lowest level since Dec 2009, according to Baker Hughes. Hedge funds unwound bearish bets at the fastest pace in 10 months, as the prospect of prices sinking to $20 receded.
Oil on Fri completed a 3rd week of gains, the longest run since May, as US crude production slid to the lowest since Nov 2014. Still, stockpiles are the largest in more than 8 decades & continue growing. A meeting among major producers to discuss freezing output may be held in Russia, Doha or Vienna at the of Mar Russian Energy Minister Alexander Novak said. Latest on the oil freeze agreement:
Azerbaijan would join producers in freezing production, according to Rovnaq Abdullayev, pres of state-run Socar.
Current oil prices are forcing all producers to freeze output 4 there will be a price correction by year-end, UAE Energy Minister Suhail Al Mazrouei said.
Saudi Arabia, Russia, Qatar & Venezuela agreed last month they would freeze output, if other producers followed suit, in an effort to tackle a global oversupply.
China's foreign-exchange reserves fell at a slower pace last month as the its financial markets stabilized & policy makers took more steps toward shoring up growth. The world's largest currency hoard dropped $28.6B to $3.2T in Feb, the People's Bank of China said, the smallest decline since Jun & less than the $40.9B decrease expected. The yuan advanced in Feb against the $ after 3 months of declines, & a domestic stock rout eased, helped in part by a move by policy makers to reassure that they will prevent a hard landing. Leaders gathering for the annual National People's Congress say they're targeting a wider fiscal gap for 2016 to help meet a slightly lower growth target. Policy makers want to help stabilize the currency, a key goal for China's leaders, who are gathering this week for their annual policy meeting in Beijing. The defense of the yuan depleted its foreign reserves by over $500B last year, while there are estimates that a record $1T of money moved overseas in 2015. Persistent capital outflows from China since mid-2014 were probably driven more by local companies paying down $-denominated debt in anticipation of a stronger US currency than by investors ditching assets. PBOC Deputy Governor Yi Gang said that reserves will stay at a "reasonable level," but a further drop wouldn't be surprising. He reiterated that the yuan will be stable against a basket of currencies, & there's no basis for a persistent depreciation in the currency. Premier Li Keqiang's work report delivered Sat at the start of the annual National People's Congress showed the gov will give top priority to development by boosting innovation, urbanizing more & cutting excess capacity in industries like coal & steel. He also outlined a 6.5-7% target range for economic growth, with 6.5% as the baseline through 2020. Last year's expansion was 6.9%. To reach the new target, China plans to permit a record high fiscal deficit & has raised its money supply expansion target. That means debt grows even as growth slows.
China's Foreign Reserves Slow Decline as Currency Stabilizes
The extra yield US 10-year Treasuries offer over their German peers widened to the most since Jan as US economic data kept alive prospects of the Federal Reserve raising interest rates this year, which contrasts with the ECB's accommodative stance. Treasuries fell a 2nd day, with the 10-year note yield rising to the highest level in a month. US gov securities dropped Fri after a report showed that the nation's jobs growth was strong enough to maintain wagers of the Fed tightening policy this year.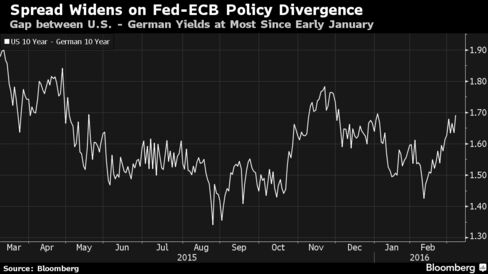 For a 3rd day, stocks are drifting with a slight upward bias. Firming oil prices are behind much of this advance, based on hopeful thoughts about controlling oil production. While US oil production may be declining, that is small part of more than 9M barrels of oil produced every day & only a tiny potion of more than 93M barrels consumed every day worldwide. For the time being, bulls are in command of the stock market with Dow barely above 17K. But it is still down YTD.
Dow Jones Industrials