Dow fell 131, decliners over advancers almost 4-1 & NAZ sank 47. The MLP index tumbled 9+ to the 263s in a very volatile market & the REIT index slid back 1 to the 322s. Junk bond funds were lower &Treasuries rallied. Oil retreated to the 36s after its run (see below) & gold climbed higher.
AMJ (Alerian MLP Index tracking fund)
| | | | | | |
| --- | --- | --- | --- | --- | --- |
| CLJ16.NYM | ....Crude Oil Apr 16 | ...37.49 | ....0.41 | (1.1%) | |
| | | | | | | |
| --- | --- | --- | --- | --- | --- | --- |
| GCH16.CMX | ...Gold Mar 16 | .....1,267.10 | ...3.90 | | (0.3%) | |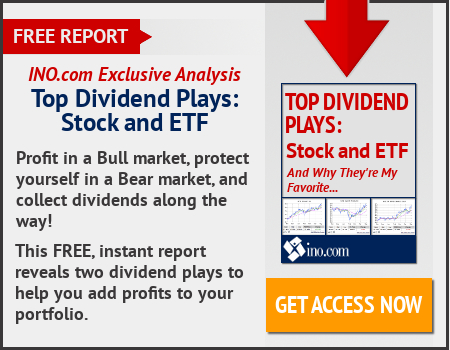 China's benchmark stock index eked out a gain in the final minutes of trading as speculation of buying by state-backed funds helped offset plunging exports. The Shanghai Composite Index erased a loss of 3.1% to close 0.1% higher. Transportation & raw-material companies declined after data showed China's outbound shipments sank last month by the most since May 2009. The worse-than-expected decline in outbound shipments underscores the Communist Party's challenge to support growth as capital flows out of the country & debt climbs to an unprecedented level. Policy makers last weekend raised their target for money supply & said they will allow a record deficit to meet an economic expansion target of 6.5-7% for 2016. State-backed funds intervened to bolster the stock market last week ahead of annual policy meetings.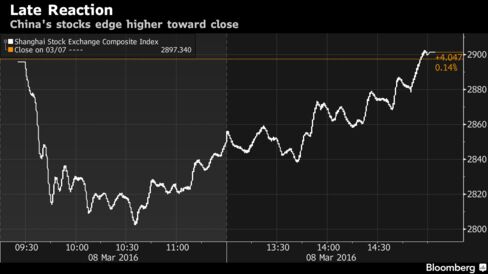 The Shanghai Composite has risen for 6 days, the longest stretch of gains since Jul. For the year, the gauge is down 19%, the worst performance among global benchmark indices. The Hang Seng China Enterprises Index slid 1.4%, while the Hang Seng Index declined 0.7%. Exports slumped 25.4% in Feb in $ terms from a year earlier, while imports declined 13.8%, leaving a trade surplus of $32.6B. The week-long Chinese new year holidays fell in Feb this year, closing factories & curbing shipments. Transportation companies led declines among a gauge of industrial shares.
German industrial production jumped by the most in more than 6 years in Jan, a sign that strong domestic demand may be helping to underpin output even as external trade cools. Production, adjusted for seasonal swings, climbed 3.3% from the prior month after retreating a revised 0.3% in Dec, according to the Economy Ministry. That's the biggest increase since Sep 2009 & the first gain in 3 months. It was stronger than all projections which had called for 0.5% growth. While German consumers continue to spend robustly & investment, & construction bounced back from Dec, manufacturers still face a number of challenges this year. A China-led slowdown in emerging markets is slowing exports & market volatility has dealt a blow to business confidence & factory orders. Construction jumped 7% from Dec & investment goods output rose 5.3%. Consumer goods production increased 3.7% & manufacturing increased 3.2%. Industrial output rose 2.2% from a year earlier, again beating the highest economist estimate. "After a weak spell in second half 2015, the manufacturing industry had a very good start in the new year," the ministry said. "Overall, a moderate recovery in industrial activity is expected in the first quarter."
Crude oil fell from the highest level in 2 months on expectations that reports will show US inventories rose last week to an 8-decade high. Stockpiles probably increased for a 4th time according to a survey. Ecuador's foreign ministry said Latin American producers will meet on Mar 11 to discuss oil prices, while Russia said major suppliers may meet within weeks. China's crude imports rose to a record in Feb, while product exports fell to the lowest in 9 months.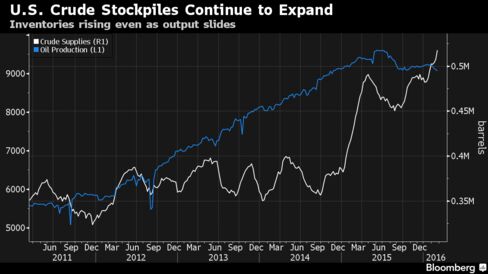 US benchmark oil has rallied more than 40% since reaching a 12-year low on Feb 11 amid speculation a proposal to freeze production will trim a global glut. A meeting among major producers may be held sometime between Mar 20 & Apr 1. China increased crude imports by 19% in Feb to 31.8M metric tons from a month earlier. That's equivalent to about 8M barrels a day, the highest daily average on record. Oil-product exports slid a 2nd month to 3M tons. US stockpiles rise even as production falls:
Oil Falls From Two-Month High as U.S. Supplies Seen Growing
The stock market was vastly overbought & profit selling finally is taking over. The China data was weak, but hardly a big surprise. Oil is also overbought & traders are cashing in on profits made. Fundamental problems of oil, too much production & bloated inventories, show no sign of correcting anytime soon. Dow is back below 16K & in the red for Q1 & YTD
Dow Jones Industrials