Dow rose 93, advancers over decliners more than 2-1 & NAZ added 13. The MLP index inched up a fraction in the 275s & the REIT index did little in the 336s. Junk bond funds were mixed & Treasuries also had gains. Oil shot up to the 42s (see below) while gold sold off.
AMJ (Alerian MLP Index tracking fund)
| | | | | | | |
| --- | --- | --- | --- | --- | --- | --- |
| CLJ16.NYM | ....Crude Oil Apr 16 | ...40.87 | ......0.67 | | (1.7%) | |
| | | | | | |
| --- | --- | --- | --- | --- | --- |
| GCH16.CMX | ...Gold Mar 16 | ....1,253.80 | ...10.70 | (0.9%) | |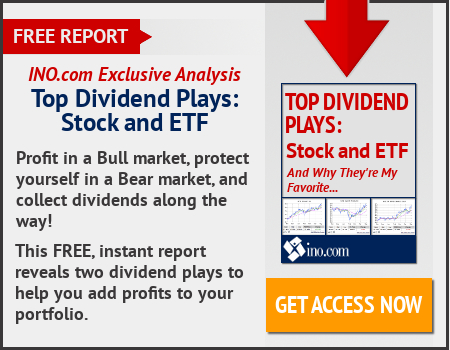 The world economy would be worse off without negative interest rates, according to IMF Managing Director Christine Lagarde. Negative rates in Europe & Japan have helped support global growth & price gains, she said. The finance sector may need to implement new business models as a result. "If we had not had those negative rates, we would be in a much worse place today, with inflation probably lower than where it is, with growth probably lower than where we have it," Lagarde added. "It was a good thing to actually implement those negative rates under the current circumstances." Central banks in Europe & Japan have deployed negative interest rates to stimulate the economy, & Janet Yellen said the US central bank is taking a look at the tool "in the event that we needed to add accommodation." The policy moves have triggered concerns that they could have unintentional consequences such as hurting bank profits. Negative interest rates are a fairly new economic tool & more time is needed to assess the policy, Lagarde said.
Consumer confidence eased in the first ½ of Mar as lower-income Americans grew more concerned about prospects for the US economy & higher gasoline prices. The University of Michigan preliminary sentiment index fell to a 5-month low of 90 from to 91.7 in Feb. The projection called for 92.2. The measures of year-ahead & longer-term inflation expectations picked up. All of the decline in confidence was among households at the bottom end of the income scale as prices at the gas pump marched higher. At the same time, robust labor market conditions are underpinning Americans' expectations that pay gains will follow suit. The measure of current conditions, which takes stock of Americans' view of their personal finances, dropped this month to 105.6, the lowest since Nov, from 106.8 in Feb. The gauge of expectations for the next 6 months decreased to 80, the weakest in 6 months, from 81.9 in Feb. Households expected the inflation rate over the next year will be 2.7%, up from 2.5% in the first 2 months of w2016. Over the next 5-10 years, consumers projected prices would climb 2.7%, up from 2.5% last month, which matched the lowest level since the late-1970s. Respondents expect an almost $1 increase in a gallon of gasoline in the next 5 years, almost twice as high as in Jan. Buying conditions declined slightly this month. Favorable mentions of low prices for big-ticket items fell, with those for vehicles dropping to the lowest level in 15 years. The data also showed that 39% of households reported that their incomes had recently increased
Crude extended gains from a 3-month high as US oil production dropped, while central-bank policies put pressure on the $ & improved the outlook for demand growth. Futures rose as much as 2.5. Crude output fell to the lowest since Nov 2014, according to an Energy Information Administration.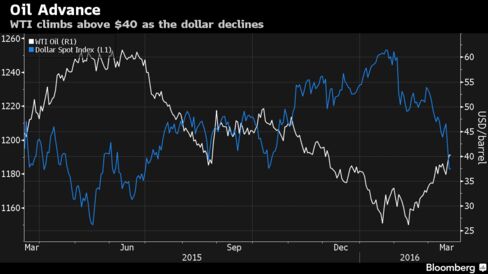 Oil is heading for a 5th weekly gain, the longest run since May, amid speculation stronger demand & shrinking US shale oil production will ease a global glut.
Oil Extends Gain From Three-Month High on Falling U.S. Output
Stocks continue on their winning ways. Dow is up an amazing 1.6K from the lows in mid Feb. The weakening $, bringing higher oil prices, is behind this move. Of course straight up never lasts. For the time being bulls are sending the bears in hibernation. This rise should continue until the overbought condition is corrected. That could be violent given the speed of the current advance.
Dow Jones Industrials