Dow pulled back 20, advancers were barely ahead of decliners & NAZ added 2. The MLP index inched up pennies just above 250 & the REIT index slid back a fraction to the 318s. Junk bond funds were lower & as were Treasuries. Oil retreated to the 33s & gold clawed its way higher.
AMJ (Alerian MLP Index tracking fund)
| | | | | | |
| --- | --- | --- | --- | --- | --- |
| CLJ16.NYM | ....Crude Oil Apr 16 | ...34.03 | ...0.37 | (1.1%) | |
| | | | | | | |
| --- | --- | --- | --- | --- | --- | --- |
| GCH16.CMX | ...Gold Mar 16 | ....1,233.10 | ...2.80 | | (0.2%) | |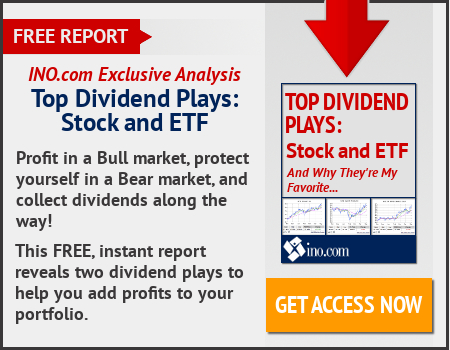 Companies added more workers than projected in Feb, indicating the US job market remains strong. The 214K increase in employment followed a revised 193K rise in the prior month, according to the ADP Research Institute. The forecast called for an advance of 190K. The average gain in private payrolls over the last 3 months was 231K, the most in a year.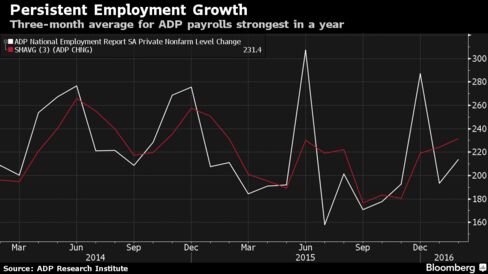 Steady hiring that fosters faster wage growth should provide further impetus for consumer spending, which accounts for about 70% of the economy. "Despite the turmoil in the global financial markets, the American job machine remains in high gear," Moody's Analytics, producer of the figures with ADP, said. "Energy and manufacturing remain blemishes on the job market, but other sectors continue to add strongly to payrolls. Full-employment is fast approaching." The prior month's figure was previously reported as an advance of 205K. Goods-producing industries, which include manufacturers & builders, increased headcount by 5K. Hiring in construction climbed 27K, while factories shed 9K jobs. Payrolls at service providers climbed 208K.
Companies employing 500 or more workers added 76K jobs. Medium-sized businesses, 50-499 employees, took on 62K workers & small companies increased payrolls by 76K.
Moody's downgraded its outlook on Chinese gov debt to "negative" from "stable," citing uncertainty over authorities' capacity to implement economic reforms, rising gov debt & falling reserves. The downgrade comes just days before the National People's Congress (NPC) is due to vote on China's 13th 5 year plan, a closely held development blueprint for the next 5 years, which policymakers began formally drafting in 2015. "Without credible and efficient reforms, China's GDP growth would slow more markedly as a high debt burden dampens business investment and demographics turn increasingly unfavorable. Government debt would increase more sharply than we currently expect," Moody's said. The agency said the downgrade was driven by expectations that China's fiscal strength will continue to decline, as well as the fall in its foreign exchange reserves which have shrunk by $762B over the last 18 months. It also said that policymakers' credibility was at risk of being undermined by incomplete implementation or partial reversals of some reforms. Moody's, however, retained China's Aa3 rating, noting the country's sizeable reserves gave it time to implement reforms & gradually address economic imbalances. But the agency warned that it could further downgrade China's rating if it saw slowing down of reforms needed to support sustainable growth & to protect the gov balance sheet. Initial market reaction to the outlook change was muted.
Moody's Cuts China Outlook to Negative, Cites Reform, Fiscal Risks
Oil slid lower as an industry report showing a rise in US crude stockpiles to a new record countered support from producer efforts to tackle a supply glut. US crude inventories jumped 9.9M barrels last week, the American Petroleum Institute (API) said, much more than the 3.6M barrel increase that had been forecast. Traders will look closely at the gov weekly supply data later today for confirmation of the inventory build. Brent has risen 35% from a 12-year low of $27.10 hit on Jan 20, adding to expectations that further drops may not be on the cards. OPEC & outside producers have stepped up diplomatic activity to fix the supply glut. Saudi Arabia, Qatar, Venezuela & non-OPEC producer Russia said on Feb 16 they would freeze output. In an early sign that Moscow will stick to the plan, Russia reported its oil output was little changed in Feb. Saudi Arabia has yet to report its production, but a survey this week found no sign of an increase in Feb.
Stocks are digesting major gains made in recent weeks. Oil continues to be a key driver of stock prices & its run may be running out of steam. China, another key part of global economic growth, is having its problems. Dow is down about 600 YTD & will need more positive news to rise further.
Dow Jones Industrials