Dow jumped up 84 to another record, advancers over decliners 3-1 & NAZ gained 38. The MLP index advance 4+ to the 302s & the REIT index added 3+ to 350. Junk bond funds were up a little & Treasuries were also purchased. Oil was higher in the 46s & gold had a good day (see below).
AMJ (Alerian MLP Index tracking fund)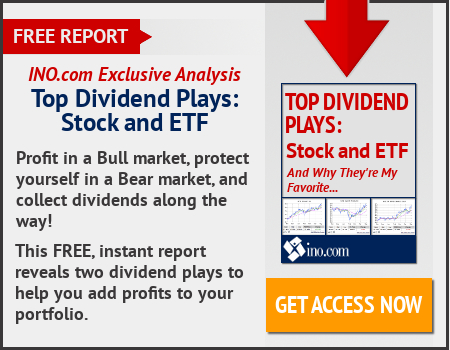 Weaker expectations about personal finances helped drive US consumer optimism this month to the lowest level since Oct, Univ of Mich preliminary survey data showed. Preliminary sentiment index fell to 93.1 (forecast was 95) from 95.1 in Jun. Expectations measure dropped to 80.2, also the weakest since Oct, from 83.9 the prior month. Current conditions gauge, which measures perceptions of personal finances, increased to 113.2, matching the highest since Jul 2005, from 112.5 in the prior month. While 51%, the largest share in almost 17 years, reported that their finances improved in Jul, a gauge of expectations about their financial well-being slumped by 10 points to 122. That was the weakest since Aug of last year. The share that expected improved finances fell to 33% from a decade high of 42% in Jun. The entire retreat was among respondents with incomes in the bottom 2/3 of the survey. The decline in main gauge of sentiment shows confidence is the lowest since Pres Trump was elected. The decrease in expectations was concentrated among Reps, underscoring the frustrations voters have with policy makers in DC & the uphill path for tax & health-care policy. "The declines recorded are now consistent with just above 2 percent GDP growth in 2017," Richard Curtin, director of the survey, said. "Overall, the recent data follow the same pattern repeatedly recorded around past cyclical peaks: expectations start to post significant declines while assessments of current economic conditions continue to reach new peaks. To be sure, the data do not suggest an impending recession," he added. Most of the weakness in 5-year outlook was recorded among Reps (22%, up from 14% in Feb) & political independents (51% versus 37%). Favorable vehicle-buying attitudes fell in Jul to the lowest since Oct.
Gold prices climbed to mark their highest finish since Jun 30 as weak US economic data dulled prospects for another interest-rate hike this year. Prices finished the week up roughly 1.5%, after posting 5-straight weeks of losses, tracking the most-active contracts. Aug gold added $10.20 (0.8%) to settle at $1227 an ounce.
US industrial output rose steadily in Jun, as a rebound in oil exploration & coal mining boosted economic growth. Industrial output-how much manufacturers, mining companies & utilities produced-grew 0.4% in Jun from May, the Federal Reserve said . The forecast called for a 0.3% gain. Output has risen for 5 consecutive months, evidence the economy strengthened Q2 after a sluggish start to the year. Industrial production rose at annual rate of 4.7% in Q2, more than triple the Q1 gain of 1.4%. Production has risen 2% over the past year--in line with steady but modest overall economic growth. The rebound has been driven by mining output, which grew 1.6% in Jun & has risen nearly 10% over the past year. Energy companies are boosting oil & gas extraction this year after several years of weakness caused by a drop in oil prices, which have rebounded. Coal mining has also increased. Manufacturing output has grown more modestly. Factory output climbed 0.2% in Jun is up 1.2% over the year. Manufacturing of durable goods, long-lasting goods like machinery, climbed at a healthy pace in June,including steady growth in production of autos. Output of nondurable goods, everyday items like food & apparel, grew more tepidly. Utility output, the final component of industrial production, was flat in Jun & has fallen 2.2% over the past 12 months. Capacity use, a measure of the economy's output as a share of its potential, climbed 2/10 of a percentage point from a month earlier to 76.6% in Jun. The measure has risen 1% over the past year but remains more than 3 percentage points below its historical level.
Janet Yellen says the US economy won't get to 3% growth for 5 years, but Office of Management and Budget Director Mick Mulvaney said, "She can be wrong." Mulvaney said the Trump Administration's economic plan can get the country back to 3% economic growth. "MAGA-nomics, Make America Great economics," Mulvaney added. "If we get a chance to put those policies in place, that comprehensive package of proposals the White House is coming up with, we do have a chance to get back to 3% growth." The Congressional Budget Office has said the Trump budget plan will not balance the budget in ten years, another prediction Mulvaney questioned. "We expected that, because again, what are they assuming? They are assuming the new normal when it comes to economic growth, you drill down into their numbers as we did last night and this morning and they assume 1.9% GDP growth forever…we reject that." Mulvaney said there are valid concerns about entitlement spending, noting that at the beginning of the recession there was a rise in the number of people on programs like Medicaid & food stamps, but he adds that those numbers have not dropped despite an improved economy. Mulvaney suggested some of the people utilizing those programs should be working. "One of the things we've been pushing in health care, in our tax proposals, in our budget proposals is having a work requirement for those benefits."
After today's rise, the Dow shot up 250 this week. Not bad. Hopes are high for Q2 earnings. Techs did well following a sluggish period in recent weeks. The administration is putting out word for better growth numbers & traders are buying that message. Investors with negative thoughts are buying gold & Treasuries. The disconnect continues & will be settled, maybe soon.
Dow Jones Industrials