Dow shot up 151, advancers over decliners a huge 8-1 & NAZ gained 53. The MLP index added 2+ to the 298s & the REIT index rose 5+ to 347. Junk bond funds went up & Treasuries also traded higher. Oil climbed 1 to 46 & gold rose after Yellen's comments (more below).
AMJ (Alerian MLP Index tracking fund)
| | | | | | | |
| --- | --- | --- | --- | --- | --- | --- |
| CL=F | Crude Oil | 46.09 | | 1.05 | 2.3% | |
| | | | | | | |
| --- | --- | --- | --- | --- | --- | --- |
| GC=F | Gold | 1,221.70 | | 7.00 | 0.6% | |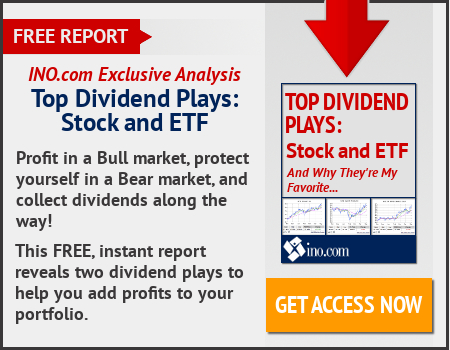 Janet Yellen said the US economy should continue to expand over the next few years, allowing the central bank to keep raising interest rates, while also stressing the Fed is monitoring too-low inflation. "Considerable uncertainty always attends the economic outlook," Yellen said in remarks prepared for delivery to the House Financial Services Committee. "There is, for example, uncertainty about when -- and how much -- inflation will respond to tightening resource utilization." Nevertheless, the Fed chair said, the baseline outlook is for levels of interest rates to continue to support job gains & income growth & therefore consumer spending. A faster pace of global growth should support US exports, she said, & a recovery in drilling activity should support business investment. "These developments should increase resource utilization somewhat further, thereby fostering a stronger pace of wage and price increases," she added. Yellen said the central bank's policy rate "would not have to rise all that much further" to get to a rate that keeps supply & demand in balance in the economy. Eventually, "factors," which she did not specify, holding down the so-called neutral rate will diminish over time, she said, which supports the Fed's case for continued rate hikes over the next couple of years. She also mentioned that the Fed anticipates it will start reducing its balance sheet "this year." The size of the balance sheet once this process has been completed is uncertain, she added, partly because the banking system's demand for reserves is not yet known. Yellen said low readings on inflation are partly the result of "a few unusual reductions" in certain price categories which will hold 12-month inflation down until they drop out of the calculation. However, there is uncertainty about inflation's response to tightening resource use. She noted that the FOMC said in Jun it will "carefully monitor actual and expected progress" toward its inflation goal.
Janet Yellen Says Low Inflation Still Major Source of Uncertainty
The gold market rendered a quick dovish read on Janet Yellen's prepared testmony to Congress. Yellen said that "considerable uncertainty always attends the economic outlook," citing "uncertainty about when -- and how much -- inflation will respond to tightening resource utilization." Gold futures for Aug delivery rebounded from a loss, heading for the biggest gain in 5 weeks.
After 8 years of toil by the Greek people, the EU says that Greece's budget is no longer breaking the bloc's rules. Today's recommendation from the EU Commission to end the excessive deficit procedure on Greece comes after a sharp improvement in the country's finances following years of spending cuts, tax increases & a recession that saw ¼ of the economy wiped out, & unemployment & poverty levels swell. Greece has been under the spotlight since 2009 when its budget crisis first emerged in the wake of a statistics scandal that showed the country's public finances were in far worse shape than thought. Greece's budget deficit was suddenly revised upward to around 15% of annual GDP, way above an EU limit of 3%. As confidence in Greece fell, the country found itself unable to borrow money in bond markets. By May 2010, it required an intl bailout to avoid going bankrupt & it's been reliant on rescue funds ever since. In return for the money, successive governments enacted wave after wave of austerity measures as well as economic reforms to get the books back into shape. In many ways, they now are. In 2016, for example, Greece posted a surplus of 0.7%. If the Commission's recommendation is cleared by member states, then only 3 EU countries would remain in breach of the rules: France, Spain & Britain. In 2011, when the global economy was starting to recover from the post-financial crisis recession, 24 of the EU's then-27 members were in breach of the rules, which are more strictly applied to countries that use the euro currency. Greece is hoping to exit its bailout era next year & is planning to start tapping bond markets, possibly in the next few months. The recent release of €7.7B ($8.9B) of bailout funds means the country has enough money to pay its upcoming debts.
This could be one of the stock market's best days of the year, highlighted by solid market breadth. Dow is flirting with setting another record & up a massive 3.2K since the election. Some find that hard to believe. However strength in safe haven investments, gold & Treasuries, show other investors are betting against this rally. Bank earnings for Q2 will be out in the coming days which will indicate if the buyers are going to follow thru, buying more stock.
Dow Jones Industrials