Dow sank 158 closing at the lows, decliners over advancers 4-1 & NAZ gave back a big 61. The MLP index lost 1+ to the 296s & the REIT index was off 6+ to the 342s. Junk bond funds retreated & Treasuries were sold along with equities. Oil rose & gold edged higher (more on both below).
AMJ (Alerian MLP Index tracking fund)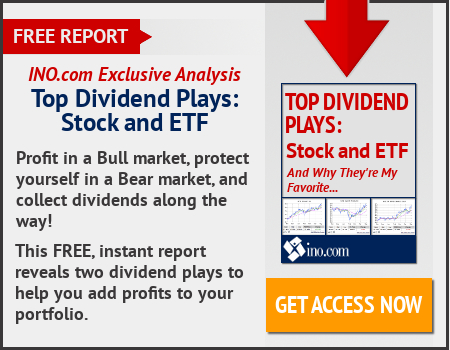 The US trade deficit narrowed in May as American companies exported the most in 2 years, underscoring an improving global economy, Commerce Dept data showed. The gap decreased 2.3% to $46.5B (est. $46.3B) from $47.6B in Apr. Exports rose 0.4% to $192B on increased shipments of cars & consumer goods. Imports fell 0.1% to $238.5B as cooler demand for autos & consumer merchandise offset record shipments of capital goods. Further improvements in economies around the world are helping drive demand for US exports. In May, merchandise exports to South Korea were the highest on record, while shipments to Brazil were the strongest since Oct 2014. Weakness in the $ could also make American-made goods more attractive for overseas customers, helping to contain the trade gap that barely added to growth in Q1. At the same time, a record $52.8B of imported capital equipment indicates US business investment may be gaining momentum. The report also showed the impact of weakening motor vehicle sales as imports of new & used cars dropped by $1.3B in May. After eliminating the effects of price fluctuations, which generates the numbers used to calculate GDP, the gap shrank to $62.8B from $63.8B. Politically sensitive merchandise trade deficit with Mexico widened to $7.3B, the largest in 10 years, & the gap with China expanded to $31.6B (unadjusted). Excluding petroleum, the deficit in goods & services narrowed to $40.3B from $42.1B.
As the Group of 20 summit begins, protesters have gathered in objection to the policies of some world leaders, including Pres Trump's climate & trade agenda. Organizers created a "Welcome to Hell" event scheduled & have promised public demonstrations throughout the summit. Overnight, 10 cars were set ablaze outside a Hamburg Porsche dealership, which police are investigating as possibly summit-related. Many other groups are calling for peaceful protests, & are pushing the G-20 leaders for action on climate change, to address economic disparities in the world & a wide array of other issues. Some are even calling for the dissolution of the G-20 itself so that the UN becomes the platform for such discussions. In addition to Pres Trump, protesters are also setting their sights on Russian Pres Putin & Turkish Pres Erdogan. A large sign in a shop window near the summit venue featured pictures of the 3 world leaders with the slogan: "We don't want that!" Among the topics Trump specifically has come under fire for, both from protesters & other world leaders, are his decision to withdraw from the Paris Climate Accord last month & his "America First" policy agenda. German Chancellor Merkel said the Trump administration's approach toward globalization focuses on winners & losers as opposed to equal beneficiaries. Still, Merkel has rejected calls from some to push for a strong "G-19" statement, without the US, on climate change.
Oil rose about 2%, making up some of the previous session's losses after US data showed crude oil & gasoline stocks dropped more than expected, yet more analysts cut price forecasts. US crude stocks fell 6.3M barrels, the Energy Information Administration (EIA) said, citing stronger refining activity & reduced imports. That was much more than the draw of about 2.3M barrels forecast. Heavier-than-expected global supplies have pressured oil prices, & market watchers believe OPEC will need to make further output cuts to offset thriving shale production in the US. A number of investment banks in the last 2 weeks have reduced oil price outlooks, citing worries that the glut could extend into next year. US gasoline stocks dropped 3.7M barrels in the most recent week, far exceeding the expected drop of 1.1M barrels. Still, gasoline inventories remain about 6% above seasonal averages, so investors will watch for Jul data to see if demand is strong enough to whittle down those stocks. West Texas Intermediate crude futures were up $1.15 (2.5%) at $46.28 a barrel. The price of oil has tumbled from one-month highs just below $50 as evidence showed rising exports & increased production from OPEC, even as the group has pledged to cut output.
Oil rises 2% after big draws in U.S. crude, gasoline
Gold prices climbed for a 2nd-straight session, finding support from a retreat in the $ & weakness in equities. Aug gold rose $1.60 (0.1%) to settle at $1223 an ounce. Prices had climbed 0.2% yesterday, recouping part of a 3-session decline that brought prices to their lowest level since May on Mon, before the Independence Day holiday.
While stocks had a tough day, they are hanging in close to record highs. Tech stocks remain under pressure, as investors are not sure about their future. Trump's visit & the goings on in Europe will get most of the attention by traders tomorrow. That's after the jobs report comes out before the open. And, of course, North Korea & its intentions are never far from anybody's thoughts. The stock market remains overbought, as it has for some time, & the long needed correction may come this summer. For what it's worth, the Dow is down only 200 from its recent record.
Dow Jones Industrials