Dow fell 59 finishing near the lows, decliners over advancers better than 2-1 & NAZ was off 30. The MLP index fell 1+ to the 322s & the REIT index drifted fractionally lower to the 351s. Junk bond funds were little changed & Treasuries had modest buying. Oil slid lower to under 53 after a favorable report showed a decline in oil inventories & gold climbed (more on both below).
AMJ (Alerian MLP Index tracking fund)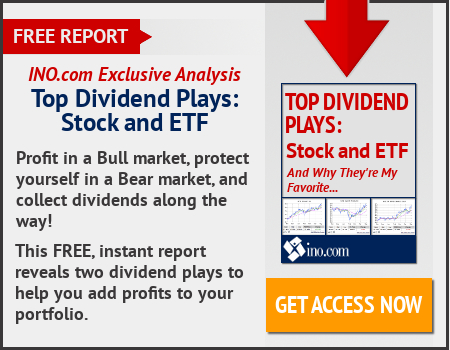 Sec of State Rex Tillerson & Russian Foreign Minister Sergei Lavrov said relations between their countries have sunk to a dangerously low level that presents risks for both nations & the world. "The world's two primary nuclear powers cannot have this kind of relationship," Tillerson said in Moscow after hours of meeting with Lavrov & Russian Pres Putin. But the diplomats continued to disagree openly about issues, led by whether Syrian Pres Bashar al-Assad was responsible for a deadly chemical attack & should be removed from office. Despite remarks by both men about the need to repair the relationship & assurances that the 2 nations have many common interests, Lavrov rehashed an extended list of Russian grievances from NATO's actions in Kosovo in 1999 to US attempts to remove dictators from Sudan to Libya. He also blamed former Pres Obama's administration for "irritants" in the relationship that he said can now be alleviated.
Tillerson and Lavrov Try to Bridge Differences With Relations at a Low Point
Trump is issuing a presidential memorandum that will call for a rethinking of the entire structure of the federal gov, a move that could eventually lead to a downsizing of the overall workforce & changes to the basic functions & responsibilities of many agencies. The order, which will go into effect tomorrow, also will lift a blanket federal hiring freeze that has been in place since Trump's first day in office almost 3 months ago & replace it with hiring targets in line with the spending priorities the administration laid out in Mar, said Mick Mulvaney, director of the Office of Management & Budget. The move is a part of Trump's campaign pledge to "drain the swamp" & get rid of what the administration views as inefficiencies in the federal gov, Mulvaney said. It comes as the White House also is trying to curb the size of many gov agencies thru a proposed budget that calls for historically deep spending cuts to everything from medical research to clean-energy programs. The push to reshape the gov as well as the budget cuts are almost certain to draw opposition from Congress. "We think at the end of the day this leads to a government that is dramatically more accountable, dramatically more efficient, and dramatically more effective, following through on the very promises the president made during the campaign and that he put into place on day one," Mulvaney said. He said the administration is starting with a "blank sheet of paper" as to how the gov should operate & has set up a website to solicit ideas. One solution may be to organize it by function, like putting all areas that deal with trade under one dept, or to break up large depts into a number of smaller agencies. As an example, Mulvaney said there are 43 different workforce-training programs across at least 13 agencies, without a single point person in charge of them, that could be brought under one roof. "We're now transitioning into the smarter, more surgical plans of running the government," Mulvaney said. The adjustments will then be included in the fiscal 2019 budget, which the administration will start putting together in Sep. Changes to federal hiring, though, will begin immediately. Once the hiring freeze is lifted as of tomorrow, the heads of federal agencies will have the discretion to start filling positions in line with the proposed budget the administration released last month. That budget, for fiscal 2018, would slash or eliminate many of the Great Society programs that Reps have for decades tried to peel back with spending going to the Pentagon & Dept of Homeland Security with new resources. That budget already is facing opposition in Congress & many programs the administration would like to target could only be eliminated thru legislation. "Congress's priorities may be a little different. Any of you who follow the appropriations process understand there are certain things that Congress can actually make us do," Mulvaney said. "We'll follow the law when it comes to that. To the extent we have discretion under the law, then the discretion will be exercised in the method best possible to effectuate the president's policies."
Trump Lays Groundwork for Federal Government Reorganization
Gold prices tallied a 2nd straight gain, holding ground at their highest level since early Nov. Geopolitical uncertainty, particularly surrounding US tensions with North Korea, helped boost demand for investments considered less risky, such as gold. Jun gold rose $3.90 (0.3%) to settle at $1278 an ounce.
Oil futures extended gains after data from the US Energy Information Administration showed that domestic crude supplies fell 2.2M barrels in the latest week. The American Petroleum Institute late yesterday reported a 1.3M-barrel decline while analysts forecast a climb of 125K barrels. Gasoline supplies also declined, by 3M barrels, while distillate stockpiles were down by 2.2M barrels last week, according to the EIA. May crude rose 13¢ (0.2%) to $53.54 a barrel.
The Trump rally needs time to take a breather. Stocks were doing well until the start of Mar. Since then they have been drifting lower with the Dow down about 600. Early enthusiasm is being tempered with reality striking home. Push-back on healthcare reform hurt. Intl relations are a mess, much of that was inherited. And early signals about what "drain the swamp" really means scares those guys in DC who fear losing their lush jobs. Dow is back on defense in what is still a vastly overbought market (shown in the charts below).
Dow Jones Industrials