Dow added all of 3, advancers over decliners 2-1 & NAZ went up 34. The MLP index was down a fraction at just above 320 & the REIT index was fractionally lower in the 356s. Junk bond funds inched higher Treasuries pulled back after yesterday's rally. Oil was a little higher (more below) & gold retreated.
AMJ (Alerian MLP Index tracking fund)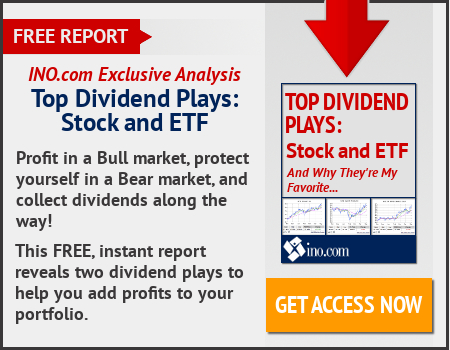 Traders are pulling back from bets the Federal Reserve will raise interest rates in Jun as inflation expectations crumble. The odds of a hike have fallen back to about 44% from more than 60% earlier this month. Yields on federal funds futures contracts for Jun & Jul are retreating as investors scale back forecasts for a move. 2-year Treasuries, among the most sensitive to Fed policy expectations, are poised for their first 2-month rally in a year. Investors are questioning the strength of the US economy & the Fed's plan to raise rates 3 times in 2017 after a weaker-than-expected Mar jobs gain & a surprise monthly drop in consumer prices. They're also voicing disappointment that Trump's proposed tax cuts & infrastructure spending plans have yet to materialize. Tensions with North Korea as well as elections in the UK & France are added risks to the global economy. Fed futures traders were wrong-footed earlier this year when they bet against a rate hike at the Mar meeting. They priced the odds at less than an even chance as late as Feb 24, before a flood of hawkish Fed speakers forced them to see an increase as all but certain a week later. For now, Treasury 2-year notes are also flashing warnings that the Fed will hold off in Jun. The difference between 2-year yields & similar-maturity Treasury Inflation Protected Securities, a gauge of trader expectations for consumer prices over the life of the debt, tumbled to 1.37 percentage points this week. It plunged from this year's high of 2.19, suggesting traders doubt the Fed's ability to meet its inflation target of 2%.
The tax-writing committee of the House will begin holding hearings on a Rep tax reform proposal next week, the panel's chairman said, even as the timeline for overhauling the tax code slips toward late 2017. House Ways & Means Committee Chairman Kevin Brady said he would soon announce a hearing schedule to examine his House tax reform blueprint with its proposal to tax imports, a plan that appears to have lost ground as the White House works to unveil its own approach. He said the committee "will soon be announcing congressional hearings on our blueprint starting next week." He also acknowledged that the tax reform timeline could slip as House Reps try to reach agreement to repeal & replace ObamaCare following their failed attempt to pass healthcare legislation in Mar. Treasury Sec Mnuchin said this week that tax reform may not get done before an Aug deadline. "We probably ought not be focused on the month but the year that it happens, which is this year," Brady said. "If it moves a little past August and still lands in this year, it's going to be an incredible achievement." Much of the debate has focused on the House Rep BAT proposal, which would impose a 20% tax on imports, while exempting exports from taxation. The proposal is opposed by import-dependent industries & Reps who worry it could lead to higher consumer prices.
Tax experts say the proposal's future depends on whether the White House backs it. Trump, who dislikes the term "border adjustment," said yesterday his tax reform plan would create "a level playing field" for U.S. industry - a phrase widely viewed as referring to some kind of border tax. Brady identified the critical elements of legislation as significant rate reduction, full & immediate expensing for capital investments & a simplified tax code. He cautioned against straightforward rate reductions of the kind that some in Congress have begun to consider.
Oil edged higher as OPEC said it was committed to eroding a global surplus of crude, but increasing shale production in the US & still-high global stocks threatened to pull prices lower. US crude futures were up 15¢ at $52.56. Crude fell in the previous 2 sessions, but it received a boost from comments today by the secretary-general of OPEC that the group was committed to cutting inventories to the 5-year average. Analysts warned that prices could quickly turn negative. OPEC & other producers such as Russia agreed to cut output by almost 1.8M barrels per day in H1 to drain a supply overhang that has persisted for nearly 3 years. Geopolitical concerns have also helped underpin oil. This week, Trump ordered a review of whether the lifting of sanctions against Iran was in the US' national interests. A lifting of certain sanctions against Iran in late 2015 under a nuclear deal allowed Tehran to more than double its crude exports over 2016. But US stockpiles, & shale production, have cast doubt on whether the production cuts were enough. Data from the American Petroleum Institute showed yesterday that although crude inventories fell by 840K barrels in the latest week, they remained near record highs.
Oil Edges Higher as OPEC Boost Offsets Dent from US Supply
Stocks are churning as earnings come in mixed. The fate of tax reform is a whopper size story for the market & that is in limbo. After the failed effort to rework ObamaCare & talk that tax reform may go past the the initial forecast of an Aug deadline, even the bulls are getting nervous. Tax reform is desperately needed if the bull market is to continue.
Dow Jones Industrials