Dow trimmed losses to 6, advancers over decliners 4-3 & NAZ fell 14. The MLP index lost 2+ to the 323s & the REIT index went up 2+ to the 352s. Junk bond funds were little changed & Treasuries rallied as demand for safe investments increased. Oil crawled higher in the 53s & gold shot up again (more on both below).
AMJ (Alerian MLP Index tracking fund)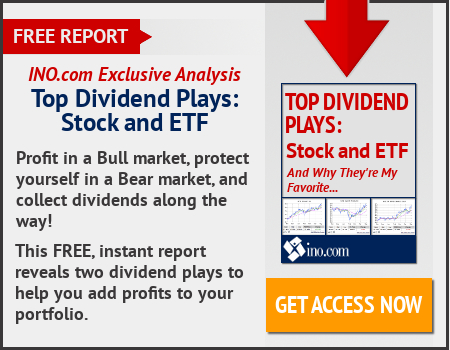 The Trump administration said evidence clearly showed Syria was behind a chemical attack on civilians this month & accused Russia of trying cover for its ally, Bashar al-Assad, by shifting blame & casting doubts. As Sec of State Rex Tillerson headed for Moscow, the US laid out its case relying on declassified intelligence & open-source material, such as commercial satellite images & contemporaneous reports from the scene as well as evidence of sarin exposure gathered from the victims. Pres Trump has said the use of chemical munitions justified a US missile strike last week on a Syrian airbase where the report said the Syrian planes that conducted the chemical attack were based. US officials, who briefed reporters, said the record is too extensive & independently corroborated to have been fabricated by Assad's opponents. "The United States is confident that the Syrian Regime conducted a chemical weapons attack, using the nerve agent sarin, against its own people," according to the four-page document released by the White House summarizing its assessment of the attack and the role of Assad's regime. Russian Pres Putin has compared accusations of Syrian chemical weapons use to the faulty intelligence used to justify the 2003 US invasion of Iraq. The Russian Foreign Ministry blasted the US for relying on "staged photos of events on the ground" in making its Syria policy. The US & allies are trying to increase pressure on Russia's gov to abandon its support for Assad, which has been crucial in keeping the regime in power after 6 years of civil war. That conflict has become enmeshed with the battle against Islamic State & drawn in the US, Russia, Iran & Turkey, as well as multiple extremist groups & militias backed by regional powers such as Saudi Arabia. Tillerson said today that Putin's gov has aligned itself with an "unreliable partner" in Assad, whose reign is coming to an end, as well as Iran & Hezbollah. Tillerson said Russia must withdraw support from Assad if it wants an "important role" in talks about Syria's future. He reiterated the US policy that it will first focus on fighting the Islamic State & then shift to the political future of Syria. But he made explicit that the US sees no future for the Assad regime in Syria.
Syria Clearly to Blame in Chemical Attack on Town, U.S. Says
Crude rose after Saudi Arabia was said to likely support prolonging OPEC production curbs into H2-2017. It's not clear there has been a final decision on an extension, which would also depend on the positions of other OPEC members & Russia. The kingdom cut output to 9.9M barrels a day in Mar, below levels it committed to under the deal, according to leaker. US crude supplies are expected to fall last week (before gov data is reported later today). Saudi Arabia joins other members of OPEC that voiced support for an extension. The curbs have stabillizede the market, according to Russia. American crude output will rise to a record next year, the Energy Information Administration said. West Texas Intermediate for May delivery rose 19¢ (0.4%) to $53.27.
Gold prices rallied to finish at their highest level since Nov. US tensions with North Korea & Russia, as well as the upcoming presidential election in France raised investment demand for gold. Jun gold rose $20.30 (1.6%) to settle at $1274 an ounce.
The US Energy Information Administration raised its forecast on crude-oil production but lowered its outlook on prices, according to its monthly Short-term Energy Outlook report. The EIA forecast US crude production at an average 9.9M barrels per day in 2018, up 1.8% from the previous forecast. It sees 2017 output at 9.22M barrels a day, up a modest 0.1% from the previous forecast. The EIA also lowered its crude-price forecast, with West Texas Intermediate crude seen at an average $52.24 a barrel & Brent crude at $54.23 in 2017, down 2.3% & 0.7% from last month's forecast, respectively. May West Texas Intermediate crude was trading at $53 a barrel, down 8¢ (0.2%) while Jun Brent fell 23¢ (0.4%) to $55.75.
Stocks are holding fairly well given rising intl tensions. The rise in gold prices & Treasuries (bets against the stock market) is putting pressure on stocks. The intl scene is very confusing. Nobody can predict what North Korea will do next & Russia is another big unknown. However Russia has its own problems to deal with (low oil prices & its problems in eastern Europe). Meanwhile the first major earnings reports (from big big banks) are coming on Thurs & there are concerns they will disappoint. Despite all this, Dow keeps hanging in there.
Dow Jones Industrials