Dow surged 216 (closing near the highs), advancers over decliners about 5-2 & NAZ rose 73 to a new record. The MLP index added 1+ to 320 & the REIT fell 3+ to 351. Junk bond funds went up along with stocks & Treasuries were sold. Oil continued lower in the 49s & gold dropped, although off session lows (more on both below).
AMJ (Alerian MLP Index tracking fund)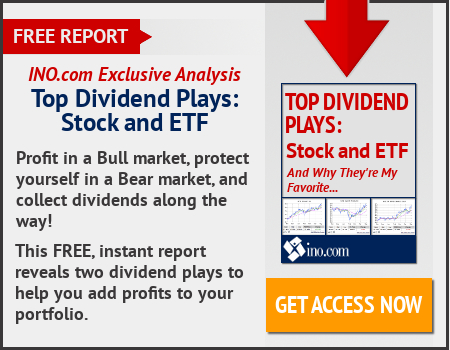 Pres Trump has advised his administration to put deficit concerns on the backburner & work on a plan to slash the corp tax rate to 15%. He allegedly told his staff he wants to deliver on his promise of significant tax reform, even if it means the nation loses revenue at the outset. While Trump has used 15% as the baseline for his corp tax cut pledge, the House GOP leadership initially suggested using 20% as the starting point for negotiations. The current business tax rate is 35%. The White House will release a broad overview of its tax reform plan as early as Wed, administration officials have said. That plan is expected to include tax cuts for individuals & corp, as well as a simplification of the tax code.
Gold futures ended lower, losing ground after France's first-round presidential election result soothed fears the country could eventually move to bolt the euro & the EU. Jun gold dropped $11.60 (0.9%) to close at $1277 an ounce, but off of a session low at $1266. Gold & other traditional havens, such as Treasuries & the ¥, suffered after centrist Emmanuel Macron scored a first-place finish in the first round of France's presidential election. Macron will go up against 2nd-place finisher Marine Le Pen, who has called for France to exit the euro, in a May 7 runoff. Macron holds a large lead in opinion polls.
Oil futures drifted lower, with West Texas Intermediate crude for Jun delivery ending with a loss of 39¢ (0.8%) at $49.23 a barrel. A combination of worries about rising US output & doubts about the ability of OPEC to achieve an extension of a program of production curbs kept pressure on futures.
US execs are shrugging off domestic policy concerns as they look to strike M&A deals. Nearly 80% of execs expect their company to actively pursue mergers & acquisitions over the next 12 months, according to an EY survey. "That was the biggest surprise" to come out of the survey, said Bill Casey, vice chair for transaction advisory services at EY Americas. "The fundamental drivers continue to be innovation and disruption," he said. "Companies feel compelled to innovate themselves or to go into the market and buy." More than 2300 senior executives, including 459 in the US, were surveyed in Mar & Apr. M&A activity in the US got off to a roaring start this year, with $35.7B in deals being announced in just the first 9 days of the year. But the pipeline has slowed considerably. Nearly $360B in US mergers & acquisitions have been announced for 2017, representing a more than 10% increase from the same period last year. However, that puts total M&A activity for the year on track for about $1.2T, below 2016's roughly $1.7T. The slowdown in the M&A market coincides with growing uncertainty around Trump & his administration's ability to move forward with some key policy initiatives, including tax reform & infrastructure spending.
Nearly 80% of executives says let's make a deal, despite DC uncertainty
Treasury Sec Steve Mnuchin said Trump's tax plan will focus on a middle-income tax cut, tax simplification & making US businesses more competitive. Trump has said he will make an announcement on taxes Wed. Asked during if the plan would be revenue-neutral, Mnuchin said it would "pay for itself" through economic growth.
This is going to be one BUSY week for the stock market, finishing with the drama around a possible fed gov shutdown after a ton of earnings reports. The French election was warmly greeted by stock investors & there is a lot of word being put out by the administration about lower taxes & higher growth rates. Now all that is necessary is to make it all happen in a deeply divided DC. High yielding REITs were sold today (but finishing off the lows), partially on the notion that improved growth prospects makes high yielding stocks looks less attractive. However junk bond funds did well today. Who knows? With all the uncertainty out there, caution was thrown to the wind. Tomorrow brings a new day with NAZ at a record & the Dow within 400 of its record.
Dow Jones Industrials