Dow lost 6, decliners narrowly ahead of advancers & NAZ slid back 1. The MLP index lost a fraction in the 325s & the REIT index was fractionally higher to the 348s. Junk bond funds rose & Treasuries drifted lower after strength in the AM. Oil climbed higher to the 52s & gold's advance was trimmed to 4 (more on both below).
AMJ (Alerian MLP Index tracking fund)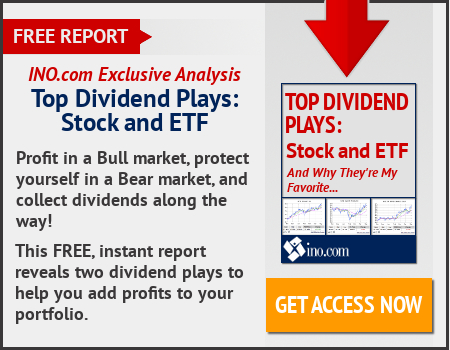 Gold prices touched a 5-month high session, as traders sought the safety of the precious metal & other safe-haven assets like gov debt following US airstrikes on Syria & a mixed US Mar jobs report. Gold prices rose 1.5% to $1270, before simmering down to settle up 0.3% at $1254.
Gold Touches Five-Month High on Syria Strikes, Before Settling Out
Crude had its 2nd weekly gain after briefly spiking in reaction to the first military strike undertaken by Trump's administration. Futures surged over 2% to the highest in a month in early trading after a cruise-missile strike against Syria. Gains eased after a weak jobs report fueled concern about the strength of the US economy. Russia's deal with OPEC to cut crude supply hasn;t delivered as much as expected, according to Deputy Prime Minister Arkady Dvorkovich. OPEC ministers will gather on May 25 to decide whether to extend the accord. Oil had struggled to extend a rally beyond $51 a barrel as concern over surging US supplies countered optimism around a possible extension to production cuts led by OPEC. West Texas Intermediate for May delivery advanced 48¢ (0.9) to $52.18 a barrel after rising to $52.94 earlier, the highest since Mar 7. Prices were up 3% this week & volume traded was about 40% above the 100-day average.
The US took a very measured step that was "fully justified" when it fired missiles at a Syrian air field over a deadly toxic gas attack, said UN Ambassador Nikki Haley. "We are prepared to do more, but we hope that will not be necessary," she told the Security Council. "The United States will not stand by when chemical weapons are used. It is in our vital national security interest to prevent the spread and use of chemical weapons."
It's time to rethink major financial regulations, including the Volcker Rule & the Fed''s annual stress tests of banks, now that almost a decade has passed since the financial crisis, NY Fed pres William Dudley said. "It is entirely appropriate to take a critical look at the changes that were made to the regulatory regime," he said in remarks. The obvious, & bipartisan, possibility for easing smaller-bank regulations is one place to start, he said, but he signaled openness to changes that would affect larger banks, too. The Volcker Rule's ban on banks investing their own money left the line between making markets & proprietary trading "not always clear-cut," Dudley said. So, it might make sense to give trading desks more discretion. Dudley added that he's open to revamping a key Dodd-Frank Act requirement that subjected all banks with more than $50B in assets to stringent oversight. The threshold could be raised "significantly," he added. Dudley also addressed a key aspect of the Fed's supervision powers: the annual stress testing of large banks. He said the agency "should consider changes that might lessen the burden it places on banks," including tweaking some of the assumptions that the regulator makes about plans for shareholder dividends during a crisis. In its exams, the Fed currently assumes banks will continue paying divs during deep economic slumps, which financial execs have argued is off base. The comments come as the Trump administration works to reduce banking regulations. Pres Trump& White House officials have said they'll seek to dismantle some of the Dodd-Frank rules put in place after the 2008 crisis. Dudley was critical of Rep lawmakers' efforts to scrap a system set up under Dodd-Frank that lets the Federal Deposit Insurance Corp take down failed financial firms. The alternative, bankruptcy court, doesn't make sense unless the process is improved to establish a liquidity backstop for massive firms, he added.
New York Fed's Dudley Supports Reconsidering Key Banking Rules
On another day, stocks would seen wild generations given the news. But not today. Maybe Trump & his policies are having a calming influence on traders. The gold chart above shows gold, negative bets on the stock market, pulled back from early gains when traders felt better about the news. Dudley's comments about less regulation didn't hurt.
Dow Jones Industrials