Dow gave back 32, decliners over advancers better than 3-2 & NAZ lost 10. The MLP index was flattish in the 323s & the REIT index hardly budged in the 345s. Junk bond funds drifted lower & Treasuries crawled higher. Oil went up (more below) & gold added 5 to 1260, near recent highs.
AMJ (Alerian MLP Index tracking fund)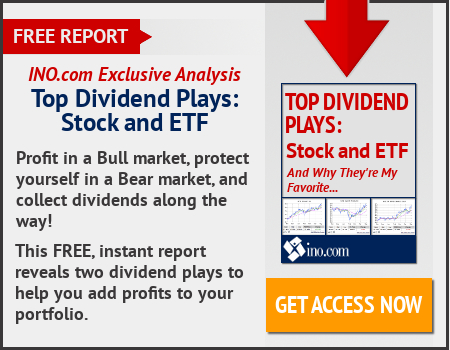 The US trade deficit narrowed in Feb to a 4-month low as imports declined & exports improved amid a brighter outlook for global manufacturing, Commerce Dept data showed. The g
ap decreased 9.6% to $43.6B from a revised $48.2B in Jan. This c
ompares with $44.6B estimate; Jan gap was originally estimated at $48.5B.
Merchandise-trade deficit shrank to $65B from $69.5B; advance Feb figures showed $64.8B.
As the gap shrank in Feb, global growth prospects were improving, giving US exporters a boost. Exports of goods & services reached the highest level since the end of 2014. The narrowing of the deficit may mean trade will be less of a drag on growth in Q1. Fading in $ strength & a pickup in manufacturing sentiment could be a further boon to trade in the months ahead. Imports declined by the most in nearly a year as demand for consumer goods & automobiles waned. Just as some analysts attributed to the Jan deficit, the widest in almost 2 years, to a rush of shipments ahead of the Chinese New Year holiday, the Feb figure represented a reversal of that effect. China's own trade data typically show big swings in Jan & Feb. The Census Bureau figures showed America's merchandise imports from China declined $8.6B in Feb on an unadjusted basis, the biggest drop on record. The US goods trade deficit with China narrowed to $23B.
Oil prices rose as expectations of a drawdown in US crude and product inventories outweighed news of higher Libyan production.
US light crude was 25¢ higher at $50.49 a barrel.
It recovered from a 4-month low last week on expectations that OPEC would manage to tighten supply by cutting production under a deal agreed at the end of last year.
Demand is picking up ahead of summer in key markets, including the US, the world's biggest oil consumer, where analysts forecast industry data this week will show a decline in oil inventories.
US crude stocks probably declined last week after rising for 2 consecutive weeks & refined product inventories were also expected to have fallen.
But global inventories remain stubbornly high & investors are betting that it will take many months for oil prices to respond convincingly to lower OPEC output.
Libya's crude output increased after state-owned National Oil Corp lifted a force majeure on loadings of Sharara oil from the Zawiya terminal in the west of the country.
Ralph Lauren will cut jobs & shut its flagship Polo store on Fifth Avenue in NYC, among other office & store locations, as part of a cost-cutting plan.
The luxury retailer also said its e-commerce business would move to Salesforce.com Inc's cheaper & more efficient Commerce Cloud platform. The company
had said last year it was building an in-house global e-commerce platform.
It also said that it would integrate its products from the Fifth Avenue store into the Ralph Lauren men's & women's flagship stores on Madison Avenue & its downtown locations.
RL expects to incur about $370M in charges & save about $140 million from the new measures, which are part of a cost-cutting plan announced in Jun when it said
it would cut about 1K jobs & close 50 stores to lower costs & revive sales growth.
The stock fell 1.16. If you would like to learn more about RL, click on this link:
Ralph Lauren to Cut Jobs, Close Flagship Fifth Avenue Polo Store
Ralph Lauren (RL)
A sluggish stock market is looking for direction. The muddled mess in DC drones on & becomes more confusing every day. Economic data & levels of confidence are optimistic which is allowing stocks to take it all in stride. The Dow is still only 500 below its record highs, not bad.
Dow Jones Industrials