Dow was off 14, decliners over advancers about 2-1 & NAZ dropped 29. The MLP index dropped 3+ to the 384s & the REIT index remained strong, adding 1+ to the 354s. Junk bond funds inched higher & Treasuries were sold. Oil & gold continued weak (more on both below).
AMJ (Alerian MLP index tracking fund)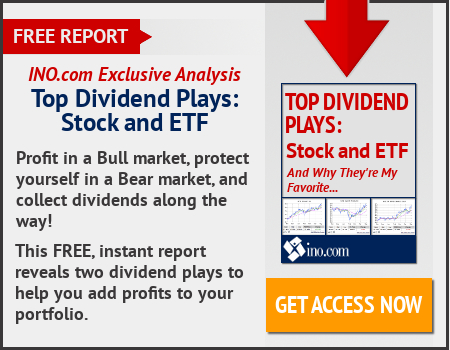 The US job market continues to show signs of strength, as the number filing for unemployment benefits fell to a 3-week low, according to Labor Dept data. Initial jobless claims fell 8K to 237K (forecast was 241K); close to 43-year-low of 227K. Continuing claims rose 6K to 1.935M. The 4-week average of initial claims, a less-volatile measure than the weekly figure, rose to 243K from 242K in the prior week. Labor demand in the US economy remains high & with unemployment at a 16-year low, employers are choosing to retain the staff they have on hand. The data continue to signal a tightening labor market, in which managers complain of an ever-shrinking pool of candidates that don't match the skills or experience some are looking for. Fed Chair Janet Yellen said that employment was near its maximum sustainable level when the central bank raised interest rates for the 3rd time in 6 months. Unemployment rate among people eligible for benefits unchanged at 1.4%.
U.S. Jobless Filings Fall to Three-Week Low
An unexpected decline in May factory output after the biggest gain in 3 years shows US manufacturing is leveling off, Federal Reserve data showed. Factory output declined 0.4% (est. 0.1% gain) after a 1.1% jump that was the largest since Feb 2014. Total industrial production, which also includes mines & utilities, was unchanged (est. 0.2% gain) after a revised 1.1% surge that was the strongest in nearly 7 years. Capacity utilization, measuring the amount of a plant that is in use, edged down to 76.6% from 76.7%. Factory output dropped for the 2nd time in 3 months, essentially little changed from Feb & reflecting broad declines that included less production of motor vehicles, business equipment & construction supplies. Excluding cars & trucks, factory output also fell 0.2%, also the 2nd decline in 3 months. An acceleration in the near term looks unlikely given the slowdown in the auto industry, which had been a bright spot in recent years. A failure of businesses to accelerate investment, as they wait for clarity on tax & regulatory reforms, may also weigh on production. At the same time, more stable energy prices & steady household spending will help underpin American factories, while improving overseas markets may give a boost to export-oriented production. Production of motor vehicles decreased 2% after a 4.1% gain in Apr & a 3.5% drop in Mar.
Pres Trump issued an executive order to expand apprenticeship programs in an effort to close the skills gap weighing on businesses & workers in the nation's labor market. "We're empowering these companies, these unions … to go out and create new apprenticeships for millions of our citizens … [to] place students into great jobs without crippling debt ... instead apprentices earn while they learn," Trump said. The order, developed with the help of the Dept of Labor, will give businesses, trade unions & other 3rd parties more flexibility to develop "high-quality" technical education programs that could be eligible for expedited review by the Dept of Labor. It will also provide more funding & create a task force of business leaders to help promote the programs across new sectors, as well as assess the effectiveness of the job-training programs currently in place. White House officials have pointed to 6M job openings across the US, the highest level since 1980, it says & the 8.4% U-6 unemployment rate as illustrative of the skills gap in action. Americans want to work, but execs are having trouble finding workers with the appropriate skills to fill open positions, they say. Labor Sec Alexander Acosta & Trump's special adviser, daughter Ivanka Trump, have said this week that apprenticeship programs are a way to equip workers will the necessary training so these jobs don't remain unfilled. The pres has sold training programs as an affordable & secure alternative to a traditional 4 year degree. The administration said that 90% of apprentices find employment upon completing their training programs & the average starting salary is $60K. Technical program grads also see a "$300,000 lifetime increase in earnings" & don't owe student loans, according to the administration.
Boeing, a Dow stock, shares hit fresh all-time highs, a day after the US & Qatar signed a deal that will send $12B worth of F-15 fighter jets to the Gulf nation. In Nov, the Obama administration approved the sale of up to 72 F-15QA multirole fighters to Qatar for $21.1B. The deal remained on the table last week after a diplomatic battle broke out between Qatar & Middle Eastern neighbors such as Saudi Arabia, which has accused Qatar of supporting terrorist groups. US officials have said the jets will bolster Qatar's defense capabilities & increase military cooperation between the 2 nations. The sale includes 36 F-15s, equal to ½ of the initial agreement. BA, maker of the F-15, is listed as the primary contractor. "We thank the Qatari and U.S. governments for moving forward with the F-15 agreement. We are very grateful for their continued confidence in Boeing," BA said. The stock jumped up 3.07. If you would like to learn more about BA, click on this link:
club.ino.com/trend/analysis/stock/BA?a_aid=CD3289&a_bid=6ae5b6f7
Boeing (BA)
Gold prices settled at their lowest level in 3 weeks, as the $ strengthened in the wake of the US Federal Reserve's decision to raise interest rates. Aug gold fell $21.30 (1.7%) to settle at $1254 an ounce, the lowest finish for a most-active contract since May 24.
Oil prices were down more than ½% after hitting a 6-month low, remaining under pressure from high global inventories & fears that OPEC's agreed production cuts cannot offset rising production elsewhere. The $ rose to its highest in more than 2 weeks, adding to the pressure on oil, as solid readings on the US economy helped strengthen the case for the Federal Reserve to continue tightening monetary policy this year. A stronger $ makes greenback-denominated oil more expensive for buyers in other currencies. Saudi Arabia's oil exports are expected to fall below 7M barrels per day this summer, according to industry sources, & Russian oil exports were seen as broadly flat in Q3, & yet prices continue to fall. The market has not been able to sustain a rally since Mar, as efforts by OPEC & non-OPEC producer Russia to reduce supply have been met with higher output from Nigeria & Libya, who are exempt from the deal, along with the US. US crude was down 21¢ at $44.52, after earlier touching a 6-month low of $44.32 a barrel. Crude prices fell nearly 4% yesterday, after US gasoline inventories rose unexpectedly & the International Energy Agency said it expects supply to outpace demand in 2018 despite consumption hitting 100M bpd for the first time. US gasoline inventories rose 2.1M barrels last week, putting them 9% higher than their 5-year average for this time of year, according to the US Energy Information Administration.
Oil slides, hits 6-month low as OPEC fails to curb glut
Stocks remain on defense. But so far the decline is not serious. Dow is essentially at its record highs while NAZ has only fallen 2+%. However tech shares have been market leaders recently & their weakness is sending negative signals for the rest of the stock market. The bulls have to be nervous.
Dow Jones Industrials