Dow dropped 61 (finishing at the lows), decliners over advancers 5-2 & NAZ fell 50. The MLP index tumbled 7+ to the 278s (another more than 1 year low) & the REIT index was off 1+ to the 353s. Junk bond funds remained mixed & Treasuries rallied late in the day, taking the yield on the 10 year Treasury down to 2.15%. Oil sold off & gold had a modest decline (more on both below).
AMJ (Alerian MLP Index tracking fund)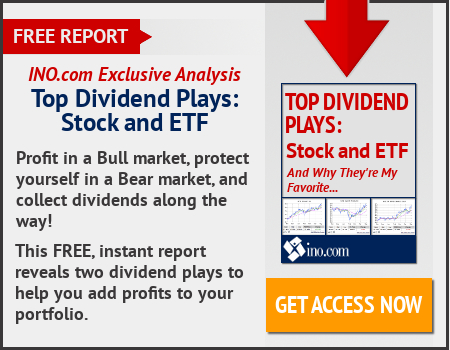 US stocks retreated from all-time highs as crude oil slid into a bear market on concern the global supply glut will persist. The $ rose as Fed officials continued to reiterate a moderately hawkish stance on monetary policy. Oil & gas companies fell more than 1.3% to lead the S&P 500 lower, while technology-heavy equity benchmarks failed to hold a rebound after rallying yesterday. Yields on 10-year Treasuries slipped as the Fed's Charles Evans said the economy was in good shape even as inflation remains stubbornly below targets. The £ weakened a 2nd day as Bank of England Governor Mark Carney said he is still worried about the impact of Brexit on the economy. European stocks gave up advances as a slump in copper dragged down miners. Hong Kong shares retreated ahead of MSCI's decision on whether to include China's domestic equities in its main indices. The weakness in crude & other commodities dents arguments from American central bankers that weak inflation rates will be transitory, even as the economy shows few signs distress. Treasuries fell yesterday after Fed Bank of NY Pres William Dudley said halting the tightening cycle now would imperil the economy.
U.S. Stocks Drop as Oil Slides Into Bear Market: Markets Wrap
Greece will need additional debt relief to regain the trust of investors, even though it's likely to exit its bailout with a €9B ($10B) cash buffer, the European Commission said in a draft report. The country's €86B 3rd bailout program from the European Stability Mechanism, agreed by Prime Minister Alexis Tsipras & European creditors in 2015, will expire in Aug 2018 with €27.4B left unused, the commission estimates in the "compliance report" dated Jun 16. Disbursements up to then should also "cater for the build-up of seizable cash buffer" of around €9B. The report contains an analysis of the country's public debt that points to potential wrangling with the IMF following an agreement last week to disburse bailout funds, in which the fund only agreed to a new program "in principle." Even as the commission's analysis points "to serious concerns regarding the sustainability of Greek public debt," its assumptions about the country's future growth prospects are still more optimistic than those of the IMF.
EU Says Greece Needs More Debt Relief Despite Buffer
Illinois will not meet a court-set deadline today to increase spending on backlogs of Medicaid payments, pushing the problem off until the end of the month as the state's unprecedented budget impasse is on the verge of entering its 3rd straight fiscal year. Medicaid talks will continue, with a new deadline set for Jun 28, just 2 days before the final deadline for the state legislature to agree on a spending bill during a special session (the new fiscal year begins Jul 1). Illinois owes Medicaid providers $2B for care provided to more than 3M people, a small sum compared to the state's total unpaid bill of $15B (40% of the operating budget). After being unable to pass a spending bill for 2 straight fiscal years, the state has been functioning on appropriations since 2015. Failure to strike a budget agreement by the end of the state legislature's annual session on May 31 resulted in a critical credit downgrade for the country's 5th largest state to Baa3, the lowest of any state & only one level above non-investment grade (i.e. junk debt). Illinois has received 8 downgrades in as many years & most states are rated at least 8 levels higher, according to Moody's. The state's backlog of unpaid bills will skyrocket to $28B by Jun 2019 without a deal, Moody's predicted, which would rack up even more interest & penalties than what is already owed. Even if a deal is reached, state debt & taxpayer dues will both likely increase.
Gold prices logged a 2nd-straight session of losses to settle at their lowest level since mid-May. Comments from Federal Reserve officials so far this week have supported expectations for further interest-rate hikes by the central bank this year, providing a lift to the $ & dulling gold's investment appeal. Aug gold fell $3.20 (0.3%) to settle at $1243 an ounce.
Oil fell about 2%, with Brent settling at 7-month lows & US crude at its cheapest since Sep, after increased supply from several key producers overshadowed high compliance by OPEC & non-OPEC oil producers with a deal to cut global output. Brent ended 89¢ lower at $46.02 a barrel, its lowest settlement since Nov 15, 2 weeks before OPEC & other producers agreed to cut output 1.8M barrels per day (bpd) for 6 months from Jan. US crude futures contract for Jul, due to expire later on today, settled down 97¢ at $43.23, the lowest since Sep 16. Both benchmarks were down more than 15% since late May, when OPEC, Russia & other producers extended limits on output until the end of Mar 2018. OPEC & non-OPEC oil producers' compliance with the deal to cut output reached its highest in May since they agreed on the curbs last year, reaching 106% last month, according to a leaker. OPEC supplies, however, jumped in May as output recovered in Libya & Nigeria, both exempt from the production reduction agreement. Libya's oil production rose more than 50K bpd to 885K bpd after the state oil company settled a dispute. Nigerian oil supply is also rising. Exports of Nigeria's Bonny Light crude are set to reach 226K bpd in Aug, up from 164,000 bpd in Jul, loading programs show. Ahead of weekly US inventory reports, US crude oil stocks were forecast to have fallen 2.1M barrels last week, while gasoline was seen building by 400K barrels after last week's data showed an unexpected build that weighed heavily on the market
.
U.S. crude ends at nine-month lows on global oversupply
Sellers returned to the stock market. All is not well with this rally. As bad as the Illinois financial mess is, California is just about as bad with much bigger numbers. The Greek debt mess has not been resolved. Sinking oil prices send gloomy thoughts about the health of the global economy. With all this chaos, the popular stock averages continue to be near record highs. Will wonders never cease?
Dow Jones Industrials