Dow lost 76, advancers over decliner about 5-4 & NAZ gave back 5. The MLP index was fractionally higher to 270 & the REIT index fell 2+ to the 246s. Junk bond funds crawled up & Treasuries inched higher. Oil shot up to the 48s (more below) & gold gains were reduced to just 1 at 1293.
AMJ (Alerian MLP Index tracking fund)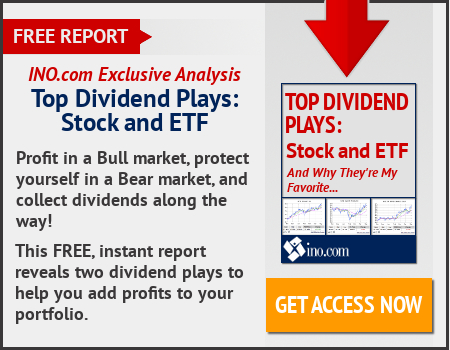 House conservatives are split over how to approach the upcoming debate over the nation's debt limit, with some resigned to raising it with little drama & others gearing up for a standoff over federal spending levels that could result in an unprecedented default. David Schweikert, a member of the conservative House Freedom Caucus, says he doesn't want to risk a showdown that analysts warn could shake markets & faith in the credit-worthiness of the US. The Arizona Rep, who sits on the House Ways & Means Committee, said he believes a clean debt limit hike can "absolutely" pass Congress & that he could see himself voting for such a measure. "There's an understanding of, structurally, where we're at, and not wanting to create the theatrical stress," Schweikert said. But Representative Jim Jordan of Ohio, a founder of the Freedom Caucus, said he's worried about the rumors he's heard regarding Reps moving toward a debt limit hike without any related spending cuts. "I hope they're not moving in that direction," Jordan said . "I just would be shocked if Paul Ryan would go in that direction. The speaker understands the gravity of our debt situation." "There's going to be strong opposition from lots of Freedom Caucus members, and my guess is lots of members of the House Rep conference" if the GOP doesn't include some kind of spending cuts as conditions, he added. The split could lead to a rocky period next month, when Congress returns from its summer recess. Lawmakers will have only a few weeks to act & GOP leaders may find it harder than they expect to shepherd through a debt ceiling hike without spooking the markets. The Treasury Dept, which is already employing extraordinary measures to avoid a default, hasn't said exactly when the final deadline is for raising the debt limit. Treasury Sec Steve Mnuchin told House Speaker Paul Ryan that Congress needs to act before Sep 29 to raise the debt limit & he has said he prefers a bill without strings attached. Since a deal to raise the debt ceiling will need at least 8 Dems in the Senate, the minority party has leverage to block any spending cuts or other policy changes that Reps may try to add. Even in the House, where the GOP has a wider majority, there will be enough Rep holdouts who are ideologically opposed to raising the debt limit to force leaders to rely on Dem votes.
House Conservatives Split Over Debt Ceiling
Fed Bank of Dallas Pres Robert Kaplan said the US has benefited from immigration & the nation's historic openness to newcomers is a vital competitive edge that it needs to preserve its lead in the economic race against China. "Culturally, we are receptive historically to immigrants -- that's one of the things that differentiates us from Japan and China," Kaplan said. "Let's make sure we're very careful about undermining those things that made us great." His comments come in stark contrast to the tone struck by Pres Trump's administration, which has focused on limiting immigration as a way to protect American jobs as part of a broader campaign of economic nationalism spearheaded by Kaplan's former colleague Steve Bannon. Kaplan called immigrant integration one of the "great distinctive competencies" of the US. The Dallas Fed chief frequently says the US needs to boost its workforce to improve economic growth, including thru immigration. China has "a worse aging problem than we do. Why's that important? It means they've got a workforce growth problem and they're trying to fix it but it's going to take 20-25 years," Kaplan said. That's because it means China would need to raises its birth rate, while the US has historically also been able to rely on immigration. "You don't like to screw up your distinctive competencies. That's one of ours."
Fed's Kaplan Says Immigration Key to U.S. Economy Beating China
Deere's (E) fiscal Q3 profit topped estimates, buoyed by improving farm & construction equipment markets. But its adjusted revenue missed estimates. The agricultural equipment maker had EPS of $1.97 versus $1.55 last year. The results beat expectations as.analysts were looking for EPS of $1.93. Revenue rose to $7.81B from $6.72B. Adjusted revenue was $6.83B, which was short of the $6.88B that was expected. Going forward, DE. foresees fiscal 2017 net income of about $2.08B while. Analysts are predicting net income of $2.06B. The stock sank 6.66 (5%). If you would like to learn more about DE, click on this link.
club.ino.com/trend/analysis/stock/DE?a_aid=CD3289&a_bid=6ae5b6f7
Foot Locker (FL) shares tumbled after the sports apparel company missed profit & sales estimates for Q2. EPS dropped to 39¢ from 94¢ in the year-earlier period. Adjusted per-share EPS came to 62¢, well below the 90¢ estimate. Sales fell 4.4% to $1.7B, also below the consensus of $1.8B. Same-store sales fell 6%, compared with an estimate for a gain of 0.8%. "Sales of some recent top styles fell well short of our expectations and impacted this quarter's results," CEO Richard Johnson said, describing the results as disappointing. "At the same time, we were affected by the limited availability of innovative new products in the market. We believe these industry dynamics will persist through 2017, and we expect comparable sales to be down three to four percent over the remainder of the year." The stock plunged 13.33 (28%). If you would like to learn more about FL, click on this link.
club.ino.com/trend/analysis/stock/FL?a_aid=CD3289&a_bid=6ae5b6f7
Oil prices rose as the stock market strengthened & the $ weakened, but US crude futures remained on track to close the week down as investors remained worried about the global oil glut. The week's trading was defined by bearish data about Chinese oil demand & rising crude production in the US. WTI crude futures for Sep rose $1.18 to $48.27 a barrel, a 2.5% gain.
Oil jumps more than 2 percent as Wall Street up, dollar down
Steve Bannon has been controversial, not any more. Congress has a lot do get done next month, starting with raising the debt ceiling & setting a spending budget for the new year. And that will be very difficult in very divided DC & the stock market is finally sensing that. Dow is down about 600 from its recent highs.
Dow Jones Industrials