Dow advanced 80, advancers over decliners more than 2-1 & NAZ added 31. The MLP index was fractionally lower to the 314s & the REIT index rose 2+ to the 269s for a new record. Junk bond funds were mixed & Treasuries retreated as stocks traded higher. Oil slid below 45 on higher production in Jun (see below) & gold was a tad lower, still near the highest level in 2 years.
AMJ (Alerian MLP Index tracking fund)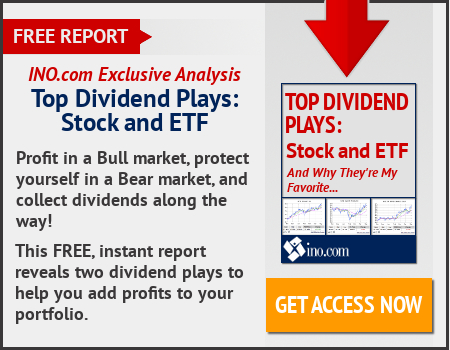 CLQ16.NYM
| | | | | | |
| --- | --- | --- | --- | --- | --- |
| | Crude Oil Aug 16 | ....44.60 | ....0.81 | (1.8%) | |
Home Secretary Theresa May will succeed David Cameron as K prime minister on Wed after her only challenger for the role dropped out, giving her the task of steering the country out of the EU. Cameron said he will visit Queen Elizabeth to resign after his last question-&-answer session in the House of Commons on Wed. The monarch will then invite May as leader of the party with a majority in the House of Commons, to form a gov. "Brexit means Brexit, and we're going to make a success of it," May said. "We need a strong, new, positive vision for the future of the country -- a vision that works not for the privileged few but for every one of us -- because we're going to give people more control over their lives, and that's how together we will build a better Britain." The £ & British stocks gained as May's rival for the leadership unexpectedly announced she was pulling out of the contest. She will take on the task of managing the country's transition out of the EU against a backdrop of gyrating markets, with the £ trading near its lowest in more than 3 decades. May has already warned that the UK should no longer try to meet its target of a budget surplus by 2020.
May to Become Britain's Prime Minister on Wednesday
Fed Reserve Bank of KC pres Esther George has resumed her advocacy for interest-rate increases, citing the Jun rebound in US hiring as a key reason to push rates further above zero. "The economy is at or near full employment" said George, a voter this year on the policy-making FOMC, said. "And yet short-term interest rates remain at historic lows. Keeping rates too low can also create risks." George, who voted with her colleagues to leave rates unchanged last month, is considered one of the most hawkish members of the FOMC. She has dissented at 2 of the committee's 4 meetings this year in favor of higher rates. The FOMC has left the target range for the benchmark federal funds rate unchanged at 0.25%-0.5% since Dec. George explained that she didn't dissent at the Jun FOMC meeting because a disappointing US payrolls report for May, as well as Britain's looming referendum on EU membership, had given her pause. The KC Fed chief said the May employment report, in particular, had caused her to question whether a more persistent slowing was afoot, but that concern was eased by the rebound in Jun. The FOMC will meet on Jul 26-27. George, who has headed the KC Fed since 2011, argued that those calling for the Fed to keep rates steady risked raising unreasonable expectations about what monetary policy can achieve. "It may be wrongly signaling that we can fix something" that central bankers can't address, she said. Part of the onus for spurring economic growth should fall to fiscal authorities who can bring about tax policy changes, regulatory reforms & spending in areas like education & training, George said. Referring to levels of unemployment & inflation being close to Fed targets, she said, "I would argue by those measures the Fed has largely achieved what it can do right now."
Oil production from OPEC rose by 300K barrels a day in Jun from a month earlier, to 32.73M barrels a day, according to a S&P Global Platts. Platts said OPEC & oil-industry officials showed that output was at a nearly 8-year high as output in Nigeria & Libya "tentatively recovered along with steady increases for Saudi Arabia & Iran." Saudi Arabia raised its production to an average of 10.33M barrels a day in Jun, from as much as 10.45M barrels a day last summer.
Oil fell to the lowest level in 2 months, with prices pressured by expectations for a rise in global production & the potential for weaker energy demand in the wake of the UK's plan to exit the EU. Aug WTI crude fell 65¢ (1.4%) to settle at $44.76 a barrel.
Stock bulls are feeling good even though plenty of problems are around. Higher oil prices made the bulls courageous, but the oil rally looks to be over. The British exit form the EU will bring on a host of problems. Most troubling, thoughts about global growth maybe excessive. That's why gold & Treasuries are at their highs. While S&P hit a record, Dow did not.
Dow Jones Industrials