Dow fell 108, decliners over advancers 5-2 & NAZ was off 39. The MLP index gave up 2+ to the 313s (about flattish for the last couple of months) & the REIT index went up 3+ to the 366s (a new record). Junk bond funds were a little lower & Treasuries rallied, bringing record low yields. Oil tumbled to the 46s & gold shot up again (more on both below).
AMJ (Alerian MLP Index tracking fund)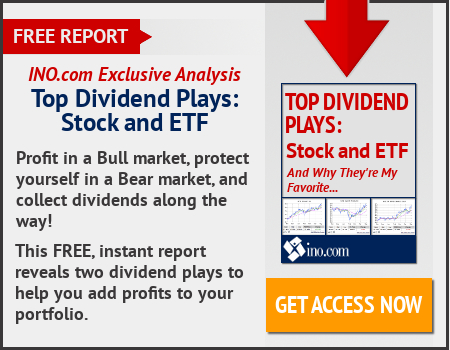 CLQ16.NYM
| | | | | | |
| --- | --- | --- | --- | --- | --- |
| | Crude Oil Aug 16 | ....46.68 | ....2.31 | (4.7%) | |
Crude headed for the biggest decline in almost 5 months as the outlook for the world economy darkened while oil stockpiles remain ample. Futures fell as much as 5.4%. OPEC output rose in Jun, lead by Nigeria & gasoline dropped to the lowest in more than 2 months.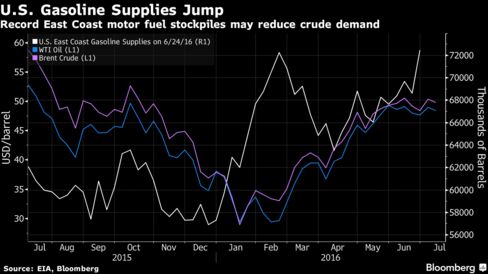 West Texas Intermediate for Aug delivery slipped $2.43 (5%) to $46.56 a barrel. Contracts for delivery further out fell less than August futures, shrinking contango, the structure where prices for delivery today are lower than those in future months.
The £ fell to its weakest level in 3 decades, surpassing lows reached in the aftermath of Britain's vote to leave the EU. Sterling touched $1.30 & sank to its lowest since 2013 against the € as evidence piled up that the Brexit vote is hurting confidence in the UK economy.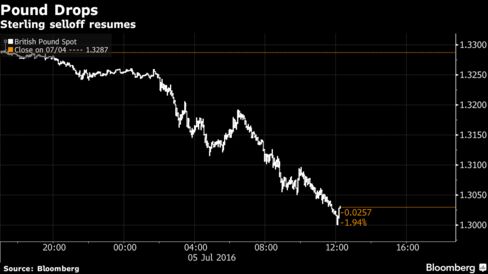 The U.K. currency briefly pared its losses as Bank of England Governor Mark Carney outlined more tools to contain the fallout from the UK's decision to quit the bloc. He said his concerns about £ declines had been borne out since the Brexit vote, while adding that the weaker currency should help exporters. The £ soon resumed its drop, setting fresh lows. Reports this week have shown UK construction unexpectedly shrank at the fastest pace since 2009 in Jun, while growth in services output slowed.
Pound Tumbles to 31-Year Low as Brexit Starts to Inflict Damage
Silver & gold futures rallied as a sharp decline in global stock markets drew investors to the safe-haven appeal of the precious metals. Sep silver rose 31.9¢ (1.6%) to settle at $19.907, the highest settlement for a most-active contract since Aug 2014. Gold for Aug delivery rose $19.70 (1.5%) to end at $1358, with futures prices at their highest since Mar 2014.
New orders for US factory goods fell in May on weak demand for transportation & defense capital goods, but growing order backlogs & lean inventories suggested the worst of the manufacturing downturn was probably over. The Commerce Dept said new orders for manufactured goods declined 1.0% after 2 straight months of increases. Apr orders were revised slightly down to show a 1.8% increase instead of the previously reported 1.9% jump. Economists had forecast factory orders falling 0.9%. The dept said orders for non-defense capital goods excluding aircraft fell 0.4% instead of the 0.7% drop reported in the prior month. These core capital goods are seen as a measure of business confidence & spending plans on equipment. Core capital goods shipments, used to calculate business equipment spending in the GDP report, dropped 0.5% as reported last month. Manufacturing, which accounts for about 12% of the economy, has been squeezed by a strong $ & weak global demand, which have undercut exports of factory goods, as well as efforts by businesses to reduce an inventory bloat. The sector has also been hurt by spending cuts by energy firms as they adjust to reduced profits from cheaper oil. But there are signs the sector could be close to turning the corner. A survey Fri showed a gauge of national activity surged in Jun, with factories reporting strong increases in new orders, including exports, order backlogs & inventories. In May, orders for transportation equipment fell 5.7%, despite a 0.8% increase in demand for motor vehicles & parts. Defense capital goods orders tumbled 28.1%. Orders for machinery, which have been hurt by weak demand in the energy & agricultural sectors, gained 0.3%. But orders for electrical equipment, appliances & components slipped 0.6%. Orders for computers & electronic products were unchanged. Inventories of factory goods dipped 0.1%, suggesting factories were making progress in reducing the inventory bloat. Unfilled orders at factories increased 0.2% after rising 0.6% in Apr & have increased in 4 of the last 5 months.
There was a bit of buying into the close on an otherwise dreary day. Stocks have been in rally mode for a week, hoping Breixt problems would evaporate. They didn't & selling is setting in. Oil, which has been strong since Feb, has also pulled back as supply/demand fundamentals are not looking so good. Safe haven Treasuries & gold (along with silver) have been rising, risk averse is returning to investment thinking. Earnings season is about to begin & that can not be expected to give the stock market a lift.
Dow Jones Industrials