Dow inched up 4, advancers barely ahead of decliners & NAZ added 1. The MLP index fell a fraction to the 323s & the REIT index was about even in the 369s . Junk bond funds were little changed & Treasuries climbed higher. Oil retreated on new data from the IEA (see below) & gold went higher.
AMJ (Alerian MLP Index tracking fund)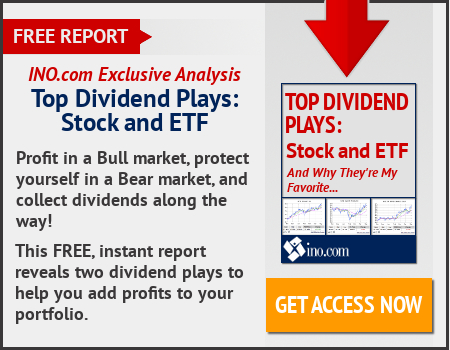 When Theresa May takes office, her most-watched act as UK prime minister will be naming a Brexit Czar. Extricating the UK from the EU will require finesse & force & whoever gets the job will need to be unswervingly loyal to the new leader & also have been a backer of the "Leave" campaign. The formation of a new Brexit dept with a secretary of state at its helm will be one of May's first announcements. Finding the right person to manage Britain's difficult divorce from the bloc while calming volatile markets & a still-stunned electorate is May's most important task. May had promised that whoever she picks for the Brexit post will have been a bona fide supporter of leaving,. One of the hardest parts of the job will be selling whatever deal is reached to those within the Conservative Party who, unlike May, campaigned for the UK to leave.
Theresa May's First Job as U.K. Leader Is Naming Brexit Czar
Oil production from the Middle East has climbed to a record while US output slumps, the International Energy Agency said, a sign that OPEC's strategy of defending market share is succeeding. Middle Eastern output exceeded 31M barrels a day for a 3rd month in Jun amid near-record supply from Saudi Arabia, while US oil production slid 140K barrels a day to 12.45M. The IEA, which mostly kept forecasts for supply & demand unchanged, said that while the re-balancing of global oil markets is progressing, record-high inventories remain "a threat to the recent stability of oil prices."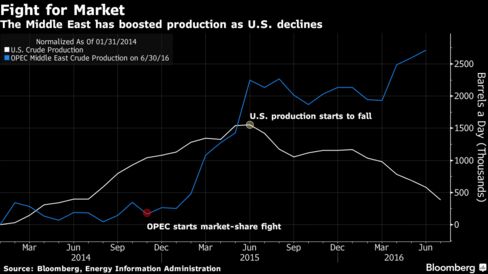 "When U.S. shale production was moving upwards very fast it became fashionable to talk of lower reliance on traditional suppliers," the IEA said. The Middle East's resurgence is "an eloquent reminder that even when U.S. shale production does resume its growth, older producers will remain essential for oil markets." Oil has recovered from the 12-year low as Saudi Arabia's strategy to pressure OPEC rivals succeeds in reversing the US shale oil boom. Elevated output from the Middle East pushed the region's share of world supplies to 35%, the highest since the late 1970s. Production from OPEC climbed to an 8-year high last month, boosted by the re-admission of Gabon, which swelled the number of members to 14. The group's crude output rose 400K barrels a day to 33.2M as Saudi Arabia boosted production to meet peak domestic demand during the summer & as Iran continued its export recovery following the end of sanctions. Not all of OPEC's members have reaped the benefits of the Saudi-led market strategy. Venezuela's crude production sank to a 13-year low of 2.18M barrels a day last month as an economic crisis triggered by the oil-price rout weighed on the its petroleum industry. In the US, crude production retreated 220K barrels to 8.9M a day in Apr, the most recent month. That was the biggest drop since 2008 as the 2-year price slump depressed investment & drilling activity. Output from all countries outside OPEC will tumble by 900K barrels a day this year, the largest decline since 1992, before recovering 200K barrels a day in 2017, the agency predicted. The agency made few changes to its forecasts. The world growth rate for 2017 remains unchanged, with demand seen rising 1.3% to 97.4M barrels a day. While supply & demand were mostly in balance in Q2, bloated stockpiles "remain a dampener on oil prices.". Oil inventories in industrialized nations climbed to an all-time high of more than 3B barrels in May, while the volume of crude being hoarded on tankers at sea has reached the highest level since 2009, the IEA estimated. "The modest fall back in oil prices in recent days to closer to $45 a barrel is a reminder that the road ahead is far from smooth," the agency said.
China's exports & imports slipped in $ terms in Jun as soft demand at home & abroad continues to weigh on its economy. Overseas shipments fell 4.8% from a year earlier & imports dropped 8.4%. Trade surplus slipped slightly to $48.1B. Both exports & imports in yuan terms looked better, with outbound shipments eking a small gain, reflecting the influence of a weakening currency The yuan posted a 5th straight drop last week, the longest losing streak this year, signaling policy makers are more tolerant of further weakening. With tepid global demand & businesses proving reluctant to invest, the gov has been stepping up spending to keep its growth target of at least 6.5% this year in sight.
Stocks are digesting gains after reaching record levels. There has been little good news to support this run, making the advance look suspicious. It gives traders an opportunity to cash in on short term gains. Banks earnings from the biggies are next & the bulls are keeping their fingers crossed, hoping for the best.
Dow Jones Industrials