Dow added 9, decliners over advancers 3-2 & NAZ fell 13. The MLP index lost 2+ to 320 & the REIT index fell 1+ to 368. Junk bond funds slid lower & Treasuries rose. Oil declined & gold inched higher.
AMJ (Alerian MLP Index tracking fund)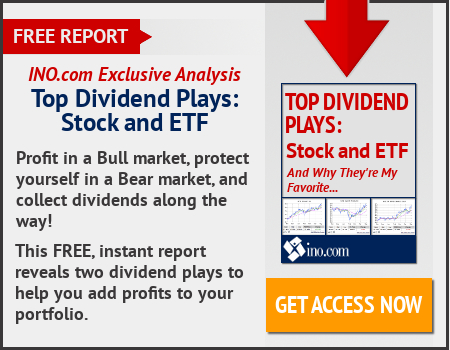 New-home construction in the US rose more than forecast in Jun, providing some momentum for residential real estate near the end of its busy selling season. Residential starts increased 4.8% to a 1.19M annualized rate, the most since Feb, from 1.14 in May that was lower than previously estimated, according to the Commerce Dept. Permits, a proxy for future construction, also climbed.
The residential construction industry has remained in a steady but tepid recovery, struggling to make further progress as homebuilders run up against scarce land supply & credit standards stay tight in the 8th year after the last recession. At the same time, stable job gains & prospects for faster wage growth should buoy real-estate demand in the months ahead. The forecast projected starts at 1.165M, little changed from the previously reported 1.164M for May. The starts data, while very volatile from month to month, have held in a narrow range over the past year, indicating residential real estate will have trouble adding to its post-recession rebound. Still, the report showed a wide range for error, with a 90% chance that last month's figure was between an 8.7% decline to an 18.3% gain. Permits climbed 1.5% to a 1.15M annualized rate, matching the forecast. Because the number of applications were lower than starts, it suggests it will be difficult to sustain last month's gain in home building. Beginning construction of single-family houses rose 4.4% to a 778K rate, the most since Feb, from 745K in May.
The value of owning a home in the US has never been greater, at least according to one figure buried in a monthly Commerce Dept report.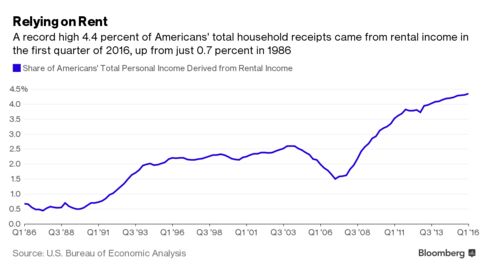 The share of Americans' total personal income coming from rental profit rose to a record 4.4% in Q1, data shows. That's at an all-time high in figures dating back to 1947, & is up from just 0.7% 30 years ago. Rental income includes landlord profits. What's less obvious: It also includes how much owner-occupants would make if they rented their house or apartment, after accounting for expenses including mortgage interest & property taxes or insurance. As a result, the data offer a nice gauge of how much homeownership is worth versus other income sources, like wages or transfer payments. The figures underline an important trend, homeowners who escaped foreclosure during the financial crisis have made out in the years that followed, while renters have faced a difficult road.
The IMF scrapped its forecast for a pickup in global growth this year, citing Britain's vote to leave the EU, & warned the damage could worsen if confidence falters among investors & companies. The IMF sees global GDP rising 3.1% this year, down from Apr's 3.2% projection & equal to growth in 2015. The 2017 forecast was cut to 3.4% from 3.5%. The new forecast is based on the assumption that British & EU officials reach new trade agreements that avoid a "large increase in economic barriers." However, if talks break down, Britain will slip into recession as more financial institutions relocate to the euro area & consumption and investment contract more than expected. In a "severe" scenario, global growth is seen sliding to 2.8% this year & next. "The real effects of Brexit will play out gradually over time, adding elements of economic and political uncertainty that could be resolved only after many months," the IMF said. The fund said it had planned to modestly upgrade its global outlook before the Brexit vote, as activity in China came in stronger than expected & recessions in Brazil & Russia turned out less severe than anticipated. Instead, the IMF cut its 2016 global forecast for a 4th time. As it stands, the IMF still expects the British economy to grow 1.7% this year, down from a projection of 1.9% in Apr & the fund cut its forecast for British growth in 2017 by 0.9 percentage point to 1.3%. The impact of Brexit will be concentrated in advanced European economies, with a muted effect on other countries, including the US & China.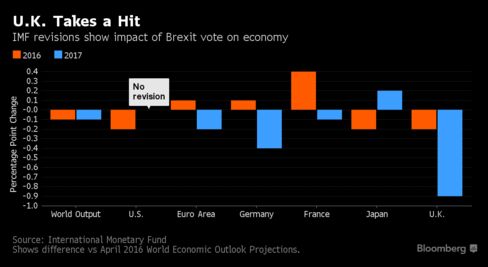 Market reaction was initially "severe but generally orderly" to the Brexit referendum Jun 23. The £ has dropped about 12% against the $ since the vote, while demand has strengthened for safe haven assets such as US Treasuries. Global stock markets have largely recovered after an initial selloff, with the S&P 500 surging to a record high. The IMF reiterated a Jun forecast for the US economy to expand 2.2% this year & a projection from earlier this month for 1.6% growth in the euro area.
IMF Scraps Forecast for Global-Growth Pickup on Brexit Fallout
Dow has shot up an amazing 600 after the jobs report data was released on Jul 8. While the data was good, it wasn't all that good. The IMF forecast today is a reminder that economies around the globe aren't doing that well & fallout from the Brexit vote will make matters worse. The bulls are resting, cashing in their profits. Q2 earnings are coming in the next few weeks & probably will not provide encouragement to the bulls.
Dow Jones Industrials