Dow rose 23, advancers over decliners almost 3-2 & NAZ added 26. The MLP index went up 1+ to 320 & the REIT index lost 2+ to the 369s. Junk bond funds were down a tad & Treasuries advanced. Oil rebounded a little & gold was also higher.
AMJ (Alerian MLP Index tracking fund)
Crude Oil
42.93
0.01
(
0.02%
)
Gold
1,327.60
6.80
(
0.51%
)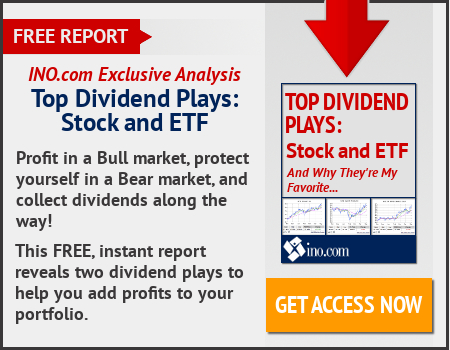 Orders for business equipment rose in Jun for the first time in 3 months, eking out a small gain that shows companies are in no rush to significantly ramp up investment, according to the Commerce Dept. Orders for non-military capital goods excluding aircraft, a proxy for future business investment, rose 0.2% after falling 0.5% in May. Shipments of such business equipment, used in calculating GDP, dropped 0.4% after a 0.5% decrease. Total bookings for durable goods, meant to last at least 3 years, slumped 4% (forecast was for 1.4% drop), most since Aug 2014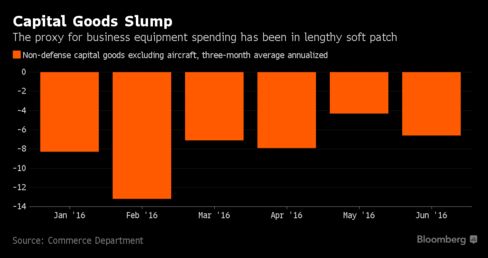 While demand for business investment stabilized, bigger gains will be needed to jump-start an economy that's been dependent on consumers. Signs of more stability in overseas markets would go a long way in helping to convince companies that demand remains healthy enough to justify more equipment spending. What's more, inventories of durable goods fell for a 6th straight month, which may prompt some economists to lower Q2 growth forecasts.
Apple, a Dow stock, lower-cost iPhone SE is gaining more traction than expected with users, tempering a sales decline& soothing concerns about growth. The shares rose the most in 18 months. The $399 handset proved to be a bright spot in the company's earnings report. Though the company forecast sales would fall for a 3rd consecutive qtr, the $45.5-47.5B range for the current period was better than most expected. The revenue decline in the 3 months that ended in Jun was also smaller than projected, in part thanks to consumers embracing the new phone model. AAPL, which gets more than ½ its revenue from the iPhone, has felt the impact of a cooling global smartphone market particularly keenly. "The customer demand for our products was significantly stronger than we had anticipated at the beginning of the quarter," CFO Luca Maestri said. "We were not able to fulfill iPhone SE demand throughout the quarter. We have now been able to put in enough capacity to provide sufficient supply for the next quarter." The risk is that propping up revenue with the cheaper handset comes at the expense of unparalleled smartphone profit margins. The average price for iPhones in the recent period fell to $595, from $660 a year earlier, reflecting the rise in popularity of the less expensive device. Gross margin in Q4 will be 37.5-38% of revenue, narrower than the 38.3% that had predicted & smaller than the 39.9% margin of the year-earlier qtr. Challenges in China have driven much of the revenue decline in the past year as revenue from greater China dropped by a 1/3 as AAPL lost market share to local competitors offering much cheaper devices with growing capabilities. The stock jumped up 7.31. If you would like to learn more about AAPL, click on this link:
club.ino.com/trend/analysis/stock/AAPL?a_aid=CD3289&a_bid=6ae5b6f7
Apple Soars Most in 18 Months as Cheaper IPhone SE Catches on
Apple (AAPL)
Boeing, another Dow stock, pocketed a cash bounty from rising jetliner deliveries despite reporting its first quarterly loss in almost 7 years after a $2.1B post-tax accounting cost. Free cash flow in Q2 was $2.56B, about $500M more than anticipated. The planemaker posted a loss of 44¢ a share excluding some pension costs as it absorbed the previously announced accounting charge. The quarterly shortfall was smaller than the deficit of 94¢ expected. Investors shook off its first loss since 2009 & were heartened there wasn't additional bad news lurking in the earnings report after last week's announcement of writedowns tied to 3 aircraft programs with well known stumbles. BA also reported a decline in the Dreamliner's deferred production costs, in a step toward reaping more cash from its priciest aircraft-development program ever. While charges will dent full-year profit, the hit was less than expected. The company lowered its profit forecast by 2.05 a share to 6.10-6.30 a share. That compares with an analyst estimate for EPS of 5.36. Deferred production costs for the 787 fell 3.4% to $27.7B from Q1. BA had said the figure, which measures funds already poured into inventory & labor against improvements in factory efficiency, would plateau this year as it sped Dreamliner output. The stock jumped up 3.66. If you would like to learn more about BA, click on this link:
club.ino.com/trend/analysis/stock/BA?a_aid=CD3289&a_bid=6ae5b6f7
Boeing (BA)
Stocks are up on earnings, although the stories are not all that pretty. Optimism has more to do with beating lowered expectations. Lower oil prices attracted buying, but that rally seems to be over with higher production getting more attention. Stocks were strong at the opening, since then they been fading.
Dow Jones Industrials