Dow dropped 109, decliners ahead of advancers more than 3-1 & NAZ lost 43. The MLP index fell 5+ to 310 & the REIT index added 1 to 364 (a new record). Junk bond funds slid lower & Treasuries surged, taking yields to or near record lows. Oil sank to the 47s (see below) & gold rose on rising demand for the classic safe haven investment.
AMJ (Alerian MLP Index tracking fund)
CLQ16.NYM
| | | | | | |
| --- | --- | --- | --- | --- | --- |
| | Crude Oil Aug 16 | .................47.46 | ...1.53 | (3.1%) | |
GCN16.CMX
| | | | | | | |
| --- | --- | --- | --- | --- | --- | --- |
| | Gold Futures,Jul-2016 | ...1,348.30 | ...11.60 | | (0.9%) | |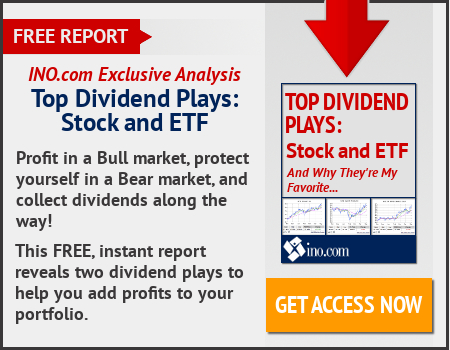 Mark Carney pledged to shore up financial stability as he warned that the risks from Britain's decision to leave the EU have started to crystallize. "There is the prospect of a material slowing of the economy," the Bank of England governor said after the central bank published its semi-annual Financial Stability Report. "The number of vulnerable households could increase due to a tougher economic outlook." The governor took steps to spur bank lending & signaled rate cuts or more quantitative easing could be in the offing this summer. Carney's third appearance in 12 days since the UK vote highlights his role as a beacon of stability while political infighting heightens uncertainty over how the country will proceed & how severe the economic fallout will be. The Financial Policy Committee's measures included reducing capital requirements for banks, which Carney called a "major change." The countercyclical capital buffer was cut to zero from 0.5% of risk-weighted assets, a move the FPC said would raise the capacity for lending to companies & households by as much as £150B ($197B). The buffer, designed to be bolstered in good times & eased in downturns to support lending, had been increased, effective in Mar next year. Officials now see it staying at zero until at least Jun 2017. Carney & the FPC gave a stark warning to banks that they should not use the extra funding they now have to increase div payouts.
Bank of England Chief Carney Sees Tougher Times Ahead for Britain
Confidence of British executives plunged & pessimism doubled as the Brexit turmoil stoked concerns that business investment & the property market are poised to slump. An index published by YouGov & the Centre for Economics & Business Research tumbled to 105 from 112.6 in the 3 days ended Jun 23, the referendum date. The survey, Jun 28-Jul 1, also found the proportion of businesses that are pessimistic about the economic outlook climbed to 49% from 25%. "These figures show what is happening on the ground and they suggest a significant shock reaction," said the institute's director, Scott Corfe. "Not only are businesses feeling much more pessimistic in general about the state of the economy, but their own expectations for domestic sales, exports and investments over the next 12 months have gone off a cliff." The survey was released hours after Standard Life Investments suspended trading in its £2.9B ($3.9B) UK Real Estate fund amid a flood of withdrawals, the strongest signal yet that the turmoil from the Brexit vote will probably hit the property market. Underscoring executives' concerns that policy makers will fail to act with both main political parties in chaos, 5 of the biggest UK business groups appealed for gov action.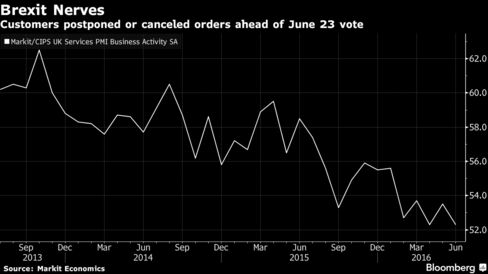 Brexit referendum nerves already took their toll on UK services firms in Jun as customers postponed or canceled orders, sending business confidence to a 3½-year low, Markit Economics said. A Purchasing Managers' Index fell to 52.3 from 53.5 in May, weaker than the 52.8 forecast but above the 50 mark dividing expansion from contraction. "A further slowing, and possible contraction, looks highly likely in coming months as a result of the uncertainty created by the EU referendum," Markit said. "Hiring has also clearly been hit as firms lack clarity on the economic outlook." Almost ¾ of economists expect the UK to slide into recession & Bank of England Governor Mark Carney has said that the outlook for the economy has "deteriorated." He reinforced that view on today, saying that evidence since the vote suggest that there's a "prospect of a material slowing in the economy."
U.K. Business Expectations Fall 'Off a Cliff' on Brexit Vote
Crude dropped with equities on a gloomy outlook for the global economy & amid signs that oil stockpiles remain ample, down as much as 3.3%. Nigerian oil output rose last month following repairs to infrastructure that had been damaged by militant attacks while gasoline supplies on the East Coast reached a record.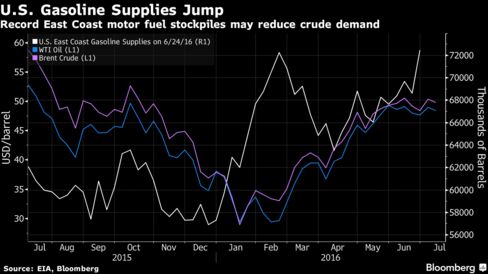 Crude has risen more than 80% from a 12-year low in Feb. Yet the price rebound has spurred activity in the American shale patch, where drillers last week brought back the most oil rigs of any week this year. Contango, the structure where prices for delivery today are lower than those in future months, is shrinking, a sign that stockpiles are plentiful. Nigeria pumped an average of 1.53M barrels a day in Jun, up about 90K a day from May. Militants have resurfaced this month, with the Niger Delta Avengers group claiming attacks on 5 crude-pumping facilities. Production in Saudi Arabia, the biggest crude exporter, rose 70K barrels a day to 10.33M last month. The kingdom typically burns more crude in the summer to generate electricity for air conditioners. Libya raised output by 40K barrels a day to 320K. Gasoline stockpiles along the East Coast surged to a record 72.5M last week, according to the Energy Information Administration. Imports to the region jumped to a 6-year seasonal high. Gasoline production in the US hit a record the previous week as refineries ran full-out to meet driving-season demand.
The new month is getting off to a gloomy start as reality about the British exit from the EU is sinking in. This will not be pretty, no way around that. So far markets have been ignoring that simple thought. In addition, oil has been trending sideways for weeks as bullish thoughts are being reduced. Times should be tough for the stock market.
Dow Jones Industrials