Dow retreated 93, decliners over advancers 4-3 & NAZ gave up 1. The MLP index was fractionally lower in the 314S & the REIT index was little changed in the 369s. Junk bond funds slid lower & Treasuries were off a tad. Oil pulled back to the 41s (see below) & gold rose.
AMJ (Alerian MLP Index tracking fund)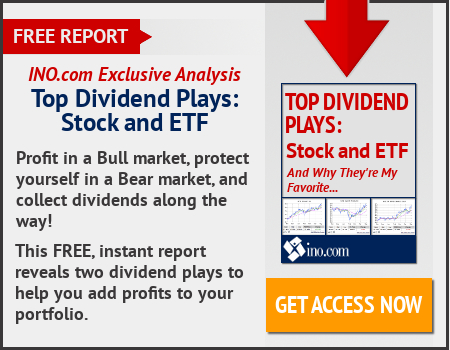 The number of Americans who filed for unemployment benefits last week rose from a 3-month low, consistent with the Fed's view of a stronger job market. Jobless claims increased 14K to 266K in the latest week, according to the Labor Dept. The forecast called for 262K applications. The less-volatile 4-week average dropped to remain at the 2nd-lowest level since 1973. Hiring managers are reluctant to pare staff as the labor market tightens & demand continues to expand in the face of subdued global growth prospects. Fed policy makers yesterday acknowledged a rebound in Jun employment & took a step toward raising interest rates before year-end. Filings have been below 300K for 73 straight weeks, the longest stretch since 1973, & a level economists say is typically consistent with a healthy labor market. The 4-week average of claims dropped 1K to 256K.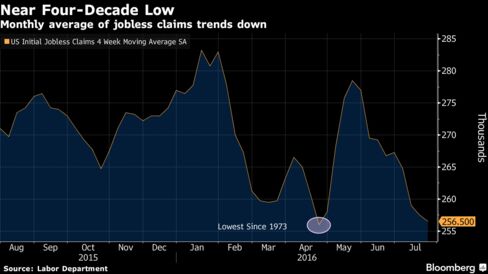 The number continuing to receive jobless benefits rose 7K to 2.14M in the latest week & the unemployment rate among people eligible for benefits edged up to 1.6% from 1.5%.
Oil prices steadied just above 3-month lows as producers continued to pump more than needed, filling inventories, & economic growth prospects darkened. US gov data showed a surprise rise in crude & gasoline inventories. The build added to an already huge global refined product glut just as slowing economic growth dents the demand outlook. Oil markets have been dogged by oversupply for the last 2 years and fell by as much as 70%. Markets have since recovered some ground but oil remains very weak & low refining margins are hurting energy companies.
Oil Steadies Just Above 3-Month Lows on Oversupply
The US homeownership rate fell to the lowest in more than 50 years as rising prices put buying out of reach for many renters. The share of Americans who own their homes was 62.9% in Q2, the lowest since 1965, according to a Census Bureau. It was the 2nd straight quarterly decrease, down from 63.5% in the previous 3 months. First-time buyers have been struggling to find affordable properties as low mortgage rates & an improving job market spur competition for a tight supply of listings. Home prices rose 5.2% in May from a year earlier, according to the S&P CoreLogic Case-Shiller index of values in 20 cities. The homeownership rate reached a peak of 69.2% in Jun 2004.
Stocks have not pulled back much after reaching record highs even though earnings are coming in mixed. Oil companies have terrible numbers, resulting from low oil prices. Janet kept interest rates steady, but the threat of a rate hike later this year is disturbing for traders. For the time being, neither the bulls or bears are in command of the stock market.
Dow Jones Industrials