Dow rose 120, advancers over decliners 5-2 & NAZ added 34. The MLP index vaulted 9+ to the 324s (where it was last Nov) & the REIT index was little changed in the 369s (record territory). Junk bond funds gained & & Treasuries were sold in the rising stock market. Oil jumped up 2 to the 46s (see below) & gold declined after recent gains.
AMJ (Alerian MLP Index tracking fund)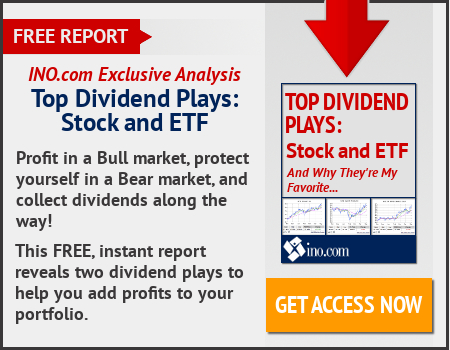 Federal Reserve Bank of St. Louis pres James Bullard said he thought the UK's vote to leave the EU wouldn't have a lasting effect on the US economy & he didn't view a drop in US bond yields as a warning on the outlook for growth. "Now that the markets have had some chance to digest the move, I think the ultimate impact on the U.S. economy will be close to zero," Bullard said. He said the "shock" of the vote to exit explains why yields on US Treasuries had fallen to historic lows. "Wall Street has taken that as a signal that growth is slowing" in the US, he added. "I think it's a flight to safety. I would not take it as a signal of U.S. growth prospects." Bullard repeated the argument he unveiled Jun 17 that the US is stuck in a low-growth environment for the next 2-3 years & that Fed officials should keep the federal funds rate almost unchanged for that period. Bullard said the robust Jun employment report of 287K workers added to payrolls showed May's poor performance had been "an anomaly." The 3-month average for employment growth signals the trend is slowing as expected, he added. I would expect continued slowing in the pace of job growth," he said. "We can't add 200,000 jobs a month anymore." The St. Louis Fed chief said he doesn't expect a tightening labor market to trigger significantly higher inflation because GDP growth will likely remain too weak, at around 2%. "If there was rapid job growth that seemed to be associated with very high economic growth, in that situation we might have to adjust a little bit," he said. He continued, the US is likely to achieve faster economic expansion only if other parts of the gov respond with policies that address very low levels of productivity growth & demographic trends. "We badly need a growth agenda," he said. Fed officials have repeatedly raised the point, he added. "We're talking, but I think it's falling on deaf ears."
Fed's Bullard Says Brexit to Have 'Close to Zero' U.S. Impact
Oil climbed the most in 2 months as global equities rose, a weaker $ boosted the appeal of commodities & a new disruption worsened supply problems in Nigeria. Futures jumped almost 5%. The $ slipped against many of its peers, while stocks rose on the prospect of stimulus in major economies. Shipments from the Trans Niger pipeline in Nigeria, capable of shipping 180K barrels a day, was halted after the discovery of a leak. US crude stockpiles probably fell 3.25M barrels last week, according to a survey. Oil retreated in recent weeks as a rally spurred by supply disruptions in Nigeria & Canada & falling US output lost momentum.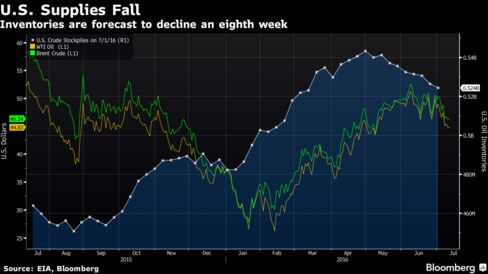 West Texas Intermediate crude for Aug rose $2.02 (4.5%) to $46.78 at midday. US inventories are forecast to drop for an 8th week. That would be the longest run of declines in more than a year. Stockpiles slipped by 2.2M barrels to 524.4M barrels last week. Attacks on oil facilities cut Nigeria's production to about 1.4M barrels a day in May, the lowest in 27 years, the International Energy Agency said. A lull in the unrest helped boost output to 1.9M barrels a day as of July 8, said the minister of state for petroleum. Attacks on pipelines in the past week have put the recovery in doubt.
The US Energy Information Administration raised its 2016 & 2017 forecasts for West Texas Intermediate & Brent crude prices. In its monthly energy outlook report, the gov agency forecast an average price of $43.57 a barrel for WTI this year, up from a previous estimate of $42.83. Brent crude is seen averaging $43.73 this year, up from the $43.03 Jun forecast. For 2017, the EIA sees an average of $52.15 for both WTI & Brent. The EIA left its US oil production estimates for 2016 & 2017 at 8.6M barrels a day & 8.19M barrels a day, respectively.
Starbucks is "planning a small price increase on select beverages" starting today, but the company isn't saying exactly which beverages will cost more. The company has said some drinks will increases by 30¢ per beverage
Opens a New Window.
. Some customers got an early taste of the price increase: "The price adjustment was prematurely entered into the point of sale systems in our U.S. company-operated stores. As a result, some customers were charged incorrectly. The maximum any customer could have been overcharged is 30 cents per beverage." Of course, you can skip the price increase by making coffee at home. But, for members of the Starbucks rewards program, the price increase can mean more rewards. The stock went up 1.16. If you would like to learn more about SBUX, click on this link:
club.ino.com/trend/analysis/stock/SBUX?a_aid=CD3289&a_bid=6ae5b6f7
Starbucks (SBUX)
Stocks had another good day, taking the averages to new heights. There was a little profit taking late in the day. Janet got encouragement for keeping interest rates low, although none was needed. Bank earnings are coming & that may have brought on selling in the last hour of trading.
Dow Jones Industrials