Dow shot up 170 (going over 18K), advancers over decliners 7-1 & NAZ rose 62. The MLP index was fractionally higher in the 312s & the REIT index added 4+ to the 365s (record high territory). Junk bond funds crawled higher & Treasuries were little changed even though stocks rallied. Oil slid back after earlier gains (see below) & gold was also lower.
AMJ (Alerian MLP Index tracking fund)
CLQ16.NYM
| | | | | | | |
| --- | --- | --- | --- | --- | --- | --- |
| | Crude Oil Aug 16 | ...............45.69 | ...0.55 | | (1.2%) | |
GCN16.CMX
| | | | | | | |
| --- | --- | --- | --- | --- | --- | --- |
| | Gold Futures,Jul-2016 | ...1,354.10 | ...6.00 | | (0.4%) | |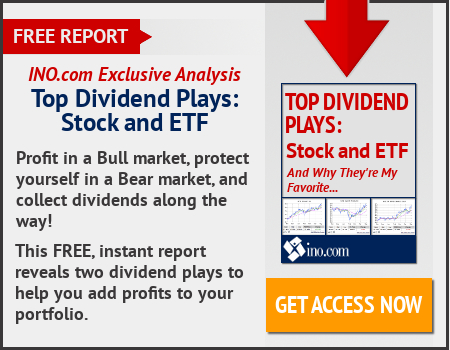 America's job market stirred to life in Jun as payroll growth accelerated by the most since Oct after a 2-month lull, assuaging fears of broader cutbacks by companies. Payrolls climbed 287K, exceeding the highest estimate after a revised 11K gain in May, according to the Labor Dept. The forecast called for a 180K increase. The jobless rate rose to 4.9% as more people entered the labor force & wages advanced less than projected. The figures will help reassure Federal Reserve policy makers that companies are staying the course on hiring in the face of weaker profits & overseas developments such as Britain's vote to leave the EU. Even with the outsized advance, job growth over the last three months averaged 147K, down from almost 200K in Q1, a sign of moderation as the economy approaches full employment.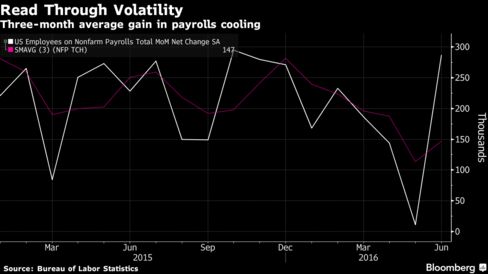 Payrolls in leisure & hospitality registered the biggest gain since Feb 2015, health care providers took on the most workers since Oct & factories added the most jobs in 5 months. Jun payrolls were boosted by the return of 35K striking workers at Verizon (VZ). The unemployment rate increased from 4.7% in May. The labor force participation rate, which indicates the share of working-age people who are employed or looking for work, crept up to 62.7% from 62.6%. The underemployment rate dropped to 9.6%, the lowest since Apr 2008, from 9.7%, reflecting a slump in the number of people working part-time for economic reasons. 5.8M workers, the fewest since Oct, were in part-time jobs but wanted to be employed full time. Wages improved modestly, with average hourly earnings climbing 0.1% from a month earlier & the year-over-year increase was 2.6%, less than the 2.7% forecast. The average work week for all workers held at 34.4 hours. Factories increased payrolls 14,K after a 16K decline the month before, the latest indication that the industry is stabilizing after damage wrought last year by a strengthening $ & plunging oil prices. Employment at construction companies was unchanged after falling in May.
Payrolls in U.S. Rose 287,000 in June, Most in Eight Months
Oil trimmed its biggest weekly decline in 3 months as investors weighed the largest drop in US output since 2013 & a jump in payrolls against a smaller-than-expected stockpile decline. Futures rose as much as 1.8%, bringing the weekly loss to 6.4%. Prices lost 4.8% yesterday after gov data showed crude stockpiles fell 2.2M barrels last week, a smaller drop than forecasts & industry data suggested. US production slumped 194K barrels a day (2.3%).
Oil has traded between $45-51 a barrel in the last month after almost doubling from a 12-year low in Feb. The recovery has prompted producers to begin returning drilling rigs to service, leading to speculation the decline in production will slow. Crude production in the US tumbled to 8.43M barrels last week, the lowest since May 2014, according to the EIA report. The number of active oil rigs in the US has increased in 4 of the last 5 weeks. Explorers have idled more than 1K oil rigs since the start of last year. Supplies have fallen from an 87-year high of 543M barrels in the last week of Apr.
McDonald's, a Dow stock & Dividend Aristocrat, will book more than $200M in charges in the Jun related to its planned sale of 4K restaurants to franchisees by 2018. The $235M charge, which also includes some costs tied to relocating its headquarters to downtown Chicago, would lower EPS by about 20¢. The company, which had outlined they plans last year as part of a financial push intended to appeal to investors, has targeted $500M in general & administrative savings, mostly to be realized by the end of 2017, saying that after the sales, 93% of its locations would be owned by franchisees. The company ultimately wants to increase that number to 95%. MCD is slated to report results on Jul 26. The stock went up 66¢. If you would like to learn more about MCD, click on this link:
club.ino.com/trend/analysis/stock/MCD?a_aid=CD3289&a_bid=6ae5b6f7
McDonald's (MCD)
The jobs report brought out buyers. However, the number of jobs created in Q2 is nothing to write home about. And sluggish income growth for households remains unimpressive. The jobs figure should not have any effect on Janet's thinking about raising interest. The growing chaotic mess from Britain leabving the EU gives her an excuse to postpone any increase rates. Earnings will be a big driver of stock prices next week.
Dow Jones Industrials