Dow advanced 53, advancers over decliners 2-1 & NAZ went up 26. The MLP index rose 1+ to the 323s & the REIT index added almost 4 to the 375s, anther record. Junk bond funds were mixed & Treasuries had modest losses. Oil dropped to the low 44s & gold also declined.
AMJ (Alerian MLP Index tracking fund)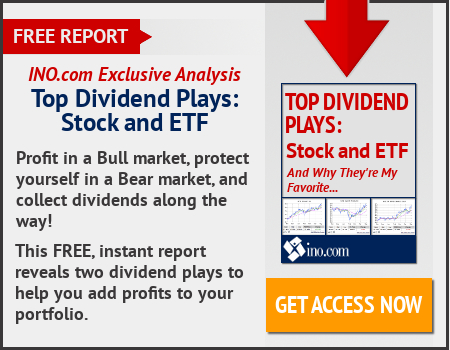 Oil prices fell today, with losses accelerating after the US oil rig count rose for a 4th week in a row. Crude futures were already down as investors braced for expected growth in Iraqi crude exports that could add to the global glut. The 2 benchmarks each had a weekly loss of about 5%. The $ rally to a more than 4-month high also hurt demand for greenback-denominated oil among holders of the € & other currencies. Iraq's oil exports were expected to rise in Jul. If confirmed, it would put OPEC's #2 producer back on track of supply growth after a 2-month lag. Earlier this week, the US gov reported that domestic crude inventories were at 519.5M barrels last week, historically high for this time of year, even after a 9th straight week of drawdowns. On Thurs, Genscape reported a build of 725K barrels in the latest week at the Cushing, Oklahoma. Falling oil prices have encouraged traders to send US supplies to Europe, counterbalancing 700K barrels per day in lost Nigerian supply. US, European & Asian oil product stocks rose 2.35M barrels last week for a 2nd week of growth.
Oil Down 2%, Eyes Weekly Loss, on Glut and U.S. Rigs Rise
US oil producers continue to revive drilling in the shale patch, adding rigs for the 4th consecutive week in the longest streak of increases since Aug. Rigs targeting crude rose 14 to 371, after 27 had already been added since the start of the month, Baker Hughes. Natural gas rigs declined by 1 to 88, bringing the total for oil & gas up by 15 to 462.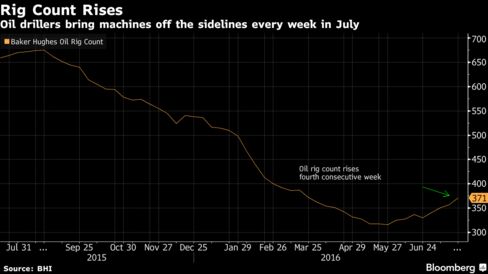 After nearly doubling from a 12-year low in Feb, a rebound in oil has prompted American producers to expand drilling in recent weeks after idling more than 1K oil rigs since the start of last year. Prices have since started to moderate, as West Texas Intermediate had its 2nd weekly decline in 3 weeks. The U.S benchmark was down again today. The return of idled rigs to service has led some to speculate that a rise in output will follow. US. production rose by 9K barrels a day to 8.49 in the latest week, EIA data show.
VF Corp, a Dividend Aristocrat, beat Q2 earnings expectations but missed on revenue. EPS dropped to 12¢ from 40¢ in the same period a year ago. The latest results include a $97M loss on the company's "contemporary brands" business, which it agreed to sell in Q2. Adjusted EPS was 35¢, compared with the estimate of 34¢. Revenue rose to $2.45B from $2.43 B, missing the $2.52B forecast. CEO Eric Wiseman said results were in line with expectations "despite a challenging environment with mixed economic and currency conditions around the world." The company revised its outlook of a mid-single-digit percentage revenue increase for 2016 to an increase of 3-4%. The stock fell 80¢. If you would like tgo learn more about VFC, click on this link:
club.ino.com/trend/analysis/stock/VFC?a_aid=CD3289&a_bid=6ae5b6f7
V.F. Corp (VFC)
Whirlpool reported revenue declines in its latest qtr as weakness abroad offset US gains. Still the company said it was well positioned to face "global volatility" & a "challenging" global environment as its results beat estimates. The company raised the lower end of its profit forecast for the year, forecasting its ongoing business EPS to be $14.25-14.75, up from $14-14.75 previously. For the qtr, EPS was 4.15, up from 2.21 last year. Its ongoing operating EPS rose to 3.50 from 2.70 a year before. Sales slid 0.2% to $5.2B. Analysts had expected adjusted EPS of $3.36 on revenue of $5.13B. Sales in North America increased 3.7% to $2.8B & sales slid 3.3% to $826M in Latin America. Excluding currency fluctuations, sales increased 4%. Sales in Europe, Middle East & Africa decreased slightly to $1.3B, & were flat with currency excluded. In Asia, sales decreased 4.7% to $363M & were flat on a currency neutral basis. The stock shot up 4.89. If you would like tgo learn more about WHR, click on this link:
club.ino.com/trend/analysis/stock/WHR?a_aid=CD3289&a_bid=6ae5b6f7
Whirlpool (WHR)
Buyers returned in the PM, giving the averages another gain. The reasoning is more of the same. Earnings beating lowered expectations are good enough & tomorrow will take care of itself. Dow is up a staggering 1½K in the last month. Now it has 19K in siight. Hard to believe.
Dow Jones Industrials