Dow declined 97, advancers slightly ahead of decliners & NAZ was off 8. The MLP index gave back 1 to the 319s & the REIT index slide 1 lower to the 372s. Junk bond funds were mixed & Treasuries retreated. Oil is now in the 42s & gold was a little lower.
AMJ (Alerian MLP Index tracking fund)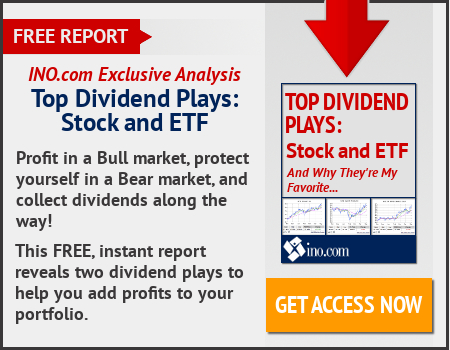 McDonald's, a Dow stock & Dividend Aristocrat, same-store sales growth missed estimates, stoking concerns that the fast-food industry is heading into a recession. Same-store sales grew 3.1% globally & analysts had projected a 3.6% increase. Same-store sales gains slowed to 1.8% last qtr domestically, compared with 5.4% in the prior qtr & analysts estimated a 3.2% increase. EPS fell a penny to 1.25. After excluding 20¢ in one-time expenses, the figure topped the projection of 1.39. MCD also is facing additional costs as part of a turnaround plan. The company is selling company-owned restaurants & moving its headquarters from the suburbs to downtown Chicago. Revenue decreased 3.6% to $6.27B, matching the estimate. The move to sell more of its company-owned restaurants to franchisees is lowering total sales volume. Comparable-store sales increased 2.6% in the intl lead markets division, which includes the UK & Canada. Sales rose 1.6% in the high-growth unit, which includes China & Russia. The stock fell 86¢. If you would like ot learn more about MCD, click on this link:
club.ino.com/trend/analysis/stock/MCD?a_aid=CD3289&a_bid=6ae5b6f7
McDonald's (MCD)
3M, another Dow stock & Dividend Aristocrat, cut its outlook for 2016 sales growth & narrowed its profit forecast as the strong $ continued to pressure results for the maker of Post-it notes & Scotch tape. Organic local-currency sales will increase as much as 1%, less than a previous forecast of 1-3%, the company said. EPS year will be 8.15-.30 a share, compared with a previous range of 8.10-8.45. The revision signals ongoing challenges for the maker of adhesives, touch screens & dental tools amid a sluggish global economy & currency headwinds. The company, which generates about 2/3 of revenue overseas, cut its 2015 forecast more than once last year. CEO Inge Thulin overhauled operations last year to reduce US expenses & strengthen MMM business in Europe & Latin America. The revised forecast came as the company reported that Q2 EPS rose to 2.08 a share, beating the 2.06 estimate. Sales fell 0.3% to $7.66B, compared with expectations of $7.7B. The stock lost 81¢. If you would like to learn more about MMM, click on this link:
club.ino.com/trend/analysis/stock/MMM?a_aid=CD3289&a_bid=6ae5b6f7
3M Company (MMM)
Consumer confidence was little changed in Jul as Americans remained positive about the job market & the business environment, according to the Conference Board. Their Confidence index eased to 97.3 from a revised 97.4 in Jun, which was the highest since Jan; above the forecast of 96. The measure of consumer expectations for the next 6 months dipped to 83.3 from 84.6. Present conditions gauge climbed to 118.3, the highest since Sep, from 116.6 in Jun. Consumer sentiment has stabilized despite growing uncertainty over global development & the elections. That bodes well for household spending, which accounts for almost 70% of the economy. "Consumers were slightly more positive about current business and labor market conditions, suggesting the economy will continue to expand at a moderate pace," the Conference Board said.
Stocks continue to drift lower on earnings that are not generating enthusiasm. Chaos around the globe is on the rise & with no action plan to deal with it, it will continue to a be a dark cloud the stock market has to deal with. Falling oil prices are not what the bulls like to see. The recent rally for oil looks to be finished.
Dow Jones Industrials