Dow added 25 to another record, decliners over advancers 4-3 & NAZ fell 19. The MLP index pulled back 1 to the 321s & the REIT index rose 1+ to the 371s. Junk bond funds were a tad lower & Treasuries climbed higher. Oil headed south again & gold went up.
AMJ (Alerian MLP Index tracking fund)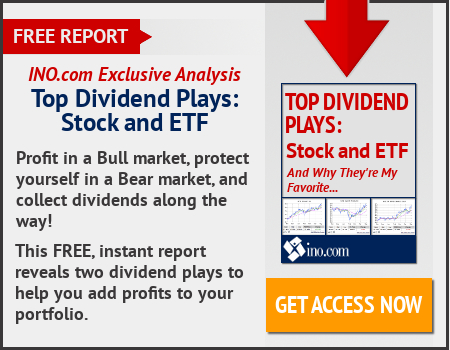 Lockheed Martin reported stronger-than-expected sales & earnings for Q2. The company had EPS of 3.32, ahead of 2.94 last year. Revenue rose to $12.9B from $11.6B a year ago. Both metrics beat expectations. Analysts were calling for EPS of 2.94 on sales of $12.6B. The company also slightly raised the lower-end of its full-year sales guidance, to a range of $50-51.5B, versus $49.6-51.1B previously & raised its EPS estimate to 12.15-12.45 from 11.50-11.80. The stock went up 2.67. If you would like to learn more about LMT, click on this link:
club.ino.com/trend/analysis/stock/LMT?a_aid=CD3289&a_bid=6ae5b6f7
Lockheed Martin (LMT)
Johnson & Johnson's, a Dow stock & Dividend Aristocrat, reported Q2 profit & sales that beat expectations & raised its full-year outlook. EPS fell to 1.43 from 1.61 last year ago. Excluding non-recurring items, adjusted EPS came in at 1.74 above the forecast of $1.68. Revenue grew 3.9% to $18.48B, above expectatons of $17.98B, boosted by 8.9% growth in pharmaceutical sales. The company raised its 2016 EPS outlook to $6.63-6.73 from $6.53-6.68 & its revenue outlook to $71.5B to $72.2B from $71.2B-71.9B. "We saw notable strength in our Pharmaceuticals business due to the continued success of new products, and also achieved significant clinical milestones, advancing our robust pipeline," said CEO Alex Gorsky. The stock gained 1.84 If you would like to learn more about JNJ, click on this link:
club.ino.com/trend/analysis/stock/JNJ?a_aid=CD3289&a_bid=6ae5b6f7
Johnson & Johnson (JNJ)
UnitedHealth Group, a Dow stock, posted a strong earnings beat as revenue continued to surge in its pharmacy-services business & it lifted the low end of its guidance for year. The company now expects adjusted EPS for the year of $7.80-7.95, compared with its previous forecast, raised in Apr, for $7.75-7.95. The health-services arm Optum continued to show strength, with revenue jumping 51% to $20.6B, representing about 44% of the company's top line, powered by Optum's pharmacy care services. The business has been buoyed by the UNH acquisition of pharmacy-benefit manager Catamaran, which closed in Jul. Meanwhile, the insurer's medical-cost ratio, the percentage of premiums paid in claims, ticked up 30 basis points to 82%, including some $200M of additional 2016 losses from plans part of Obamacare. UNH has said it would leave many markets it currently sells Obamacare plans in next year. The company in Apr boosted its anticipated 2016 loss from the exchange business by $125M to $650M. In Q2, UNH added 305K customers, bringing its tally to roughly 47.98M. For Q2, the company reported EPS of 1.81, up from 1.64 a year earlier. Excluding certain items, adjusted EPS rose to 1.96 a share from 1.73. Revenue climbed 28% to $46.49B. Analysts had projected adjusted EPS of 1.89 on revenue of $45.05B. The stock gained 1.84 If you would like to learn more about UNH, click on this link:
club.ino.com/trend/analysis/stock/UNH?a_aid=CD3289&a_bid=6ae5b6f7
UnitedHealth (UNH)
Stocks are entitled to a breather after the surge in the last couple of weeks. However this advance has been overdone, especially with the increase in global turmoil. Earnings will be driving markets in the next couple of weeks & they may not be as kind as these were today.
Dow Jones Industrials