Dow added 79, advancers over decliners 3-2 & NAZ went up 16. The MLP index lost 2 to the 315s & the REIT index was up 4+ to 359 (record territory). Junk bond funds were mixed & Treasuries were lower again. Oil fell to the 48s & gold also slipped back.
AMJ (Alerian MLP Index tracking fund)
CLQ16.NYM
| | | | | | |
| --- | --- | --- | --- | --- | --- |
| | Crude Oil Aug 16 | .................48.63 | ...1.25 | (2.5%) | |
GCN16.CMX
| | | | | | |
| --- | --- | --- | --- | --- | --- |
| | Gold Futures,Jul-2016 | ...1,321.30 | ...2.60 | (0.2%) | |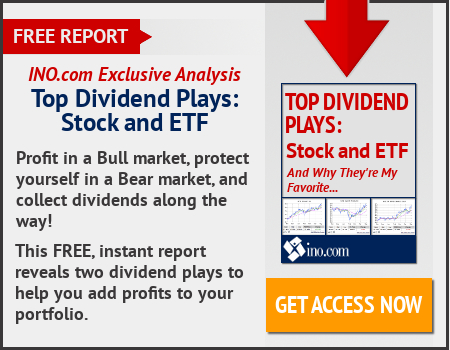 The number of Americans who applied last week for unemployment benefits rose to a level that's still consistent with steady improvement in the labor market. Jobless claims increased 10K to 268K, according to the Labor Dept. The forecast called for 267K. Continuing claims decreased for the 3rd week in the last 4. Companies are reluctant to layoff workers as skilled & experienced employees become difficult to attract in a tighter labor market. Dismissals that are still hovering near 4-decade lows signal a recent slowdown in payrolls may be short-lived as household spending continues to fuel the economy. For 69 consecutive weeks, claims have been below the 300K level, consistent with an improving job market. That's the longest stretch since 1973. The 4-week moving average held at 266K. The number continuing to receive jobless benefits fell 20K to 2.12M & the 4-week average declined to 2.13M, the lowest since 2000.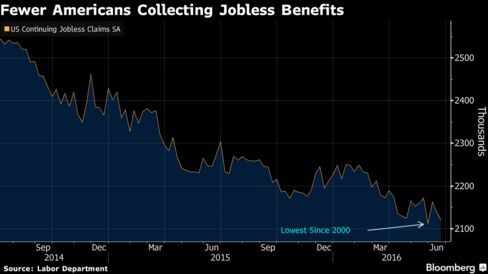 The unemployment rate among people eligible for benefits declined to 1.5% from 1.6%.
Oil is heading for the biggest quarterly advance in 7 years as falling US supply added to speculation the global surplus is easing as futures fell 2.6%. Still, oil is headed for its best quarterly gain since Jun 2009. US crude supplies declined a 6th week & output slipped to the lowest since Sep 2014. Markets have whipsawed after the UK vote to leave the EU.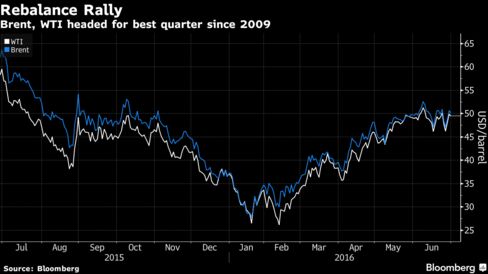 Supply disruptions (such as in Nigeria) & falling US output have helped cut a global surplus, sparking a rally of more than 85% since prices hit a 12-year low in Feb. The International Energy Agency & OPEC
forecast this month that the market is heading toward balance as demand growth outpaces supply. US crude inventories dropped to 526.6M barrels, the lowest since Mar, the Energy Information Administration said. Supplies climbed to an 87-year high of 543.4M barrels in the last week of Apr. Production slipped 55K barrels a day to 8.62M last week, the EIA said.
Puerto Rico's fiscal crisis is reaching a turning point as pres Obama plans to sign bipartisan legislation that would allow the island to escape from debts once viewed as ironclad. The Senate yesterday, passed a bill that protects the island from creditors as it veers toward its largest default yet. The legislation creates a financial control board to help restructure Puerto Rico's $70B in debt & oversee the island's finances, marking the largest federal intervention ever into the US municipal bond market. Obama is likely to sign the measure today, one day before Puerto Rico Governor Alejandro Garcia Padilla has said the island will default on more than $1B on general-obligation debt. "It is a critical first step toward economic recovery and restored hope for millions of Americans who call Puerto Rico home," Obama said. "I look forward to signing the bill into law." The territory had continued to pay the securities even as it rapidly went broke. The bill passed by the Senate doesn't provide any additional funding, but it allows Puerto Rico to turn to federal court to cut its obligations & protects the gov from creditor lawsuits by putting them on hold. In return, Puerto Rico is being forced to accept strict oversight by a control board that will have significant power over its day-to-day affairs. The legislation also does little to alleviate the underlying economic conditions on the island that led to its vast accumulation of debt.
Hard to believe that the stock market is trying to extend its bounce back to 3 days. No problems have been solved relating to Britain leaving the EU. But there are plenty of unhappy euro bureaucrats in Belgium who will make the exit difficult. Stock market optimism is not well founded with gold just below its recent highs. Even oil lost ground today.
Dow Jones Industrials