Dow fell 32, decliners over advancers 3-2 & NAZ gave up 8. The MLP index was flattish in the 308s & the REIT index lost 1+ to the 339s. Junk bond funds were mixed & Treasuries went up as stocks were sold. Oil dropped to the 48s on a lack of agreement about productions quotas (see below) & gold inched higher.
AMJ (Alerian MLP Index tracking fund)
| | | | | |
| --- | --- | --- | --- | --- |
| CLN16.NYM | ....Crude Oil Jul 16 | ...48.25 | .,.0.76 (1.6%) | |
| | | | | | | |
| --- | --- | --- | --- | --- | --- | --- |
| GCM16.CMX | ...Gold Jun 16 | .....1,211.10 | ...0.80 | | (0.1%) | |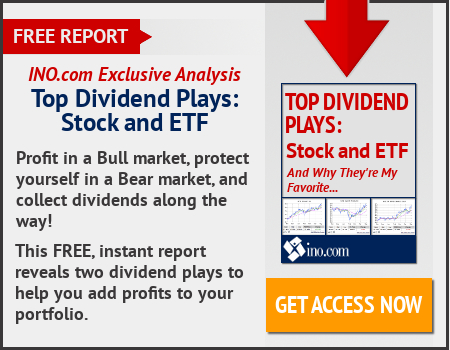 Filings for US unemployment benefits declined for a 3rd consecutive week, signaling sustained firming in the labor market. Jobless claims fell 1K to 267, according to the Labor Dept. The forecast called for applications to edge up to 270K. Dismissals have been unusually subdued for more than a year as employers find little reason to trim staff amid a stable, if somewhat lackluster, demand outlook.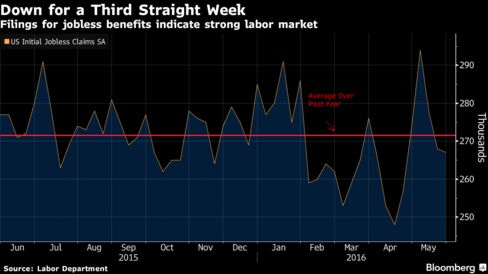 The 4-week average of claims, a less-volatile measure than the weekly figure, decreased to 276K from 278K in the prior week. Filings have been below 300K for 65 consecutive weeks, the longest stretch since 1973 & a level consistent with a healthy labor market. The number continuing to receive jobless benefits increased 12K to 2.17M & the unemployment rate among people eligible for benefits held at 1.6%, where it's been since mid-Feb.
Saudi Arabia faced resistance from Iran to proposals to restore a production target scrapped at OPEC's last meeting in Dec as persistent divisions within the producer group undermined efforts to build unity. Still, OPEC's arch rivals adopted a more conciliatory tone in Vienna than in the past, with Riyadh promising not to flood the market & Tehran saying it was ready to listen to its counterpart. The diplomatic maneuvering is an attempt to mend divisions that had grown so wide many dubbed OPEC as good as dead & preserve the rebound in oil prices to about $50 a barrel. "We will be very gentle in our approach, so we don't shock the market in any way," Saudi Arabia's new oil minister, Khalid Al-Falih, said. "We are satisfied with the price movement over the last few months and think it will continue to gently edge up without much intervention, assuming that more or less OPEC production stays where it is." The differences between Saudi Arabia & Iran echo the demise of a proposal to freeze production in Apr. Saudi Arabia made that deal contingent on the participation of Iran, which has insisted on its right to boost crude output to pre-sanctions levels. Kuwait also questioned the need for a production target, even as higher oil prices ease tensions within the group. "A general quota for OPEC with no country quotas has no meaning," Iranian Oil Minister Bijan Namdar Zanganeh said. "It's not possible to control or supervise, & what it means is that anyone can do whatever they like and just say that it's within the share." Zanganeh said a country-quota system might be difficult to achieve at today's gathering.
US private employers added 173K jobs in May, below expectations. Economists had forecast the ADP National Employment Report would show a gain of 175K jobs. Private payroll gains for Apr were revised up to 166K from an originally reported 156K increase. The ADP data come ahead of the Labor Dept's more comprehensive non-farm payrolls report tomorrow. Economists are looking for private payroll employment to have grown 152K jobs in May, down from 171K in Apr. Total non-farm employment is expected to have risen by 162K jobs. The unemployment rate is forecast to tick down to 4.9% from 5.0% recorded a month earlier.
Private Sector Added 173,000 Jobs in May
Today's market is more evidence that the market rally is very tired, especially since it has not been supported by significant economic improvement. Dow has returned to where it was in late Mar & the jobs report tomorrow does not have prospects of bringing out stock buyers.
Dow Jones Industrials