Dow shot up 170, advancers over decliners an impressive 7-1 & NAZ gained 61. The MLP index added 5+ to the 317s & the REIT index jumped up 4+ to the 358s (at record highs) as REITs are being bought for their divs. Junk bond funds were higher & Treasuries also gained in today's market. Oil rose to the 48s (see below) while gold also gained, still well above 1300.
AMJ (Alerian MLP Index tracking fund)
CLQ16.NYM
| | | | | | | |
| --- | --- | --- | --- | --- | --- | --- |
| | Crude Oil Aug 16 | ..............48.34 | ...0.49 | | (1.0%) | |
GCN16.CMX
| | | | | | | |
| --- | --- | --- | --- | --- | --- | --- |
| | Gold Futures,Jul-2016 | ...1,319.80 | ...4.90 | | (0.4%) | |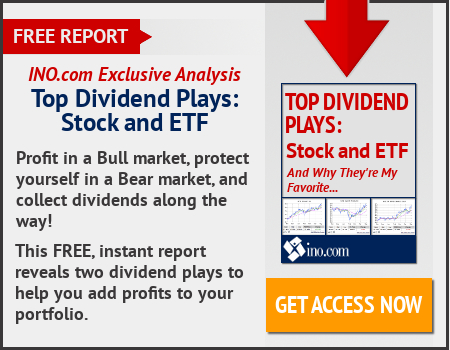 EU leaders called for an orderly British withdrawal from the bloc to minimize instability as they pledged to learn lessons from the UK's political earthquake & do better at serving their citizens. They lamented the British decision to part ways then began to lay plans for a new union minus its 2nd-largest economy. They also insisted that any negotiations on Britain's future relationship wouldn't be started until it gave official notification of departure. "There is a need to organize the withdrawal of the U.K. from the EU in an orderly fashion," the other nations will say. While the decision to trigger secession talks lies with Britain, & they can wait until a new prime minister is in place, "it would be preferable to do this quickly so as to avoid entering into a prolonged period of uncertainty." Banks & the £ bore the brunt of the market turmoil unleashed by the U vote to quit the EU after more than 4 decades. After David Cameron left the stage on yesterday amid talk of regret & disappointment, the EU leaders who continued to meet without him began to look ahead. As the UK occupies itself with the battle over its next prime minister, the opposition Labour party tears itself apart & Scotland takes its own track to strengthen ties to Europe, the EU is already pondering how it must change.
EU Calls for 'Orderly' Brexit at Historic Meeting Without U.K.
Consumer purchases moderated last month after the biggest advance in 7 years as American households realigned outlays with slower income growth. Personal spending climbed 0.4% in May after a 1.1% jump a month earlier that was more than initially estimated, according to the Commerce Dept. Incomes climbed a less-than-forecast 0.2%. Even with the smaller advance in spending, steady job growth & a nascent pickup in wages will probably bolster household purchases after a Q1 slowdown. With rising global uncertainty expected to stymie business investment, a resilient consumer will needed to keep US growth prospects intact.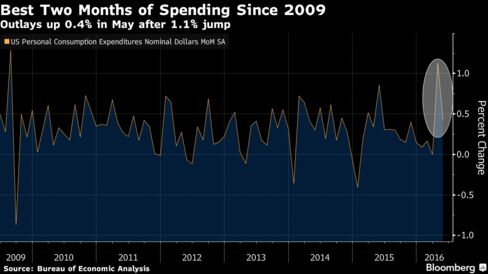 The increase in May spending matched the forecast after an initially reported 1% Apr increase. Incomes were forecast to climb 0.3%. The Apr income reading was revised up to a 0.5% gain from a previously reported 0.4% advance. After adjusting for inflation, purchases rose 0.3% after a 0.8% increase in Apr that was also the biggest gain since Aug 2009. Purchases of durable goods climbed 0.6% after adjusting for inflation following a 2.6% Apr advance. Spending on non-durable goods rose 0.5%, while outlays for services were up 0.1%. The price index tied to consumer spending increased 0.2%. From a year earlier, the gauge was up 0.9%. This inflation measure is preferred by Federal Reserve policy makers & hasn't met their target in 4 years. Stripping out the food & energy, the price measure also rose 0.2% from the month before, & 1.6% in the 12 months thru the end of May. Disposable income, or money left over after taxes, increased 0.1% from the month prior after adjusting for inflation, the smallest gain since Mar 2015 & was up 3.2% in the past year. The saving rate eased to 5.3%, the lowest this year, from 5.4%.
Oil rose more as traders moved money back into markets hit by the initial shock of Britain's vote to leave the EU, while a potential oil workers strike in Norway & a crisis in Venezuela's oil sector also provided support. US crude was up 40¢ to $48.25. But some say that the knock-on effects from Britain's EU exit vote could continue for some time. In crisis-struck Venezuela, oil producers & refiners were struggling to keep output up due to power outages & equipment shortages. Additionally, data from the American Petroleum Institute showed that US crude inventories fell by 3.9M barrels in the latest week, far more than the 2.4M expected.
Oil Prices Edge up More After Brexit Shock
Dow is up an amazing 500+ from the lows yesterday, hard to believe. No problems have been solved, but a sense of calm has returned to the stock market. Maybe traders are excited that Janet will not be raising interest rates for a couple of years, at a minimum. So much for lowering interest rates in the first place because of a temporary emergency. Dark clouds over the stock market remain which is why gold & Treasuries are rising.
Dow Jones Industrials