Dow dropped 81, decliners over advancers 4-3 & NAZ lost 8. The MLP index rose 1+ to 304 & the REIT index was flattish at 341. Junk bond funds crawled higher & Treasuries were a little higher. Oil sold off & gold was also weak.
AMJ (Alerian MLP Index tracking fund)
Crude Oil
47.94
-1.16
(
-2.36%
)
Gold
1,214.50
-3.00
(
-0.25%
)
Manufacturing unexpectedly expanded at a faster pace in May, helped by an increase in orders that signals US factories are rebounding from an early-2016 slump. The Institute for Supply Management index climbed to 51.3 from 50.8 in Apr. The forecast called for 50.3. Readings greater than 50 indicate growth.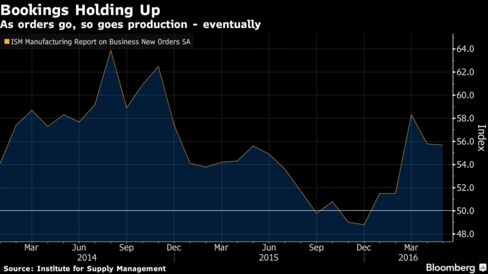 Factories are using a pickup in bookings from the US & abroad to help trim stockpiles, laying the ground for bigger gains in production later in the year. The recent pickup in oil prices also will probably help stem the slump among energy producers that has contributed to weak business investment. The new orders gauge was little changed at 55.7 compared with 55.8 in Apr while the measure of production cooled to 52.6 from 54.2. One weak spot was the factory employment measure, which held at 49.2, indicating manufacturers trimmed payrolls last month. In other signs that the industry is turning around, the index of supplier deliveries jumped to 54.1, the highest level since Dec, from 49.1. A reading greater than 50 means shipments slowed, which often happens when suppliers have trouble keeping up with demand. The gauge of factory inventories fell to 45 from 45.5. The index has been lower than 50 for almost a year as producers trim goods on hand. The report also showed the headwind from sluggish overseas markets may be dissipating. The index of export orders held at 52.5, marking the 3rd straight month demand from abroad has grown.
General Motors (GM) & Ford (F) US vehicle sales fell in May more than had been estimated, raising questions about stalling consumer demand. GM sales plunged 18%, missing estimates for a 13% drop, with all 4 brands reporting declines of at least 14%. Ford's light-vehicle sales slid 6.1%, compared with an estimate for a 4.9% decline. GM projects a sales pace for the month that is slower than had predicted. All of the 6 largest carmakers were estimated to report declines for May. Even as auto sales gained in Apr & the US consumer continues to spend, there have been signs of wavering economic confidence, & the industry may struggle to maintain its record pace. As a kickoff into summer on the back of Memorial Day weekend promotions, May is a bellwether for gauging buyer appetite.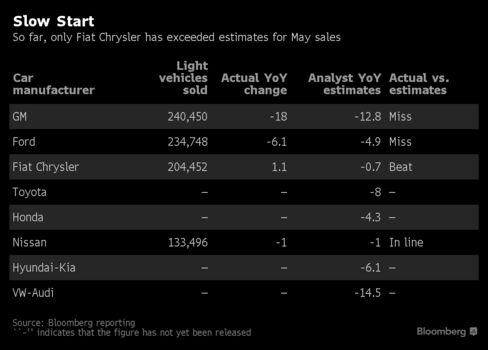 GM projected the sales pace, adjusted for seasonal trends, will be 17M, short of the estimate for a 17.4M rate for the month.
China stocks dipped following the previous day's sharp rally, as growing optimism about MSCI adding mainland stocks to its emerging markets index was offset by worries over China's economy & a looming US rate hike. The blue-chip CSI300 index fell 0.3%, to 3160, while the Shanghai Composite Index dipped 0.1%, to 2913. There was little market reaction to the official & private surveys on China's manufacturing activity, which were roughly in line with expectations, underlining doubts that the world's 2nd-largest economy is picking up. Some investors took profit from yesterday's more than 3%, which was underpinned by expectations that US market index provider MSCI could add mainland stocks to its emerging market benchmark for the first time.
Even though stock markets did not do much in May, stocks remain overbought after its rise from the Feb lows. US economic data continues to be uneven, but it may be just good enough (shown by manufacturing data) to justify a rate hike in 2 weeks. That worries traders who are addicted to low interest rates.
Dow Jones Industrials