Dow added 129 (but off the highs), advancers over decliners better than 3-1 & NAZ rose 36. The MLP index jumped up 4 to the 311s & the REIT index went up 1+ to the 348s. Junk bond funds were a little higher & Treasuries dropped. Oil shot up to the 49s & gold slid lower.
AMJ (Alerian MLP Index tracking fund)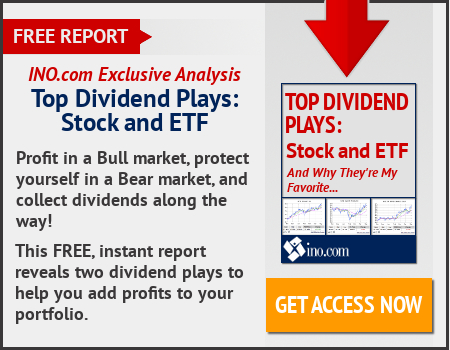 | | | | | | | |
| --- | --- | --- | --- | --- | --- | --- |
| CLN16.NYM | ....Light Sweet Crude Oil Futures,J | ....49.27 | ...1.29 | | (2.7%) | |
Boeing, a Dow stock, is nearing a $4B deal with Russia's largest air-freight company that would help extend the life of the iconic, hump-nosed 747 jumbo jet amid waning demand for 4-engine aircraft. The planemaker is in advanced talks with AirBridgeCargo Airlines & its Moscow-based parent, Volga-Dnepr Group, to convert a year-old commitment into more than 10 firm orders for 747-8 freighters. The agreement could be announced as soon as the Farnborough Airshow next month in England.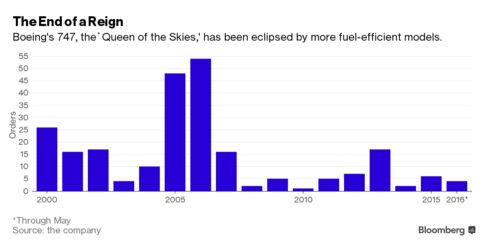 The deal would provide a crucial lifeline for the "Queen of the Skies" as BA tries to preserve production until the air-cargo market revives or shipping companies start to replace aging wide-body fleets. The 747 freighter, prized for a hinged nose that allows large cargo to be loaded at the front, is its 2nd-most expensive commercial jet, with a list price of $379M (buyers typically negotiate discounts). Converting commitments to firm orders starts the process of allocating manufacturing resources & production slots to build the planes. The stock rose 2.95. If you would like to learn more about BA, click on this link:
club.ino.com/trend/analysis/stock/BA?a_aid=CD3289&a_bid=6ae5b6f7
Boeing Near $4 Billion Deal With Russian Firm to Save 747
Boeing (BA)
After dropping more than $200B in market capitalization in one year, AAPL, a Dow stock, could fall further as it is set to lose their weighting & be reclassified in the annual reconstitution of the widely followed Russell indices. When all is said & done, about $1.3B more will be sold in AAPL shares at the market close on Fri, when the reconstitution of the Russell indexes takes effect. Because the company has been aggressively buying back & retiring its stock, outstanding shares have dropped to less than 5.5B from 5.8B one year ago, when the Russell indices were last recalibrated. AAPL's weighting in the Russell 1000 will roughly fall to 2.52% from 2.77%. The decline is due to the combination of fewer shares outstanding & AAPL's smaller part of the index's capitalization. The stock lost chump change. If you would like to learn more about AAPL, click on this link:
club.ino.com/trend/analysis/stock/AAPL?a_aid=CD3289&a_bid=6ae5b6f7
Apple (AAPL)
Oil rose more than 2%, a 2nd straight day of gains, as polls showing a lower likelihood of Britain leaving the EU weakened the $, boosting commodities priced in the US currency. Data pointing to a drawdown of 568K barrels at the Cushing, Oklahoma delivery base for US crude futures in the week to Jun 17 also helped sentiment. West Texas Intermediate (WTI) gained $1.25 (2.6%), at $49.23 a barrel in its Jul front-month. But the contract, which expires on Tues, was barely traded, with volume flocking to nearby Aug, which will be the next front-month for WTI.
Oil up as Brexit Chances Dim, Cushing Stock Draw
Stocks had a very good day, but enthusiasm waned during the day. Tomorrow this enthusiasm will largely be forgotten. That's when we will find out of this bump has legs.
Dow Jones Industrials