Dow rose 27, advancers over decliners 2-1 & NAZ lost 2. The MLP index added 2+ to the 321s (not seen since Nov) & the REIT index added 2 to the 343s. Junk bond funds are a little higher & Treasuries gained ground. Oil is in the 51s & gold shot up to the 1260s.
AMJ (Alerian MLP Index tracking fund)
Crude Oil
51.08
0.72
(
1.43%
)
Gold
1,264.60
17.60
(
1.41%
)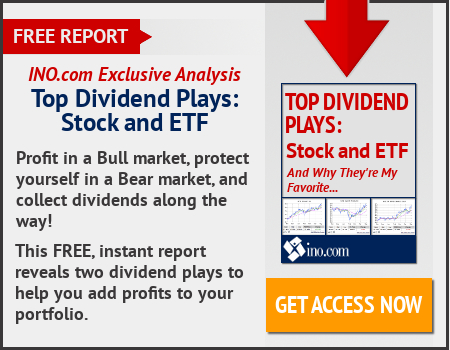 While oil markets will start re-balancing after a slump next year, an oversupply in natural gas won't disappear until the end of the decade, the International Energy Agency said, slashing its gas demand outlook for a 4th straight year. Global consumption will expand 1.5% annually from 2015-2021, down from last year's forecast of 2% growth from 2014-2020 & a 2.5% gain over the prior 6 years. The slowdown will be driven by weaker use in the US & Japan as the fuel struggles to compete against booming renewables & "very cheap" coal in power generation. "Slower generation growth, rock-bottom coal prices and robust deployment of renewables constrain gas's ability to grow faster in today's low-price environment," the IEA said. Global gas markets will remain oversupplied until 2018 & demand and supply won't align until 2021 as liquefied natural gas capacity jumps 45% thru 2021, 90% of which in the US & Australia. Markets will struggle to absorb the increase amid the return of Japanese reactors, cheap coal & competitive Russian pipeline fuel in Europe. The IEA in Feb said an oil glut that damped prices will end in 2017. US gas fell 71% from a peak in 2008 to average $2.61 a million British thermal units on the Henry Hub in 2015, while UK prices on the National Balancing Point dropped 39% in the period to $6.53 a million Btu. Meanwhile, benchmark coal in the US fell 54M to $1.97 a million Btu & 62% to $2.34 in northwest Europe.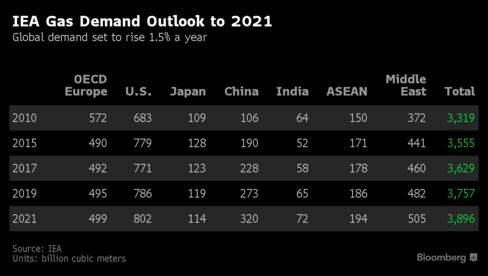 World gas demand will be 3.9T cubic meters (140T cubic feet) in 2021, compared with 3.6T cubic meters in 2015, the IEA said. Global supply will also rise 1.5% annually, slowing from the prior period as low prices & demand deter investments.
Oil prices jumped to the highest level in 8 months, rising for the 3rd consecutive session, buoyed by ongoing supply disruptions in Nigeria & strong Chinese oil demand data. Industry data had also shown a larger-than-expected drop in US crude inventories, indicating an easing of the supply glut,& a weak $, which hit a 5-week trough against, also boosted prices. US crude climbed 20¢ to $50.56, after reaching $50.67 earlier, also an 8-month high. Supply disruptions caused by a string of attacks by the Niger Delta Avengers militant group in Nigeria have brought the oil exporter's production to the lowest in 20 years. Oil Minister Emmanuel Ibe Kachikwu said output had dropped to 1.5-1.6M barrels per day (bpd), down from 2.2M bpd at the start of the year. At the same time, Chinese trade data showed that its May crude oil imports made the biggest year-on-year jump in more than 6 years, adding to hopes that the economy may be stabilizing.
China stocks fell amid weak volume as markets prepared for a long weekend holiday though investors are looking ahead to the possible announcement of mainland shares' inclusion in MSCI's emerging market indexes next week. Financial markets will close on Thurs & Fri for the Dragon Boat weekend holiday. The blue-chip CSI300 index fell 0.4%, to 3163, while the Shanghai Composite Index lost 0.3%, to 2927. Monthly data released today showed China's exports fell an annual 4.1% in May, more than expected & the 10th decline in the past 12 months. Imports were more encouraging, however, declining only marginally & much less than expected, pointing to improving domestic demand & adding to views that the economy may be slowly stabilizing.
Dow smashed thru 18K, but then pulled back. Oil prices are volatile, but many are blindly assuming they will keep rising for awhile. At the same time, safe haven investments such as Treasuries & gold, are attracting buyers. This disconnect can not last.
Dow Jones Industrials