Dow fell 85, decliners over advancers almost 3-1 & NAZ lost 19. The MLP index dropped 4+ to the 302s & the REIT index lost 1+ to the 343s. Junk bond funds were mixed & Treasuries traded a little higher. Oil declined again & gold crawled higher on uncertainties in financial markets.
AMJ (Alerian MLP Index tracking fund)
| | | | | | |
| --- | --- | --- | --- | --- | --- |
| CLN16.NYM | ....Crude Oil Jul 16 | ...48.66 | ....0.22 | (0.5%) | |
| | | | | | | |
| --- | --- | --- | --- | --- | --- | --- |
| GCM16.CMX | ...Gold Jun 16 | .....1,288.60 | ...4.20 | | (0.3%) | |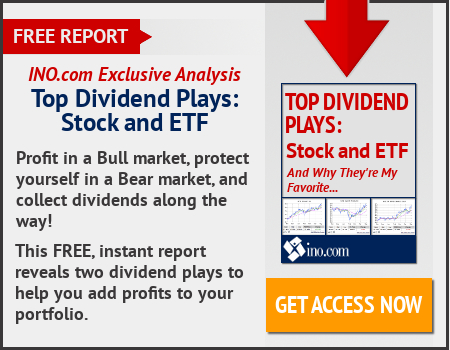 Retail sales rose more than forecast in May, showing consumer spending will help boost economic growth in Q2. The 0.5% increase in purchases followed a 1.3% jump the previous month that was the biggest gain in a year, according to the Commerce Dept. The forecast projected a 0.3% advance. Excluding purchases of autos & gasoline, sales climbed 0.3%.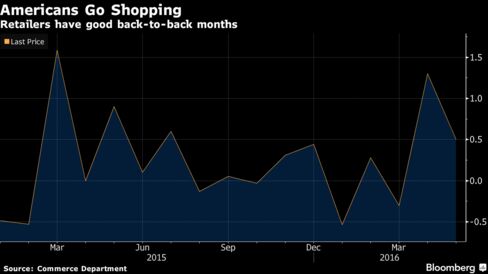 Steady gains in consumption will help the economy accelerate from a soft patch at the start of the year, bolstering forecasts by the Federal Reserve that the slowdown would prove temporary. A pickup in wages generated by continued increases in employment will help ensure households remain a mainstay of the economic expansion. 9 of 13 major categories showed increases in demand from the prior month, led by a 1.3% jump at non-store retailers, which include online merchants. Sales also rose 1.3% at sporting goods stores& 0.8% at clothing stores, marking the biggest advance since Nov. Automobile dealers' sales increased 0.5% after a jumping 3.1% the prior month, roughly in line with figures earlier this month that showed US vehicle sales were little changed in May from the month before. Receipts at gasoline stations climbed 2.1% last month. Retail sales data aren't adjusted for prices, so higher fuel costs can boost filling-station receipts. The figures used to calculate GDP, which exclude categories such as food services, auto dealers, home-improvement stores & service stations, increased 0.4% after rising 1% the month before (the biggest advance in 2 years).
China's near-term economic outlook is being buoyed by policy support even as its medium-term prospects become more uncertain because of rapidly rising credit, excess industrial capacity & financial sector risks, the IMF said. Overall reforms have advanced impressively in areas from shifting to services as a greater driver of growth to liberalization of financial markets, the IMF added. Because of a lack of progress reining in credit growth & hardening budget constraints on state enterprises, vulnerabilities are still rising even as the buffers to deal with shocks are eroding. A plan to address high & fast-rising corp debt is "imperative" to avoid "serious problems" down the road & a comprehensive plan is needed to harden budget constraints on state enterprises, restructure or liquidate weak firms & recognize & allocate losses. The nation's is broadly in line with fundamentals & is becoming more flexible & market based. "China continues its transition to a sustainable growth path and is making progress on many dimensions of rebalancing," the IMF said. "Yet progress has also been uneven."
The yield on Germany's 10-year gov bund, Europe's benchmark security, fell below zero for the first time on record, as investors' seemingly insatiable demand for haven assets created another bond-market milestone. The nation joined Japan & Switzerland in having 10-year bond yields of less than zero. The plunge in yields, which has been driven by ECB's policy of negative interest rates & asset purchases, has accelerated amid a weakening global economic outlook & as polls indicate the "Leave" campaign in Britain's EU referendum is gaining momentum.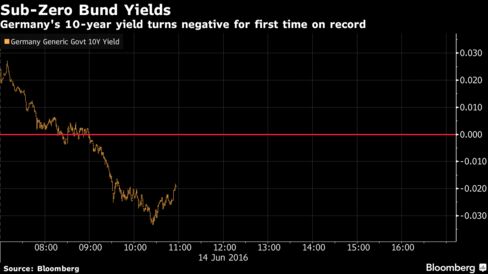 Benchmark German 10-year bund yields fell to minus 0.02 %, having touched minus 0.033 earlier today. The 0.5% security due Feb 2026 rose 0.42, or €4.20 per €1,000 ($1122) face amount, to 105. Bond have been rallying around the world, with yields on 10-year UK, Swiss & Japanese bonds also falling to records, as investors seek shelter before Britain votes on whether to exit the world's largest trading bloc after a referendum next week. 4 opinion polls have put the campaign for Britain to leave the EU in front of the 'Remain' camp.
German Bunds Reach New Milestone as Yield
The attempt to restart the bull market has failed. Stocks are being sold again. Growing negative yields are scary because they are negative bets on the health of economies. Nigeria, a major source of oil, is chaotic with the rebels making demands. Then there is Janet with her big meeting today & tomorrow. All bets are that she will leave interest rates alone as she has done so many times. But nobody knows & these times are scary for traders.
Dow Jones Industrials