Dow sank 451, decliners over advancers more than 5-1 & NAZ dropped 149. The MLP index gave up 4+ to the 318s & the REIT index lost a relatively mild 1+ to the 349s. Junk bond funds were weak & Treasuries rallied. Oil is down to the 48s while gold soared above 50 to go over 1300.
AMJ (Alerian MLP Index tracking fund)
Crude Oil
48.37
-1.74
(
-3.47%
)
Gold
1,314.80
51.70
(
4.09%
)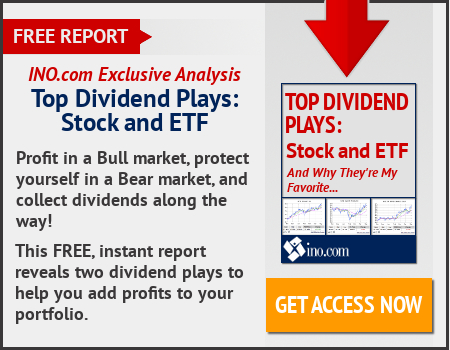 US stocks tumbled, joining a worldwide selloff with the Dow dropping more than 350 points, as the UK's decision to leave the EU fanned speculation that a divided Europe would put another brake on already fragile global growth. Banks were among the worst hit after yesterday rallying the most in 5 weeks. While severe, declines in equities were about half of what was signaled by losses in stock futures before markets opened. Overnight, stock futures on the benchmark fell far enough to reach trading curbs that blocked further losses. The steep selloff was compounded by the fact that markets had rallied during the past week on optimism the UK would vote to remain in the EU, with the S&P 500 rising 1.7% in 4 sessions. The £ dropped the most on record to its weakest since 1985, while the ¥ rallied on demand for haven assets. Polling before the referendum had indicated a vote too close to call. The final tally showed voters had backed "Leave" by 52% versus 48% for "Remain."
U.S. Stocks Tumble Amid Global Selloff After U.K. Brexit Vote
Orders for business equipment unexpectedly fell in May by the most in 3 months, pointing to weakness in investment even before the likely damage to confidence stemming from UK decision to leave the EU. Orders for non-military capital goods excluding aircraft, a proxy for future business investment in items like computers, engines & communications gear, declined 0.7% after falling 0.4% in Apr. Shipments of such business equipment, used in calculating GDP, fell 0.5% after climbing 0.6%. Total bookings for durable goods slumped a more-than-expected 2.2% (forecast was 0.5% drop)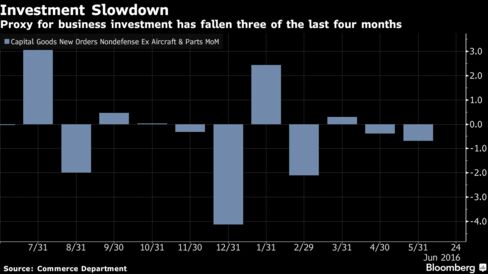 Sluggish global demand, the lingering effects of last year's surge in the $, weaker corp profits & a sharp drop in investment in the energy sector have weighed on investment decisions. American factories are now faced with a new challenge, the fallout from the UK decision to exit the EU.
The stock market has been vastly overbought for months & now that is seen with today's selloff. The consequences of Britain leaving the EU are diffficult to grasp & will take some time to fully assess. In the meantime uncertainty skyrocketed, something the stock market does not like. The VIX, uncertainty index, is up 4 to 21 versus lounging around the 12s for months. Much more selling lies ahead.
Dow Jones Industrials