Dow climbed 91, advancers over decliners 5-2 & NAZ rose 16. The MLP index went up 2+ to the 313s on rising oil prices & the REIT index added 1+ to the 344s. Junk bond funds were higher again & Treasuries slid back. Oil is pushing towards 50 (see below) & gold also went up.
AMJ (Alerian MLP Index tracking fund)
Crude Oil
49.66
1.04
(
2.14%
)
Gold
1,246.40
3.50
(
0.28%
)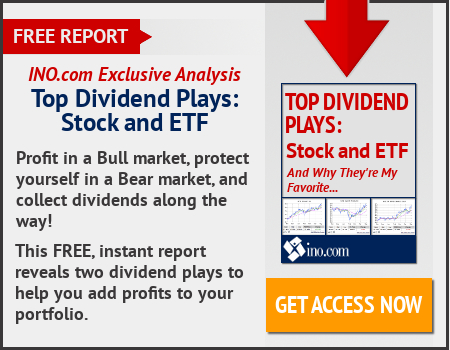 Oil advanced to a 7-month high in London as Abu Dhabi forecast prices could climb as high as $60 a barrel amid a glut that's dwindling more quickly than projected. Brent rose as much as 2.3% to $50.78 a barrel, the highest intraday level since Nov 4. The global surplus is down to 1.2-1.5M barrels a day & has contracted faster than expected, Ali Majed Al Mansoori, chairman of the Abu Dhabi Dept of Economic Development, said.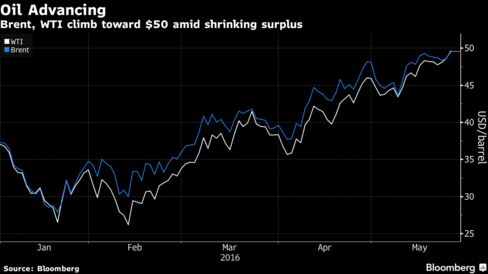 Oil has surged about 85% from a 12-year low earlier this year on a combination of unexpected supply disruptions & a persistent decline in US output, which is under pressure from OPEC's policy of producing without limits.
Federal Reserve Bank of Boston pres Eric Rosengren said he expects US economic conditions to continue improving, making further rate increases appropriate, although it will be important to see whether a weak employment report for May proves to be an anomaly. "Lately the economic data have been choppy," Rosengren said. "However, I still expect sufficient economic growth to justify a gradual removal of accommodation." Federal Reserve officials are debating whether the economy is strong enough to handle what would be only the 2nd rate increase in a decade, & have said they'll evaluate incoming economic data to help decide. While weak job creation in May could give the policy-setting Federal Open Market Committee pause when it meets Jun 14-15, other signs suggest that the Fed is moving toward achieving its dual mandate of stable prices & full employment, said Rosengren. "Given that the labor market contrasts with the pattern in the first quarter, and the pick-up in spending observed so far from other data, it will be important to see whether the weakness in this report is an anomaly or reflects a broader slowing in labor markets," Rosengren said. On prices, "while it is only gradual progress, we are seeing some evidence of inflation moving toward the 2 percent inflation target," he added.
Economic growth will slacken in 2016 to its slowest pace in 4 years as uncertainty about the presidential election weighs on the outlook, according to a survey of forecasters by the National Association for Business Economics. They see GDP expanding 1.9% this year on a Q4-to-Q4 basis. That's down from a projected 2.5% gain in the last quarterly survey released in Mar & compares with growth last year of 2%.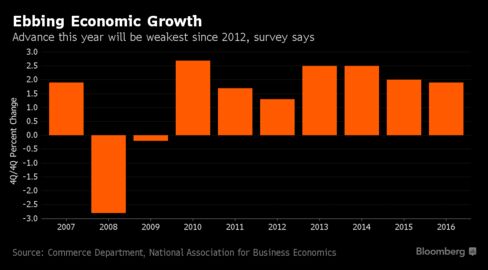 Almost 60% of forecasters say uncertainty surrounding the presidential election will hurt the economy. "If I'm an owner of a medium-sized business and I'm hearing very rattling news about the election, on the margin I'll be a little more cautious about hiring or making an investment," said Lisa Emsbo-Mattingly, pres of NABE. Emsbo-Mattingly said the biggest factor behind the markdown in the 2016 outlook is weak business investment. Spending on equipment, structures & intellectual property is projected to stall in 2016, after expanding 2.8% last year. Corp profits are forecast to fall this year for the first time since 2011, when they declined 2.9%. The NABE panel sees a 2% drop in after-tax profits without inventory valuation & capital consumption adjustments after a 3.3% advance last year. The panel projects the economy will gain ground in 2017, with GDP climbing 2.3% & profits are also projected to recover & rise 3.9% next year.
U.S. Economy Projected to Expand This Year by Least Since 2012
The 2 major drivers for stocks during the the 3 month rally are oil prices & low interest rates. Oil approaching 50 is behind today's rise & continued hope that Janet will leave interest rates untouched next week (something which is easy for her to do). Dow is within 100 of the 18K ceiling, but will need a major push to go over & stay there.
Dow Jones Industrials