Dow jumped up 284 (closing near the highs). advancers ahead of decliners more than 6-1 & NAZ gained 87. The MLP index went up 4+ to the 317s & the REIT index added 4+ to the 359s (record high territory). Junk bond funds were a little higher & Treasuries pulled back as stocks were bought. Oil pushed up to the 49s & gold was also up, at 1324.
AMJ (Alerian MLP Index tracking)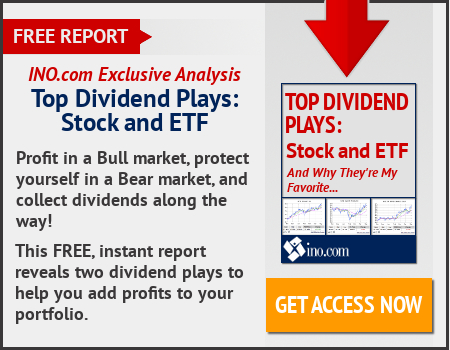 CLQ16.NYM
| | | | | | | | |
| --- | --- | --- | --- | --- | --- | --- | --- |
| | Crude Oil Aug 16 | ....49.60 | ....1.75 | | | (3.7%) | |
2 days before a potential historical default, Puerto Rico Governor Alejandro Garcia Padilla made it clear that the commonwealth won't pay bondholders even as Congress votes on a bill allowing the island to restructure its $70B in debt. "On July 1, 2016, Puerto Rico will default on more than $1 billion in general obligation bonds, the island's senior credits protected by a constitutional lien on revenues," Garcia Padilla wrote. The lapse will mark the first time the US territory has failed to pay what it owes on general-obligation debt, a $1B swath that its constitution says has the top claim to gov funds. Garcia Padilla previously said the commonwealth couldn't raise enough to cover what's owed to bondholders even if he shut down the gov. The island has about $2B in principal & interest payments due Fri. The default signals the depths of the crisis on the island, which had been tapping whatever funds it could to avoid missing payments on securities backed by the strongest legal pledge. The escalating strain prompted Congress to create a bill that would give Puerto Rico the ability to cut its debt & put a hold on bondholder lawsuits that could jeopardized its ability to pay for schools, police officers & health care. The Senate voted yesterday on the measure, setting up a final-passage vote no later than tomorrow PM.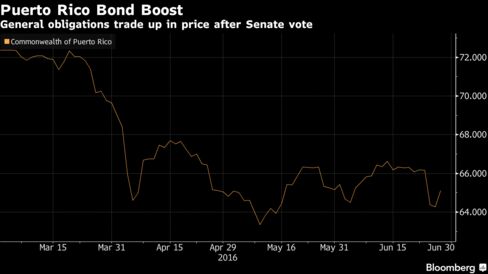 Some Puerto Rico securities traded up in price even after the comments were made public. General obligations with an 8% coupon & maturing 2035 changed hands at 66.3¢ on the $, up from 65.2¢ yesterday. It would be the first payment failure from a state-level borrower on debt backed by the full power to raise taxes since Arkansas's in 1933. Since Aug, Puerto Rico had already defaulted on debt issued by 3 agencies, including the Government Development Bank, though creditors were left with little recourse because the securities were backed by weaker legal safeguards.
Puerto Rico Says It Will Default Even With Congressional Aid
Contracts to purchase previously owned US homes fell more than projected in May, a sign demand cooled after a robust start to the busiest selling season of the year, figures from the National Association of Realtors.Index of pending home resales fell 3.7% (forecast was 1.1% drop), the most in 6 years, after a revised 3.9% increase in Apr. The measure rose 2.4% from May 2015 on an unadjusted basis (forecast was gain of 4.6%). Pending sales declined in all 4 regions, including a 4.2% drop in the Midwest index to the lowest level since Jan. Sales gauge declined to 110.8 on a seasonally adjusted basis, with 100 indicating "historically healthy" buying activity. Home price appreciation & a limited supply of available properties are bridling sales, while first-time buyers or Americans with lower incomes& poor credit are finding it difficult to qualify for financing. A potential loss of momentum in housing would trigger concern at a time when growth is restrained by weak business investment & US. exports. "There are simply not enough homes coming onto the market to catch up with demand and to keep prices more in line with inflation and wage growth," the NAR said. "With demand holding firm this spring and homes selling even faster than a year ago, the notable increase in closings in recent months took a dent out of what was available for sale in May and ultimately dragged down contract activity." NAR projects 5.44M previously owned homes will be sold this year, up 3.7% from 2015
EU leaders said there could be no turning back for the UK after Prime Minister David Cameron used his last EU summit to express disappointment at his failure to win the referendum he called on Britain's membership. "As of this evening, I see no way back from the Brexit vote," German Chancellor Angela Merkel said. "This is no time for wishful thinking, but rather to grasp reality." Fellow gov chiefs lined up to warn Cameron that delaying the period before the UK formally activates the EU's exit mechanism will prevent the start of negotiations over any future relationship. The prime minister repeated the message he had given back home: despite the uncertainty it's causing, that will be the job for his successor. During a debrief over dinner, Cameron told his 27 counterparts that their refusal to give him a deal that reduced immigration to the UK had cost him the referendum & his job & he warned that if they want a close economic relationship with the UK in the future, they will have to shift ground & find a way to tackle immigration. Cameron was visibly shaken after the dinner, at which he said fellow leaders had told him how much Britain's membership of the EU meant to their countries. Asked if he regretted holding the referendum, he said he was "sorry" he had lost, but that the pressure to hold it had been too great. Several gov chiefs insisted the UK cannot expect generous treatment from the EU once it's no longer a member. Leaders expressed a growing frustration across Europe that the referendum has left a power vacuum in the UK & the whole EU in a state of limbo. Mario Draghi told the closed-door session that growth in the euro area could decline by as much as 0.5 percentage point for the next 3 years cumulatively.
Merkel Says No Way Back From Brexit as Cameron Regrets Loss
After 4 days, Dow is down only 300 from where it was before the vote. Go figgah!! That would suggest worries have pretty much vanished. I don't think so. There are a lot of hurt feelings & removing Britain will not be simple. There will be a lot of pain. The 2 day selloff may have been overdone, but the strength of the 2 day rally is mind boggling. Gold & Treasuries were strong during the 2 day rally, negative bets on stocks. A high profile default by Puerto Rico is another market negative. High volatility will continue for the rest of the week at a minimum.
Dow Jones Industrials