Dow slid back 10, decliners over advancers 2-1 & NAZ gave back 16. The MLP index was little changed near 331 & the REIT index lost 1+ to 351. Junk bond funds declined & Treasuries weakened. Oil dropped 1 to under 52 on the inventory report & gold retreated to 1242 (still relatively strong).
AMJ (Alerian MLP Index tracking fund)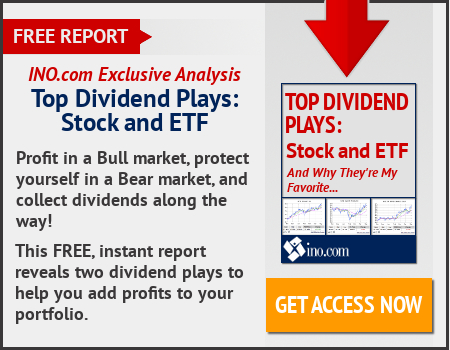 The fewest Americans in almost 44 years filed applications to collect unemployment benefits last week, indicating the job market continues to power forward. Jobless claims fell 19K to 223K, the fewest since 1973 & below the lowest projection, a report from the Labor Dept showed. The forecast called for 245K applications. The weekly decline, which was the largest this year, shows employers are keeping dismissals at a minimum as demand remains steady & the labor market stays tight. Fed policy makers will take persistent job growth & falling separations into consideration at their monetary policy meeting later this month. The 4-week moving average decreased to 234K, the lowest since 1973, from 240K. The latest tally marked 104 straight weeks of claims below 300K, a level considered consistent with a healthy labor market. The number continuing to receive jobless benefits rose 3K to 2.07K & the unemployment rate among people eligible for benefits held at 1.5%.
U.S. Initial Jobless Claims Drop to Lowest in Almost 44 Years
One of the Fed's biggest skeptics about the strength of the global expansion signaled the US economy may be strong enough to withstand an interest-rate increase soon, as key policy makers coalesce around tightening at their next meeting in mid-March. "Assuming continued progress, it will likely be appropriate soon to remove additional accommodation, continuing on a gradual path," Fed Governor Lael Brainard said. "We are closing in on full employment, inflation is moving gradually toward our target, foreign growth is on more solid footing and risks to the outlook are as close to balanced as they have been in some time." Brainard, who for months has played the role of lead dove at the Fed by arguing to keep rates lower for longer, said the US economy "appears to be in transition." If continued, that would allow the central bank not only to normalize rates gradually but also begin considering when and how to reduce the size of its $4.5T balance sheet, she added. Her improved outlook may add momentum to rising expectations among investors that the Fed will raise rates when the FOMC gathers on Mar 14-15. Hawkish comments from NY Fed pres William Dudley & San Francisco's John Williams on Tues already significantly boosted those expectations. Yields on 2-year Treasuries have climbed about 0.14 percentage point this week, briefly breaching 1.30% for the first time in more than 7 years. The probability of a Mar rate hike implied by prices in federal funds futures contracts has climbed. Brainard expects the US economy to continue making progress toward the Fed's goals, driven by growth in consumption, adding that signs of improved business investment are rising. "The contrast with the situation a year ago is sharp," she said. A former undersecretary of the Treasury for intl affairs, Brainard also pointed to favorable developments in a number of major foreign economies. "Near-term risks to the United States from abroad appear to have diminished," she said. "Recoveries are gaining traction in China, Europe and Japan, in part reflecting greater confidence in their respective policy environments." In China, she said, gov officials had "stabilized growth and calmed fears of financial instability" by boosting credit & fiscal stimulus & clamping down on capital outflows. In Europe, despite threats posed by the UK vote to exit the EU & from capital stresses to German & Italian banks, "the recovery has proven to be increasingly resilient."
Treasury Secretary Steven Mnuchin gave a look at the administration's economic agenda. "The number one thing that the president and I are focused on is economic growth," he said. Mnuchin, who has been involved in the financial sector for over 30 years, believes that the markets are generally unpredictable on a day-to-day basis. However, the Dow has reached new highs, which many are associating with the presidential election. Mnuchin sees this rise in the markets as a vote of confidence from the American people in Pres Trump. "What is important here is that the market is showing you that people believe in the president's agenda," he said. He added: "I think you couldn't see a stronger indicator of people liking the president's economic policies, the president's political policies and a vote of confidence in the president." He recently met up with Fed Chair Janet Yellen, honoring a tradition that the 2 officials get together each week. "I look forward to working with her…We spoke for over an hour yesterday, we covered a lot of topics, we got a lot of work to do together. I left the meeting being incredibly comfortable and how we can work together and what she is doing over at the Fed and I look forward to continuing those conversations with her," he said.
Stocks are taking a breather after the recent surge. A positive sign will be if the Dow holds near present values for the rest of the week, Gold continues in demand as stocks have risen higher. The disconnect can last for just so long.
Dow Jones Industrials