Dow gained 41, advancers over decliners almost 2-1 & NAZ added 22. The MLP index gave up 2+ to the 314s (above session lows) & the REIT index fell 2+ to the 369s Junk bond funds inched higher & Treasuries slid lower. Oil went over 41 after a bigger than expected reduction in inventory last week & gold pulled back from recent highs.
AMJ (Alerian MLP Index tracking fund)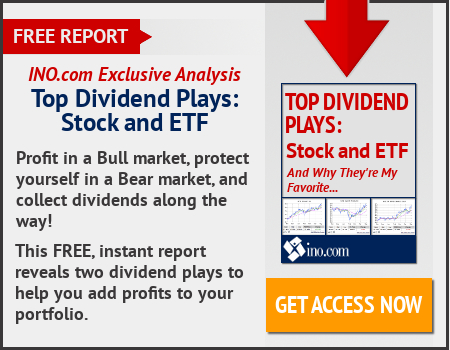 Federal Reserve Bank of Chicago pres Charles Evans said an interest-rate increase could be warranted this year as the economy picks up steam, even though he's still worried that inflation is too low. "I do think that perhaps one rate increase could be appropriate this year," Evans said. "At some point, you always make your judgment as to, well, this is close enough in line with what I think the appropriate policy is," he said of a hypothetical Federal Open Market Committee decision later this year to raise rates. "Given the data improving and my outlook, we could see one rate increase this year, even if I would prefer none until we saw inflation much more strongly." The rate-setting FOMC has so far this year held steady its benchmark federal funds rate. Underwhelming growth & rising uncertainty about the global economy have weighed on earlier projections for a faster pace of hikes. Investors see only slightly better than even odds of a rate hike between now & the end of next year, according to prices of federal funds futures contracts. Evans suggested the central bank should consider engineering a slight overshoot of its 2% inflation target to protect against the risk of longer-term deflationary pressures. "We ought to get to a point where the probability that inflation is above 2 percent is somewhat higher than the probability that we are going to continue to under-run it," he said. "One way to do that is if we sort of go through 2 percent a bit -- I would say we can do that in a controlled fashion." Evans expects economic growth to pick up in H2 following disappointing readings in H1, such that growth over the full year would average 1.5-1.75%. That may or may not be enough for the unemployment rate to continue falling from 4.9%, where it stood in Jun, he said.
Evans Says One Fed Rate Hike This Year 'Perhaps' Appropriate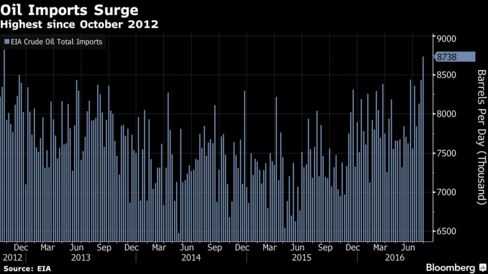 US crude imports soared to 8.74M barrels a day in the latest week, the highest since Oct 2012. Purchases from Canada, Saudi Arabia & Venezuela jumped, while Mexico imports slumped. Arrivals in the East Coast rose 52%.
Office Depot, which scrapped a plan to merge with larger rival Staples (SPLS), will close about 300 more stores in the next 3 years to help cut annual costs by $250M by the end of 2018. The company, which had closed 400 stores by the end of Q2, said its quarterly sales fell 6.5% to $3.22B, roughly in line with the estimate. It was its 7th straight drop in quarterly sales. Both SPLS & ODP have been hit by competition from online retailers that have been discounting school & office supplies. However, ODP has initiated a quarterly div of 2.5¢ per share & will increase its stock buyback plan to $250M from $100M. EPS was 38¢, in Q2, compared with a loss per share of 11¢ a year earlier. Excluding items, the company earned 3¢. The stock went up 19¢. If you would like to learn more about ODP, click on this link:
club.ino.com/trend/analysis/stock/ODP?a_aid=CD3289&a_bid=6ae5b6f7
Office Depot (ODP)
Oil is a commodity which is subject to wild price swings. After falling more that 10 in recent weeks, it bounced back today. Maybe shorts were covering. But that is a very troubled market with too much production & extremely high inventories. Meanwhile stocks continue to stumble around. Bargain hunting had to be expected after the recent decline. Dow & other popular averages remain near record highs with little economic news to back up those values (other than a continuation of low interest rates). Dow is down a little in the early part of Aug & it may see more selling before Labor Day.
Dow Jones Industrials