Dow fell 104, decliners over advancers 4-1 & NAZ gave up a big 48 following recent strength. The MLP index dropped another 9+ to the 307s & the REIT index lost 4+ to 373. Junk bond funds slid lower & Treasuries were sold today. Oil rebounded after yesterday's selling (see below) & gold climbed higher.
AMJ (Alerian MLP Index tracking fund)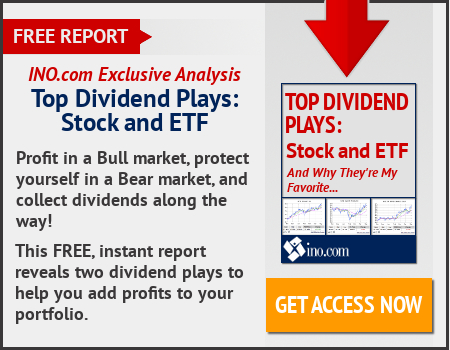 Consumer purchases climbed a bit more than anticipated in Jun, exceeding a gain in incomes that prompted American households to tap into savings. The 0.4% advance in spending followed a similar gain in the previous month, according to the Commerce Dept. The forecast called for a 0.3% gain in consumption, which accounts for about 70% of the economy. Incomes rose a less-than-projected 0.2%, while the saving rate declined to a more than one-year low. Purchases are broadening out beyond big-ticket items such as cars & houses as more Americans benefit from steady hiring, low inflation & cheap borrowing costs. The Jun figures underscore momentum heading into Q3 after household spending grew in the previous 3 months by the most since 2014. The advance in purchases was led by a rebound in spending on durable goods & more outlays for services. Disposable income, or the money left over after taxes, increased 0.1% after adjusting for inflation, little changed in the prior month. The saving rate declined to 5.3%, the lowest since Mar 2015, from 5.5%. Wages & salaries advanced 0.3% following a 0.2% gain. Adjusting consumer spending for inflation, which generates the figures used to calculate GDP, purchases rose 0.3% after a 0.2% increase in the previous month.
Ford (F) & General Motors (GM) reported US light-vehicle sales in Jul that fell more than anticipated while Nissan & Fiat Chrysler (FCAU) gained less than expected, reinforcing concerns that the market may have peaked with last year's record deliveries. GM sales slid 1.9%, after analysts projected a 1% drop. #2 Ford reported 215K light-vehicle sales for a 3% decline that was wider than the 0.5% decline predicted. Nissan reported a 1.2% increase, short of the 3% rise projected. FCAU sales rose 0.3%; analysts had projected a 1.9% gain. Analysts had projected that the industry seasonally adjusted selling rate was 17.6M vehicles, little changed from a year earlier.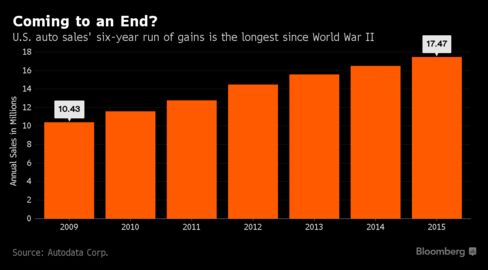 Ford's sport utility vehicles had a rare down month, dropping 5.6% & Explorer sales were off 22%, while the Escape compact SUV fell 10%. Its sales to fleet buyers rose 6% while deliveries to individual customers fell 6%. GM's Chevrolet division had a 5.3% drop in total sales, though the brand's retail sales rose 3%. The automaker has been cutting back on sales to rental fleets in pursuit of better profit margins. While Nissan brand sales rose 1.7% on strong light-truck demand, the company's Infiniti premium line reported a 4.7% drop as car sales fell by more than 1/3.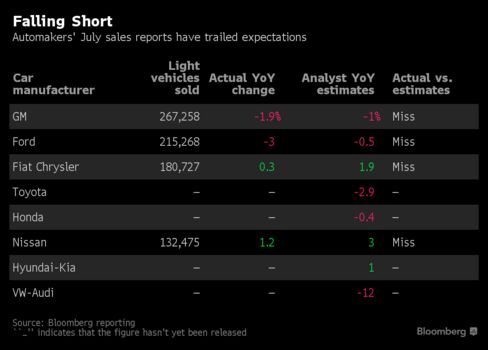 Oil rose amid a weaker $ & speculation the oversupply still weighing on global markets will diminish, even after prices fell into a bear market yesterday. Futures gained as much as 2% after dropping below $40 on Mon for the first time since Apr. While crude & gasoline inventories are forecast to have declined, they will remain at the highest seasonal level in at least 2 decades. The $ fell for the 5th time in 6 days, increasing investor appetite for commodities.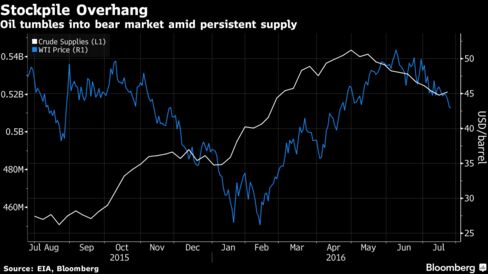 Oil has tumbled more than 20% from its peak in Jun, halting a recovery that saw prices almost double from a 12-year low in Feb. The supply glut is upsetting industry expectations, with the majors reporting Q2 earnings last week that were worse than estimated.
Stocks are weak once again. As said yesterday, Aug may not be a pretty month for stocks which remain vastly overbought especially after the run-up in Jul. REITs, with their yields (partially tax advantaged), saw selling today, a sign the bulls are getting very tired supporting the stock markets with little economics to support the gains. There are even slight, I repeat slight, hints that the Fed might raise interest rates. The big jobs report comes on Fri.
Dow Jones Industrials