Dow gave up 84, decliners over advancers 2-1 & NAZ fell 34. The MLP index was fractionally higher in the 316s & the REIT index dropped 4+ to the 362s. Junk bond funds were little changed & Treasuries were also sold. Oil shot up to the 46s (see below) & gold had a good day, going over 1350.
AMJ (Alerian MLP Index tracking fund)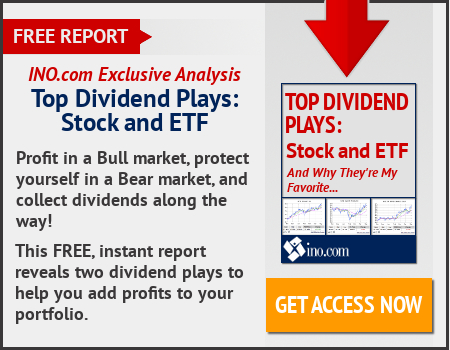 Oil climbed to a one-month high as the market was bolstered by a weakening $ & speculation that OPEC talks next month could result in a crude output freeze. Futures added as much as 1.7%, after rising 9.7% in the past 3 sessions following comments from Saudi Arabia' energy minister that the country is prepared to act to stabilize markets. The $ extended declines following mixed US economic reports. A weaker $ increases investor appetite for commodities. While gov data is expected to show crude inventories rose, fuel stockpiles are forecast to shrink.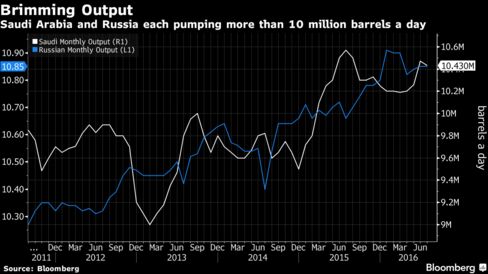 Oil has advanced about 16% since closing below $40 a barrel & tumbling into a bear market earlier this month. Russian Energy Minister Alexander Novak said the nation was open to cooperating to stabilize markets after Saudi Energy Minister Khalid Al-Falih said talks in Algiers may result in action. A possible deal on capping production between members of OPEC & non-member countries was first flagged in Feb but Apr discussions ended with no final accord. Nigerian Minister of State for Petroleum Emmanuel Kachikwu said he has "sparse" optimism that OPEC will trim output. Russia sees no signals that Iran will change its position on a production cap & agree to an output freeze.
The US cost of living was little changed in Jul, a sign subdued inflationary pressures will give the Fed reason to keep interest rates low. It was the first time in 5 months the consumer-price index failed to advance & followed a 0.2% gain in Jun, according to the Labor Dept. Excluding food & energy, prices rose 0.1%, less than projected.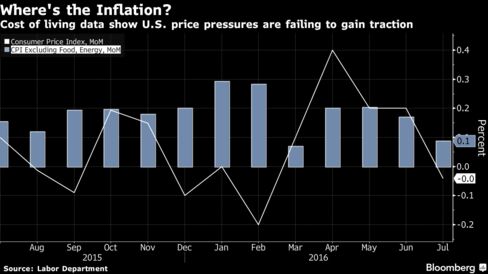 Inflation continues to tread below the Fed goal as US companies remain challenged by frugal consumers & competition from cheaper goods made overseas. With price pressures elusive, central bankers will be less willing to raise borrowing costs. The reading on the consumer-price index matched the forecast. Prices increased 0.8% in the 12 months ended in Jul, after rising 1% in the year thru Jun. The increase in the core CPI measure, which excludes volatile food & fuel costs, was the smallest since Mar & fell short of the 0.2% gain projected. The gauge was up 2.2% from Jul 2015, following a 2.3% advance in the year ended Jun. Energy costs fell 1.6% from a month earlier, the first drop in 5 months, while food prices were little changed.
Home Depot, a Dow stock,offered a rosier 2016 outlook after booking record quarterly sales & earnings in the busy spring season, a reflection of strong tailwinds coming from the US housing market. The retailer, with has 2275 stores said Q2 profit jumped 9.4% to $2.44B on revenue of $26.47B, which was up 6.6% (compared to last year). The results matched estimates. The company lifted its guidance for full-year EPS by 4¢ to $6.31. That would mark a 15.6% gain year-over-year. Internal projections for sales growth remained at 6.3%. Both consumers & professional contractors contributed to broad demand during the qtr. Home Depot saw an 8.1% increase in the number of customers who spent over $900 at checkout, representing 20% of US sales. Comparable store sales, a measure of sales at stores open at least a year, grew 4.7% in the qtr. The average customer ticket increased 2.4%, & sales per square foot were up 4.3%. CFO Carol Tome said its do-it-yourself business had a big qtr, noting an increase in the number of units per basket. The Pro business, which accounts for about 40% of total sales, did even better. Comparable sales for Pros grew faster than the retailer's overall same-store results. The company made strides by capturing a larger share of the growing professional market. Tools, lumber, plumbing & indoor garden were among the categories that performed better than the company's average sales growth. HD reported a double-digit increase in comparable sales in appliances. HD has benefited from an improved real-estate market & rising home values that are encouraging Americans to spend on renovations & DIY projects. CEO Craig Menear said HD continues to see "positive signs in the housing data," a tailwind for the company's core business. He noted that nationwide inventory of single-family homes is currently at 4.6 months of supply, while the historical average is about 6 months. Meanwhile, home-value appreciation is expected to continue for the next couple of years at least. "That certainly means there's opportunity going forward," Menear said. "This is a tailwind we see for the foreseeable future." The stock declined 83¢. If you would like to learn more about HD, click on this link:
club.ino.com/trend/analysis/stock/HD?a_aid=CD3289&a_bid=6ae5b6f7
Home Depot (HD)
Nothing like hawkish comments about raising interest rates to dampen a stock rally. However, today's decline was not large or significant (although Dow flat-lined, down around 50 all day & finished at the low). Oil bulls may have worries going forward. OPEC has not been noted for getting the group to agree to much. Production cuts may remain a distant goal, especially with some countries unwilling to make cuts. The stock market continues to be overbought.
Dow Jones Industrials